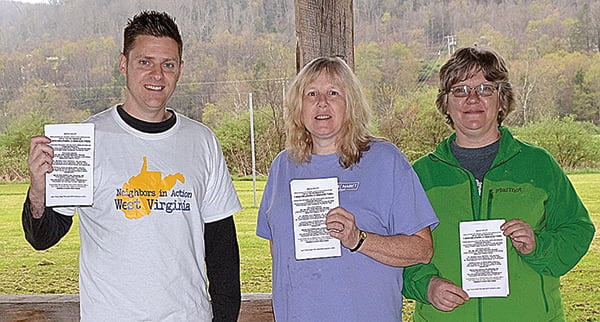 Suzanne Stewart
Staff Writer
When the drug abuse crisis in West Virginia –specifically Harrison Coun-ty – became too much to bear, social worker and native Pocahontas Countian Wayne Worth decided to do something about it. With the help of other prevention professionals, Worth founded Neighbors in Action – Harrison County in November 2016.
It was a simple premise – community members gather each Saturday and go door-to-door spreading awareness about drug prevention and handing out fliers with contact information for rehab facilities and other organiza- tions focused on clean living.
Now, nearly two years later, Worth has expanded his reach by starting Neighbors in Action groups in other counties, in the hopes of reaching all 55 counties in West Virginia. Last Saturday, Worth led the first Neighbors in Action initiative in Pocahontas County, in Frank and Durbin.
Prior to going door-to-door, Worth explained how the program started and how he hopes it will grow as the need in the state grows.
"That first day, we met in Clarksburg, at my church, and there were four of us there," he said. "It was twenty-nine degrees outside. It was cold and the wind was blowing, but we knocked on a hundred doors. People were like, 'wow, thank you.' We had teachers that said, 'give me a stack of those, I'm going to put them in the break room.'"
Each Saturday, the size of the group would vary from four to 12 people, going around parts of Clarksburg and Bridgeport. The groups were always met with enthusiasm, and Worth said it was shocking to see that nearly every person they spoke to had been affected in one way or another by the drug abuse epidemic.
Even the doors of known drug houses were opened.
"When I knock on a drug dealer's door and they answer, I'm nice to them," Worth said. "I say, 'this is what we're here for. We're handing out this flyer. If you know anyone who needs help that's ready to get help, there's an 844 number and Celebrate Recovery and those things.'"
Worth added that while he was nice to the alleged drug dealers, he would also make sure they understood that neighbors were prepared to report to the authorities their suspicions concerning drug activity in the area.
The efforts made a huge impact, but it wasn't until he was talking to the Harrison County Sheriff Robert Matheny that he realized there were still a lot of issues outside of Harrison County.
"He said, 'I just got word from the DEA [Drug Enforcement Administration] that we went from fourth in the state in drug overdose deaths to thirty-sixth in a year, and I think that's very impressive,'" Worth recalled. "He goes, 'it's credited to a lot of work that Neighbors in Action is doing, lot of prevention partnerships that we have and how everybody works together.'"
The problem was, when the dealers lost customers in Harrison County, they branched out and moved to surrounding counties, spreading the problem elsewhere. That is when Worth decided to take Neighbors in Action to other counties.
"I can't be in every county every weekend, but I can at least try to organize in other places and have folks like yourselves go out, go door-to-door and see how it works," he said. "I went to Buckhannon, and we had fifteen to twenty people. Then I went to Belington, and we had eight people. Morgantown, we had a whole fraternity – believe it or not – knocking on doors. Kingwood – we maybe only had five folks, but it was so effective."
The Kingwood trip was especially memorable to Worth, who said a lot of the stories he heard led him and other volunteers to tears.
"Just about every door that we knocked on, someone was affected by it," he said. "We had great volunteers that could talk to these folks and give this information to them and show that they really care. We shared some tears in Kingwood."
Worth also had a memorable visit in Parsons in Tucker County. The team there was joined by a Tucker County Board of Education member who lost her son to a drug overdose six months prior.
"I told her, 'I never want this to happen to anyone else's son or anyone else's daughter, so that's why I'm here today,'" he said. " I said, 'I came from Clarksburg because I love you. I care about the people you love, and I care about your property and your community.' That's why I do it. I've had a friend or two that has been affected by addiction and the people I meet all the time that come on my awareness walks with me, they have issues with addiction."
As Worth told his story to the volunteers who gathered for the Frank and Durbin walk, he said it is important to hear these stories, no matter how sad they are, because it is the only way to know what is going on in the communities, and it helps identify those who need help.
"This is why we do this," he said. "If we don't go door-to-door and hear these stories, how are we going to know how bad a problem is? It also encourages other folks to say, 'we need to reach out to our neighbors. We need to get a little bit more involved. We can't be afraid of one another.'
"There's a way to defeat all of that and it's just meeting people where they are," he continued. "Having good honest conversations, getting to know them, providing them information where they could help their loved one. This right here is a good way to build a rapport and build a relationship with your neighbors, get to know them a little better because the more we get to know one another, the more we feel comfortable with saying, 'Okay, I could talk about my son's problem, my daughter's problem with these folks because I know someone cares.' The more we can build relationships, the more we can help one another, the more we can tackle this problem."
For more information on Neighbors in Action, visit the Facebook page Neighbors in Action West Virginia.