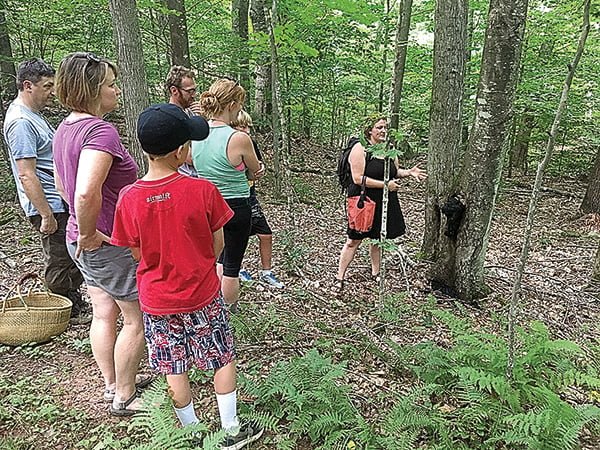 Erica Marks
Contributing Writer
The hunters fanned out through the forest, scanning the ground and trees for colorful inhabitants. Yellows, reds, purples, pure whites, blacks, and every variety of browns were plucked by fungus enthusiasts at the Pocahontas Mushroom Foray.
As part of the Cal Price Enrichment Series, the Pocahontas Nature Club hosted the Foray July 22 with events at Watoga State Park and the Yew Mountain Center. Some participants carried special baskets designed to hold their fungal finds. Others swung mesh fruit bags through the woods to bring back their quarry.
Local mushroom enthusiast Ken Springer gave a talk titled "Edible Mushrooms of Appalachia." Following the talk, Julie McQuade, former naturalist at Watoga and now naturalist at Pipestem State Park, returned to familiar trails and led a mushroom walk through the Watoga forest. 
Everyone who looked found mushrooms. They were seemingly everywhere once one opened his or her eyes to them. The creepy Dead Man's Fingers, the tiny and delicious Appalachian Chanterelle, the charismatic Old Man of the Woods, the deadly poisonous Destroying Angel and many others were sorted, identified and examined at the end of the foray.
Richard Jacob, a mushroom hobbyist from Pittsburgh, estimated that he encountered about 70 species of fungus on the walk at the Yew Mountain Center. His 12 year-old son, Tallis, was clearly an experienced mushroom hunter – rattling off scientific names for people's finds and putting each specimen in a separate paper bag which he carried in his basket. Maureen Farrell, of Beverly, led the foray at the center.  She and her husband lead mushroom walks and cultivate mushrooms at their farm. 
"We found an excellent variety of mushroom species and had a lot of fun identifying them." she said.
That evening a mushroom dinner was served at the Yew Mountain Center.  Locally foraged wild mushrooms, chanterelles and chicken of the woods, were on the menu as well as some cultivated varieties of oyster mushrooms and shitakes.  Eva Gutierrez and Corey Bonasso prepared the meal and incorporated other wild ingredients such as milkweed blossoms.
"I must say, this was one of the finest dinners I've had of late," said Mac Gray, of Seebert. 
 
The band, "Pickin' Molly Moochers," consisting of Trevor Hammons, Benjamin Davis and Joanna Burt-Kinderman finished the event with some good old-time music. Molly Moochers is another name for morels, a mushroom delicacy in the spring woods.
"Mushroom foragers saw our nature community work together to provide knowledge and fun on a foray," Pocahontas Nature Club officer Mary Dawson said. "Watoga, Yew Mountain and the Pocahontas Nature Club combined their best efforts to provide a variety of events for visitors and residents. It is an event that can keep growing."
Like mushrooms in the rain, perhaps.