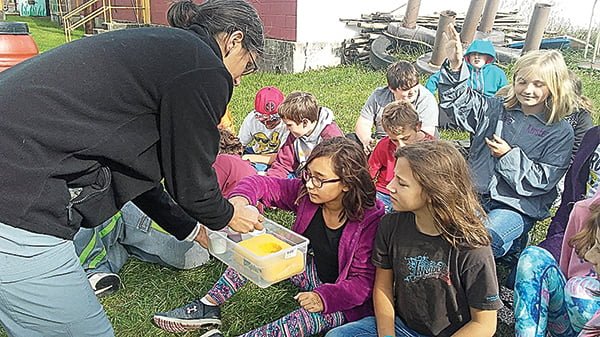 Shenda Smith
Water Resource Coordinator
Marlinton Elementary School's fifth grade students shared a fun-filled day of water education activities with the West Virginia Department of Enviornmental Protection (WVDEP) October 25.
Tomi Bergstrom, the Project WET WV State Coordinator and the Western Watershed Basin Coordinator, and Seth Burdette, the Southern Basin Coordinator, traveled across the state to provide students with an afternoon of hands-on learning activities.
Dondi Stemple's and Susan Grant's classes rotated through Project WET activities that explained the water cycle and the functions of wetlands led by Bergstrom and an Enviroscape demonstration and benthic identification with Burdette.
The students received a rain barrel courtesy of the WVDEP, which they hope to put to good use in a school gardening project.  The WVDEP also provided an installation kit and setup instructions, posters, educational information and a rain gauge to the fifth grade class.
Bergstrom battled the storm to meet with the Marlinton Cub Scout Pack # 33 for indoor activities during a downpour October 24.
Before returning to Char-leston and Fayetteville, both Bergstrom and Burdette met with robotics team students at Hillsboro Elementary School to discuss karst issues and the human impact on the water cycle.  The Legonators had an opportunity to present their project to their distinguished guests.
The special visits were coordinated by the Pocahontas County Water Resources Task Force Project WET West Virginia is sponsored by the WV Department of Environmental Protection.