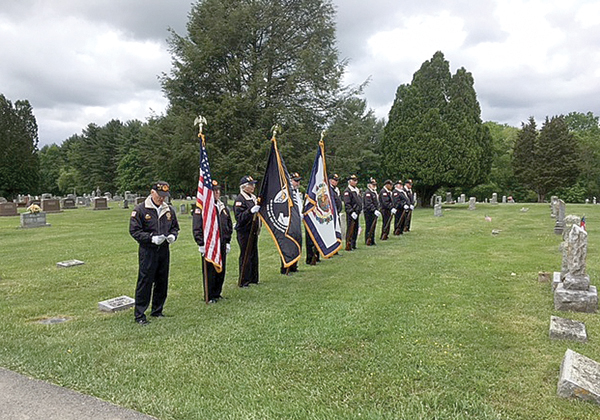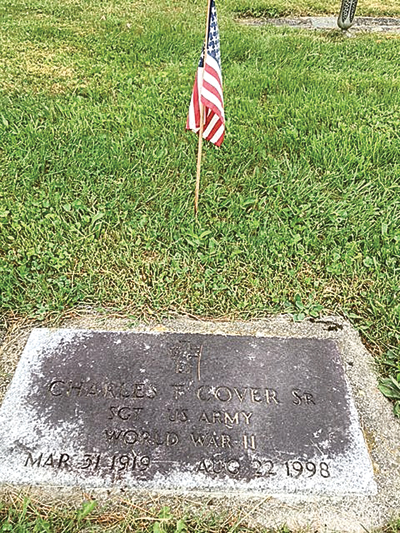 The Pocahontas Coun-ty Veterans Honor Corps held Memorial Day services at Mountain View Cemetery in Marlinton and Arbovale Cemtery in Arbovale on Sunday.
During the Arbovale ceremony, Honor Corps Commander Rick Wooddell remarked about how this was the second year that Memorial Day was different due to the COVID-19 pandemic.
"For the second year in a row, Memorial Day looks a little different than in years past," he said. "In many cases, our backyard barbecues and get-togethers are replaced by video chats and other marvels of modern technology.
"Still, we hold on to some semblance of what life was and what we know it will return to," he continued. "And the memories and emotions this day brings are always the same."
While the Memorial Day weekend is usually seen as the beginning of summer and a time for fun and games, Wooddell said the day has a somber meaning and acts as a reminder of the sacrifice made by the men and women who stood up to serve the country.
"For countless families across the nation, Memorial Day is a stark and often painful reminder of those who were never afforded the opportunity to be honored as veterans for their service to our country," he said. "Their sacrifice is a true expression of selfless service—one that no one would pick for themselves. Whether they volunteered at a time of war, served during peace time or never expected to wear our nation's uniform until their draft card arrived – they represent the best America has to offer.
"We feel their loss roaming the sacred hills of Arlington National Cemetery and in other final resting places around the world," he continued. "Too many mothers, fathers, siblings and children feel the immense weight of seeing an empty chair year-round. For them, Memorial Day brings to the forefront what is always operating in the background."
Along with remembering the lives of those we've lost, Wooddell said it is also a time to honor the families who feel the void left by their loved ones every day.
"Please join me in recognizing those family members here today who have lost a loved one in service," he said. "Your courage and grace after such unimaginable loss are inspiring. Sending off a loved one so they can serve in combat must be a surreal experience.
"I suspect conflicting emotions of fear and pride are present in the minds of both service members and their families," he continued. "Like any other send-off, you hold them tight, tell them you love them and watch them head out until they are no longer in sight. But what makes sending a loved one off to war very different is the all-too-real possibility that a uniformed military officer and chaplain may show up at your doorstep to deliver devastating news."
In closing, Wooddell spoke about earlier and current conflicts in the Middle East which have led millions of men and women to service.
"This will be the 20th year we've been at war, longer than any American conflict that came before," he said. "About two point seven million Americans have served in Iraq and Afghanistan, and over half of them deployed more than once. Those who returned are now our community members, neighbors and friends. In fact, I'm confident if you take the time to learn about any veteran where you live, you'll be floored by the stories of service and sacrifice, known only to those who witnessed it firsthand. Then, there are the unbelievably brave accounts of heroes who can no longer speak for themselves. It's up to us to not only tell their stfries but to honor their service and memory by ensuring their families and survivors are cared for.
"Let us honor the memory of heroes no longer with us," he concluded. "And let us strive to live up to the example set by such selfless patriots each and every day. Thank you all for being here today."
After Wooddell's speech, the Honor Corps presented a 21 gun salute followed by the playing of Taps.
The Arbovale Cemetery Association Board of Directors and Officers cancelled the annual Memorial Day Service because of the Covid-19 pandemic. They plan to continue the traditional event next year for Memorial Day 2022.
The following were interred in the cemetery from May 20, 2020 to May 31, 2021:
Elizabeth Woodell Jackson, May 20, 2020
Amy Widney, June 20, 2020
Danny Meeks, Jr., June 30, 2020
Earl Vance, July 25, 2020
Madeline Bilyard, July 26, 2020
Ann Jerome, July 29, 2020
Almeda Rexroad, August 2, 2020
Marshall Tracy, September 17, 2020
David Atkins, September 18, 2020
George Hipes, September 2, 2020
Thomas Cook, September 27, 2020
Lloyd E. Kisner, Jr., December 5, 2020
Jane Sheets Hamed, December 14, 2020
Ron Cole, December 27, 2020
Phyllis Sheets Shinn, January 4, 2021
Archie Tilley, January 30, 2021
George Harris, February 4, 2021
Sandy Greathouse, February 13, 2021
Dale Bacorn, March 2, 2021
Tammy Oxier, March 6, 2021
Diane Liptak, March 27, 2021
Jerry Turner, April 1, 2021
Sterle Gillespie, April 2, 2021
Herman M. Butcher, April 9, 2021
Sadie Brown, April 12, 2021
John Davis, April 29, 2021
Hillary Sparks, May 5, 2021
Willard Pingley, May 7, 2021
Ruby Hill, May 8, 2021
Max Gum, May 29, 2021