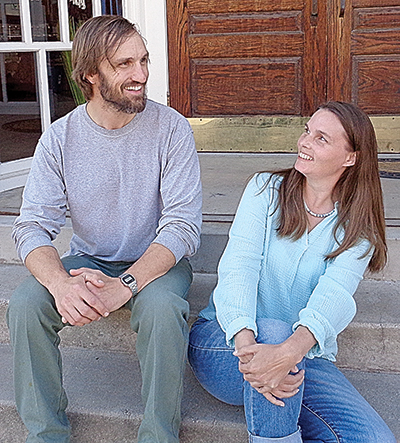 Barbara Elliott
Contributing Writer
The plot of the upcoming Pocahontas Drama Workshop production of A. R. Gurney's The Cocktail Hour revolves around the family crisis created when the son of a wealthy couple from upstate New York asks them to give their blessing to a play he has written about the family. The parents are appalled at the idea of being portrayed on stage. Their daughter, on the other hand, is ticked off because her part is so small.
Director Margaret Baker cast Nathan Dameron and Rachel Fanning in the roles of the troublesome "kids," John and Nina, and they are having fun getting to know these squabbling siblings and exploring the family dynamics that drive the story.
Fanning's only previous acting role in a Drama Workshop production was as M'Lynn, the mother of a dying daughter, in the 2017 production of Steel Magnolias. This time around, she is happy to provide comic relief rather than making people cry. She's also not a bit upset that, like her character, she does not have as large a role as the three other cast members, who are having to memorize epic amounts of dialogue.
"As a working mother with two children, I definitely don't share her concern about having the smallest part," she laughs.
Fanning admits she doesn't have a lot in common with her character, a privileged and spoiled do-gooder whose goal in life is to train seeing-eye dogs. Although she sometimes finds it hard to like the woman, she can also empathize with her situation.
"I wasn't raised in that kind of wealth. She has a life experience I don't identify with," she says, noting that her character was middle aged in the 1970s. "That means she was part of the greatest generation. She was born in the 1920s, when the roles of women were very defined. She was raised to be a homemaker, then the 1960s happened. I can identify with her missing out on having her own life. She is a product of her generation, and it hard to blame her for that. She has her own ambitions."
Fanning says her husband and children, ages 10 and 12, are very supportive of her theatrical pursuits. As a senior revenue manager at Snowshoe Mountain, she says her job is about looking at spreadsheets all day.
"This is definitely an outlet from that. It is fun to come in and be loud," she observes.
Being in a play is a whole new ballgame for Dameron, whose only prior brush with theater was a small role in last year's Opera House production, "Murder at Marlinton Abbey." Before that, he had only participated in the obligatory, primary school class plays.  He has worked on Opera House productions as a volunteer since 2019, "but that's more behind-the-scenes type work, like setting up chairs or changing light bulbs," he adds.
He ruefully admits he got off to a rocky start because of his lack of previous acting experience. 
"I committed a lot of ignorant audition and acting faux pas," he says. "I accepted this role without reading my part, let alone the entire script, and I didn't show up for practice one week because I was freaking out. Ultimately, I made a commitment to more people than myself by taking on this role, and missing rehearsals was not fair to them."
Baker quickly recognized that, despite his lack of experience, Dameron is a born actor, and he has gradually become more comfortable playing the pivotal role of the son whose sparring with his father is at the heart of the play.
"I'm trying to embody him, and I'm starting to see him as more than a one-dimensional person." he comments.
Dameron does identify with the teasing back and forth with Fanning's character.
"I am a middle child, like John. I have older sisters and a younger brother.  I can certainly relate to the ribbing which John seems to have mastered," he laughs.  Although he had not heard of Gurney before taking on the role, he has come to appreciate the compelling dialogue in the play.
Dameron's day job is as a forestry tech with the U.S. Forest Service. He has gotten some mild ribbing from his co-workers, but he says that, overall, they have been very supportive and he expects to see some of them in the audience.
"This role is a huge challenge, but I think it's a great practice to push oneself outside of your comfort norms," he says.
The Cocktail Hour is full of humor, bile, warmth and a splash of that secret ingredient that unites even the most contentious of families. It will be performed at the Pocahontas County Opera House on Friday and Saturday, Sept. 15 and 16 at 7:30 p.m. Some language may not be suitable for all audiences. PG13