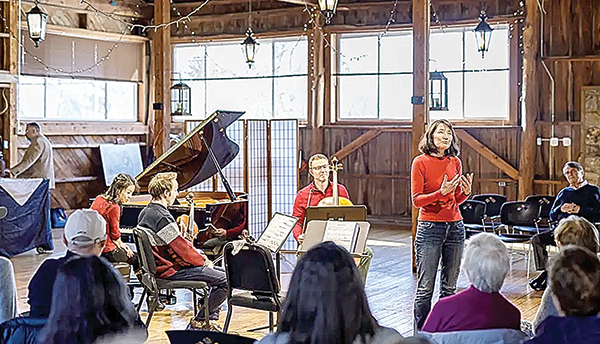 Suzanne Stewart
Staff Writer
Deep in the Alleghany Mountains, in Warm Springs, Virginia, on a 116-acre homestead, there is a rich history steeped in a love for horses, art and music.
The homestead is now known as Garth Newel Music Center, and it is celebrating its 50th anniversary of providing programs and education in classical and chamber music. But that's just part of its history.
The homestead was founded in 1923 by William Sergeant Kendall and his wife, Christine Herter Kendall. Both of the Kendalls were artists.
"He was an American painter of some repute," Garth Newel executive director Shawn Puller said. "The portraits he did – mostly of women and children – hang in museums all over the United States. He moved here with his young wife, Christine Herter Kendall. She was of the line of the Herter Furniture Brothers. They were interior designers and furniture makers that had quite a reputation in New York City."
Sergeant was the dean of the fine arts department at Yale University and first met Christine through her uncle, Albert. At 14, Christine took painting lessons from Sergeant who was 22 years her senior.
"She was from a family with immense means," Puller said. "They lived in a large mansion on Madison Avenue in New York City, and the girls learned how to ride horses in Central Park. They were not eking out an existence."
Christine and her sister were homeschooled, and she continued her path to become a painter. She traveled to Paris, France, and studied with Mary Cassatt, before returning to America, where she enrolled at Yale University.
"She was allowed to enroll in Yale University and earned a baccalaureate degree in 1915, which would have been incredibly unusual," Puller said.
Sergeant and Christine grew close – leading to a scandalous marriage of which high society did not approve. Sergeant divorced his wife to marry the much younger Christine, a fact the New York Times reveled in when it ran the headline "Sergeant Kendall divorces wife, marries student."
"It is a little bit disingenuous, but still it was scandalous, and doors shut in their face," Puller said. "Her mother, as sort of a wedding present, gave her a large amount of money and said, 'you'll be happier somewhere else.' And this – is the somewhere else."
The couple made their way to Warm Springs, Virginia, and found their "Garth Newel" – a Welch phrase meaning New Home. There, they raised Arabian horses and continued painting. They were both musicians as well, and they played violin together.
In 1938, Sergeant died after a horse riding accident, leaving Christine a childless widow with a large property to keep up by herself. 
After his death, Christine donated much of the property to the Girl Scouts of America to use as a summer camp, but by 1969, it returned to her due to the GSAs inability to maintain the property.
"She took the lease back and started despairing that anything good would come it," Puller said.
That is until she met Luca and Arlene Di Cecco, violinist and cellist in the Ciompi Quartet, which had a residency at Duke University. They visited the property and worked with Christine to turn it into the music center it is today.
"The three of them came up with the idea of turning it into a summer music program for students. Out of that grew Garth Newel, which now does fifty concerts a year and has a resident quartet, and amateur chamber music, and on and on," Puller said.
It began with the Di Cecco's hosting students and bringing their newly formed quartet, the Rowe String Quartet, to the property to perform and teach.
"Mrs. Kendall began putting money back into the property," Puller said. "The entire campus had been let go to seed and was falling apart, but with the students here, she began investing in repairs to the house and what we call Herter Hall, which back then was a training rig for Arabian horses.
"She loved the students; just loved them," he added.
When Christine passed away in 1981, she bequeathed the entire property and a nest egg to the Garth Newel Music Center Foundation to continue her vision of providing music in a rural area.
"It was tough going to begin with," Puller said. "Luca and Arlene invested their entire lives into this place – blood, sweat and tears. He was a Fulbright Scholar in Italy. She, originally from South Africa, won scholarships to study at the Guild Hall in London. Both of them toured Italy, and that's where they ended up meeting."
The talented pair put their hands to work – putting down their bows and picking up yard tools and cooking utensils to make the center work.
"Luca would be out beating the weeds back and mowing the lawn, and then would get cleaned up and put on a concert," Puller said. "Then Arlene would cook a dinner to serve the guests because she felt if they came all the way out here, they needed to be fed before you sent them home."
The center now offers 11 fully-funded fellowships to string students from around the world. They come to Garth Newel for a month and learn classical and chamber music, as well as perform in the region, including providing a free concert at the Green Bank Observatory.
"It's incredibly fulfilling for them – as they are on the cusp of starting their own professional careers – to see what it would be like to actually have to perform for a living," Puller said. 
Along with the fellowship program, the center also has the Alleghany Mountain String Project which is for students, kindergarten through 12th grade. It teaches students how to play violin, viola, cello or bass. Each year, more than 50 students take part in the program.
"We have some students forming string quartets or trios, which, it's so easy to put people in pigeon holes," Puller said. "The thing is, music is for everybody, and we know just from research that really young children don't know what genres are. All they know is they like what they like, and they don't care whether it's what we call classical or rock n' roll or jazz. They just groove on music."
Not to leave out the adults, the center also has an amateur chamber music retreat, which is a long weekend for 30 to 35 adults who come to study, eat, drink and live chamber music.
Garth Newel Music Center also has an eclectic concert series that features musicians from all genres. In the fall, there are concerts every Friday, Saturday and Sunday, with special performances the week of Thanksgiving. 
For a full list of performances and directions to the center, visit garthnewel.org