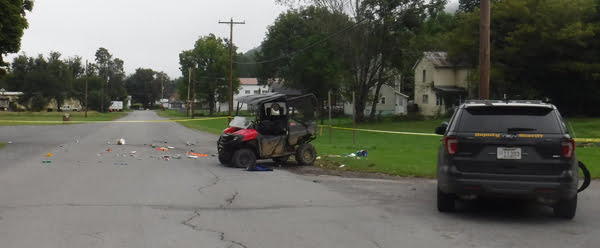 Jaynell Graham
Editor
According to a press release from the Pocahontas County Sheriff's Department, "In the early morning hours of Wednesday, September 19, Deputy Brian Shinaberry encountered a side-by-side being operated illegally in the Town of Marlinton. When the officer attempted to make a traffic stop, the individual fled, eluding the officer.
"The suspect then led the officer on a wild chase through the streets and alleys of the town to the Marlinton Elementary School. At that point the suspect attempted to run over the officer with the side-by-side, at which point the officer fired several rounds striking the suspect.
"The suspect then fled to the other side of Marlinton where he wrecked the side-by-side on First Avenue.
"EMS was notified, and the suspect was transported to Pocahontas Memorial Hospital, after which he was transported to Roanoke Memorial Hospital.
The suspect, James William Wood, 26, a resident of Marlinton, was identified as the driver of the side-by-side.
"The investigation indicates that the side-by side was stolen from a local resident and it was further determined that the suspect had broken into the Little General Store and stolen various items which were located in the ATV when it was stopped."
During the investigation, it was discovered that the side-by-side, belonging to Philip Anderson, had been stolen from a property on 14th Avenue in Marlinton.
Pocahontas County Sheriff Jeff Barlow said, at the time of the incident, Shinaberry was only acting on a traffic stop, and was not aware of the other issues that had taken place.
The investigation further revealed that a capias had been issued for Wood September 11 in Pocahontas County Magistrate Court, when he failed to return to the Day Report program in Marlinton after being terminated from a rehab program at a facility in Huntington.
According to magistrate court records, Wood had pleaded guilty to one count obstructing and two counts domestic assault, and had been sentenced to two years on the Day Report program. It was through that program that efforts had been made on his behalf to get him into the facility in Huntington.
The investigation into Wednesday's incident is being conducted by the West Virginia State Police.
Sgt. Guy Deweese, Commander of the West Virginia State Police – Marlinton Detachment, said there are currently four warrants issued and entered into the NCIC [National Crime Information Center] for Wood. They include Attempted Malicious Assault of a Police Officer (2), Breaking and Entering and Grand Larceny. The NCIC makes this information available to all law enforcement agencies, nationwide.
Other charges may be added as the investigation goes forward.
When Wood is released from Roanoke Memorial Hospital, he will be taken into custody.
Shinaberry is on paid administrative leave from the Pocahontas County Sheriff's Department until the investigation is complete.