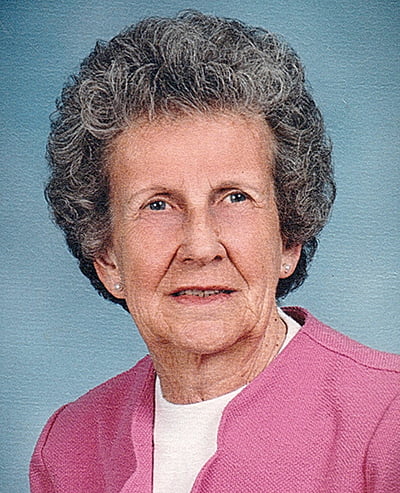 Laura Dean Bennett
Staff Writer
Mary Broce, of Buckeye, has reached the venerable age of 91, and she is in a remarkably good physical and mental state.
She has been a resident at Pocahontas Center for a couple of months, but she was driving her own car right up until the time she came there.
Broce tells a heck of a good story, and she's happy to share her stories, along with her sense of humor and beautiful laugh.
Mary Ruth Moss was born in Buckeye in 1927, and never saw a reason to leave there. Her family lived on what's now called Steven Hole Road.
They didn't have electricity in the house during her childhood, but, like a lot of families back in those days, they got by.
"My dad farmed with big old work horses," Broce recalled. "I still remember their names – they were Pat and Ben.
"They had the biggest feet with great big shoes. I was always afraid of getting around their feet.
"My mother taught me how to cook and to can and how to do everything. I wish I could have been as good a cook as my mom was."
Broce was always known for making delicious salt rising bread. 
"I made it for our family," she said. "They just loved it. I learned how to make it from my mother.
"There's no secret to it. I think I was just lucky that it always turned out."
Broce had a brother and a sister. 
"My mom was strict with us kids," she said. "And we had to work hard. I guess everybody did.
"We'd go in the Greenbrier River to swim sometimes in the summer, but we weren't allowed to go in over our knees."
She'd gone to school with George Broce, although he was older.
He'd been drafted at the age of 18, and when he came back from the service, they got married.
She was an 18 year old bride.
"Times were really tough back then, but somehow George managed to give me an engagement ring," Broce said, smiling. "We got married at the preacher's house in Buckeye. I wore my best church dress.
"We stayed with my parents until we could afford to get a house of our own.
"I remember our wedding night. We were at my parents' house, and it was nighttime when all the neighbors came around the porch and started pounding on the railings and the floor and ringing cow bells. That's what they did to newlyweds back then. 
"They were calling for us to come out and making that noise to tease us.
"I was so embarrassed I wouldn't go out on the porch," she said, shaking her head.
George worked for his dad as a coal truck driver, and later for Burns Motor Freight in Marlinton.
They had two sons, George Allan and Mike.
She has a grandson, Jason Broce, who lives in Buckeye and is, clearly, the apple of her eye.
"He's just wonderful," she said.
Broce has been a homemaker all her life, although she recalls doing a brief stint working at the H&P Store in Marlinton "after the boys were old enough to be in school."
Then there's Broce's story about how she almost came to work for the FBI.
In 1945, after graduating from Marlinton High School, she and her friend, Betty Buly, heeded Uncle Sam's call for help in Washington and decided to apply to work for the FBI.
They bravely boarded the train and travelled to FBI headquarters in Washington, D.C. 
"I'd never been away from home before," Broce recalled. 
"We stayed over the weekend in a hotel. But Washington was just too big a city for me. 
"Betty was fine, and she stayed and did work for the FBI, but I was homesick and terrified.
"I came home that Tuesday and never left home again."
Broce belonged to the Swago Farm Women's Club for "too many years to remember." The Farm Women's Club is now known as the Extension Service CEOS.
She also belonged to the Buckeye 4-H Club, which, she recalls, were known as the "Winners."
Broce is a faithful and lifelong member of the Swago Methodist Church. 
"I joined the church not long after I got married and have been a Christian all my life," she said.
When asked for her advice about how to find contentment, Broce said: "Put Christ first in your life."