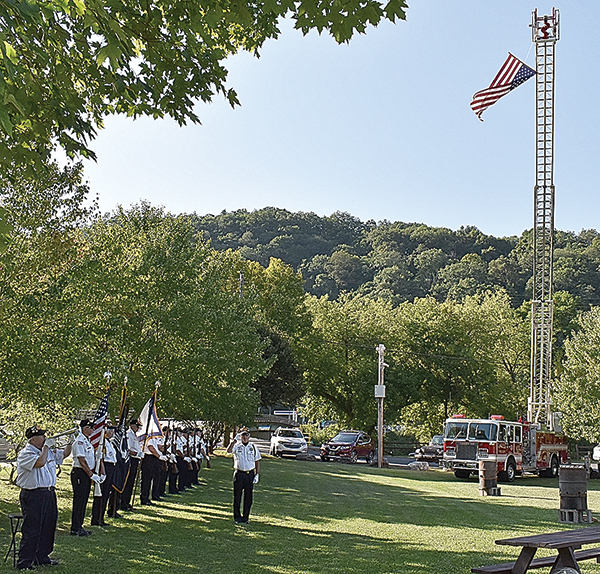 Suzanne Stewart
Staff Writer
At 5 p.m. Monday, the church bells at Marlinton Presbyterian Church rang out, opening the September 11 Remembrance Ceremony at the gazebo park on Main Street. The Marlinton Fire Department ladder truck was on site, with its ladder extended and an American Flag flying high above the crowd that gathered for the event.
Town residents joined Marlinton Mayor Sam Felton and the Pocahontas County Veterans Honor Corps in reflecting on the events that took place 22 years ago – the events that changed the country forever.
"Americans in all parts of the world remember one of the darkest days in the history of the United States," Felton said. "We lower our flags to half staff in solemn remembrance of the 2,977 American lives tragically lost that day. We must never forget the men and women and children who lost their lives twenty-two years ago today on September 11, 2001."
In his speech, Felton said it is important to honor the courage of the first responders who rushed into the two burning buildings as so many were rushing to escape. It is also important to remember the families left behind by those who were lost that day and those who are still suffering the mental and physical effects.
"The lives lost that day were bad enough, but double that number have been lost in the aftermath from respiratory problems, cancer and other health issues," Felton said. "After twenty-two years, it may be less of a constant presence in the public's mind, but September 11 still shapes America's policies, politics and every day lives."
After his speech, Felton led the gathering in a prayer, then introduced Pocahontas County Veterans Honor Corps member Duke Fry, who talked about the rest of the ceremony.
Fry explained that the Honor Corps retires old American Flags in a burning ceremony on Patriot Day – September 11 – after it presents a 21-gun salute to honor the memory of the lives lost on September 11.