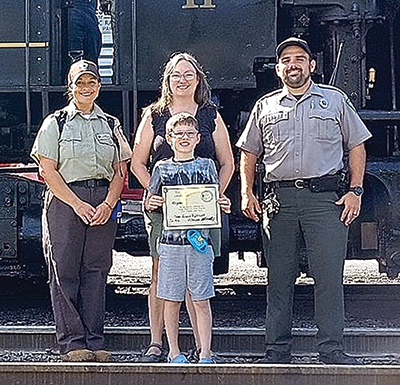 Suzanne Stewart
Staff Writer
Several state parks in West Virginia offer the Young People for Parks program and, now, Cass Scenic Railroad State Park is one of them.
The YPP program is geared toward kids between the ages of six and 16 and consists of a workbook with park specific activities for the kids do to earn a YPP Patch.
While the program mostly focuses on the flora and fauna of the parks, Cass superintendent Marshall Markley said there is an added bonus for the Cass program.
"It's designed for families to be able to come to the park, learn about the flora and fauna and, in our case, the history of the location, so ours is a little bit different," he said. "If you go to Blackwater Falls, Cacapon, Ca-naan or Twin Falls, they're going to be more focused on animals and birds and plants, and here it's more focused on the history of the location because we're a historical park. It gives kids an opportunity to learn about the intricacies of our location, but on their level."
The program is spearheaded by park naturalist Jamie Shear, who took what former naturalists Monica Fleming and Kailey Price started, and put together a fun program for kids and their families to enjoy.
"There's a workbook to go through," Markley explained. "You've got to complete all the portions of the workbook. It could be parent-guided or it could be partially guided by the natur- alist. She's doing a good job. She took it upon herself to take that program to the next step."
The program kicked off this summer and several young people have completed it already. The first to earn a badge was Layne Suesli, of Parsons.
"There's absolutely no expense," Markley said. "You can do it at your own pace. Once they finish it, they can turn in the workbook to our naturalist or someone at the office, and we'll get them their completion patch."
Cass has another program – the Junior Ranger – which is similar to the YPP program in that kids do a workbook and hands-on activities at the park to earn a patch to become a Junior Ranger.
Workbooks for both programs are available at the Visitors Center next to the Cass Company Store.