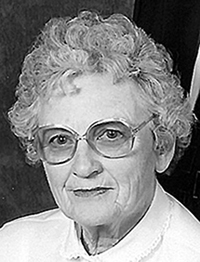 Marianne Christianne Hannawald Wooddell, age 93, passed into heaven Thursday, May 18, 2023.
She was born on July 3, 1929, in the town of Aue, Saxony District, in what was once East Germany.
She was the second daughter of the late Fritz and Martha Hannawald.
Marianne survived World War II in East Germany and made her way to the west right after the end of the war. She found employment at Erding Air Base, West Germany, where she fell in love and married her husband – Harold Wooddell – in 1952. They left Germany the same year and continued moving with the Air Force through assignments in Colorado, Maryland, Massachusetts, Taiwan, Delaware, Virginia and Chile before retiring to the Wooddell homeplace in Green Bank in 1970. She remained at the homeplace as a homemaker for the rest of her years.
She was preceded in death by her husband, Harold, in 2013; and a sister, Anneliese, also in 2013.
She is survived by a son, Rick Wooddell, and wife, Renae, of Green Bank; daughter, Connie Wooddell, of Green Bank; two grandchildren, Andrew Wooddell, and girlfriend, Elizabeth Garst, of Roanoke, Virginia, and Erin Wooddell West, and husband, John; and one great-grandchild, Hailey Ruth, of Chattanooga, Tennessee.
At her request, her ashes will be placed next to Harold's in a graveside ceremony at the Arbovale Cemetery at 11 a.m. Thursday, June 1, 2023.
In lieu of flowers, donations can be made to the Green Bank Library, PO Box 1, Green Bank, WV. 24944.
Online condolences may be shared at WallaceandWallaceFH.com