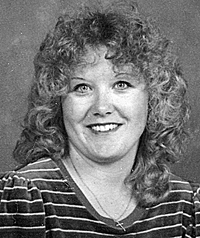 Lornora Alma Lundy, of Marlinton, went home to be with Jesus Thursday, November 11, 2021, at Lewis Gale Hospital in Roanoke, Virginia.
She was born April 25, 1956 in Oak Hill. She moved to St. Petersburg, Florida, as a child and was later employed by BIC Pen for more than 30 years. Lornora moved to Marlinton three years ago.
She is survived by her son, Benjamin Gwynne; grandson, Caleb Gwynne; granddaughter, Trinity Gwynne; and great-grandson, Cayden Gwynne, all of St. Petersburg, Florida; two sisters, Loretta DeRossett, of Marlinton, and Lorena Marek, of St. Petersburg, Florida.
A celebration of life will be held Monday, December 13, at 6 p.m. at Mountain View Assembly of God Church at Edray.
In lieu of flowers, memorial donations may be made to the Humane Society of Pocahontas County, 410 Second Avenue, Marlinton, WV 24954.