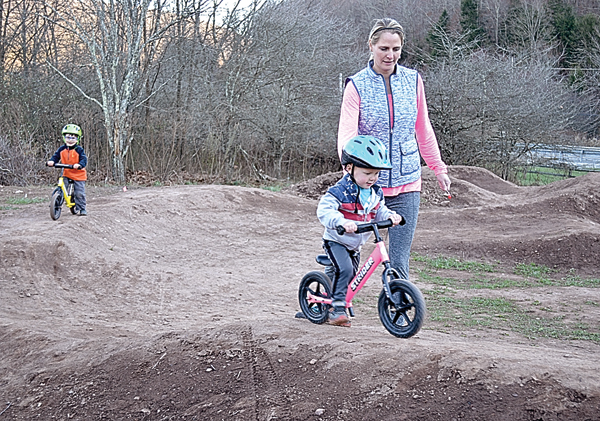 Suzanne Stewart
Staff Writer
Since its inception, Linwood Alive! has raised funds and received grants to add several amenities to the Linwood community, including a day care center, public garden and pavilion, and the latest – a mountain biking pump track.
The organization was awarded a $3,450 grant from Mountain of Hope through West Virginia University and used the funds to form a pump track, which includes dirt mounds and ramps for bikers of all ages to enjoy.
Members of Pocahontas Trails, Snowshoe Mountain Resort and Snowshoe's bike park employees lent a hand and shovels to create the new feature.
"We used it the first time at the end of September when we had the last couple of farmers markets," Linwood Alive! coordinator Terry White said.
"We had seventeen kids the first day, and everyone wanted to be on it," WVU Extension agent for Randolph County Tracey Valach said. "It was a lot of chaos the first week."
The pump track became an instant hit with bikers, and soon became a part of the routine for youngsters in the Linwood area.
Children at the Linwood Day Care can use their strider bikes on the track before the older kids come along with their pedal bikes.
The pump track is an exciting way to promote physical activity and also introduces the younger generation to the sport of mountain biking.
It is the first phase in creating a mountain biking feature at Linwood. The plan is to add a half-mile track, which will include low impact obstacles and will have options for a "choose your own adventure" kind of ride.
"We have all this amazing single track in Pocahontas County, but it's not the most approachable for young kids or parents who don't ride," Valach said. "This is like a stepping stone. They can get comfortable on this. This is a very low commitment, so if you don't like it, you don't have to go anywhere else."
The half -mile track will be accessible for all ages – from youngsters on striders to adults on mountain bikes.
"It's a choose your own adventure, so it will be one big loop across the creek and back – we hope," Valach said. "And there will be sweeps out to the sides so that they can stay on the regular trail or they can try something more difficult. We just wanted to do our best to make it as approachable as possible."
There are signs posted at the pump track that include rules for use. Requirements include wearing helmets at all times on the track, you must be on a bike if on the track and, for safety reasons, older kids cannot be on the track when preschool kids are there on their striders.