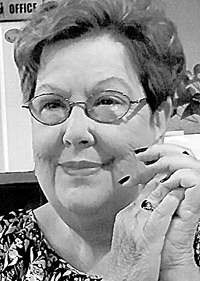 Linda Diana Lantz McLaughlin, 70, of Charles Town, passed away Thursday, May 6, 2021, at UVA in Charlottsville, Virginia.
Born April 26, 1951, in Buckhannon, she was a daughter of the late Dennis Revere Lantz and Dorothy Lea Pletcher Lantz.
Linda was a member of Elk Branch Presbyterian Church.
She was a graduate of Buckhannon-Upshur High School and Fairmont State – Class of 1973, where she met her future husband, Lee. She was a Jefferson County educator, teaching fourth grade, at Wright Denny for her entire 39-year career. Linda was a member of Delta Kappa Gamma. In past years, she was very involved with the Jaycee Women and the Miss Shenandoah Scholarship organization.
In addition to her parents, she was preceded in death by her granddaughter, Kaelyn; sister, Carolyn Lantz; son-in-law, Shane Seal; and uncle, Paul Lantz.
She is survived by her loving husband of 47 years, Lee; two daughters, Emily P. Seal, of Martinsburg, and Megan L. McLaughlin, of Charles Town; one son, Ryan McLaughlin, and wife, Laura, of Martinsburg; seven grandchildren, Alyssa, Lyla, Eva, Mia, Addison, Carson and Jade; sister-in-law, Julia Warner, and husband, Danny; nieces and nephews, Dana and D.J., and their families.
Service will be held at 11 a.m. Friday, May 14, 2021. at Eackles-Spencer and Norton Funeral Home, 256 Halltown Road in Harpers Ferry, with Pastor David Beeson officiating. Interment will be in Edge Hill Cemetery in Charles Town.
The family will receive friends at the funeral home Thursday from 5 to 8 p.m.
In lieu of flowers, memorial donations may be made to Elk Branch Presbyterian Church, P.O. Box 110, Shenandoah Junction, WV 25442.
Condolences may be expressed at www.eackles-spencerfuneralhome.com