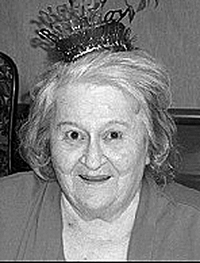 Lillian Loretta Smith Morris, age 91, formerly of Dunmore and Walkertown, North Carolina, passed away Tuesday, June 14, 2022, at Pocahontas Center in Marlinton.
Born March 16, 1931, in King, Putnam County, she was a daughter of the late James Thomas Smith and Nora Plantz Smith.
She was a Methodist by faith.
Lillian lived most of her life on Tick Ridge in South Charleston. She was a graduate of South Charleston High School where she was a majorette.
She was a retiree of Womble-Carlisle Sandridge and Rice Law Firm in Winston-Salem, North Carolina, where she worked as a microfilmer. She also worked through the years as a switchboard operator at Snowshoe, assembled GE radios, was a time keeper at Martins Aircraft and was the last fire tower observer in Pocahontas County when she worked for the Department of Natural Resources. These were just a few of her jobs and talents.
Lillian enjoyed the outdoors – gardening, painting and watching wildlife. She had a really great sense of humor and would help anyone who needed it. Through the years, she and her husband kept 45 foster children and won an award in the 1970s as the Best Foster Home in the State of Virginia.
She was preceded in death in 1982 by her husband of 36 years, Don Q. Morris. In addition to her husband, she was preceded in death by her brothers, Randall, Raymond, Otis and Leonard Smith and her only sister, Ardith Egan. She was the last living member of her immediate family.
She is survived by her children, Andrew R. Morris of Weston, Patricia A. Batie, of Arizona, Doreen McElwee, of Rocky Mount, Virginia, Deborah Miller, and husband, Robert, of Marlinton, and Rebecca Rabel, and husband, Troy, of Arbovale; grandchildren, Aleisha Broce Arbogast, Jason Broce, Christy Broce, Sarah McElwee Jaeske, Cameron McElwee, Trey Rabel and Andrea Rabel; great-grandchildren; and many nieces and nephews.
Funeral service was held Thursday, June 16, 2022, at Lantz Funeral Home with Rev. Julian Rittenhouse officiating. Burial was at McElwee Cemetery in Minnehaha Springs.
Online condolences may be made at Lantzfuneralhome.com