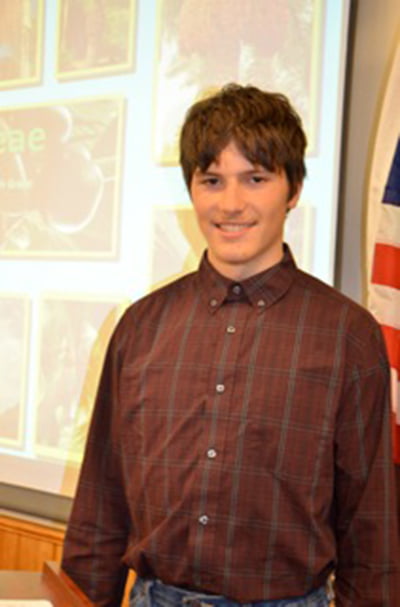 Laura Dean Benentt
Staff Writer
On a trip to Jupiter, Florida in December, Abram Leyzorek's interest was piqued by the many varieties of palm trees he saw there.
He decided to organize a presentation on the subject, which he presented Friday night at McClintic Library.
"Palm trees are so unlike anything I had ever seen, so I resolved to learn more about them," Leyzorek explained.
Leyzorek is a home-schooled high school junior who obviously takes his education very seriously.
His 45-minute lecture offered detailed botanical descriptions of many species of arecaceae (the Latin name for palm).
He described how there are 2,466 species of palm trees, and that they have been on earth since the Cretaceous Period.
They were likely the first cultivated plant, having been first cultivated by man in Mesopotamia 5-to- 10,000 years ago.
Date Palms are perhaps the most popular cultivated palm tree, with more than 100 million in existence in at least 30 countries around the world.
Leyzorek discussed the unique attributes of the palm family, their reproduction, leaves, vascular system and growth habits. 
He also explained the many uses to which palm trees and their by products have been put.
"The fruit of palm trees are coconuts and dates – both of which are nutritious and sweet," Leyzorek said.
"Coconut oil is derived from the African Oil Palm. 
"It is edible and is used in many recipes. Coconut oil is used as a cooking oil, and many cosmetics are also derived from it."
Leyzorek also explained that palm trees are integral to Florida's tourism and lifestyle.
They are heavily used as part of advertising and marketing campaigns.
The Florida state flag features a Sabal Palm, and palms are extensively used in landscaping in Florida.
Besides examining palm trees, Leyzorek said he enjoyed going to the beach while he was visiting the Sunshine State.  
He reported seeing lots of wildlife, commenting in particular on the ubiquitous little chamelion-like lizards called anoles and the plentiful water birds.
Leyzorek enjoyed a pontoon boat ride on the Loxahatchee River where he saw crabs and mangroves trees and he got to see the famous Jupiter Inlet Lighthouse, as well.
He has been working through Yale open courses online in some of his homeschool curriculum. 
He has completed a course on the Late Roman Empire, is now taking Astrophysics and will be doing early access course work for West Virginia Universtiy next year.