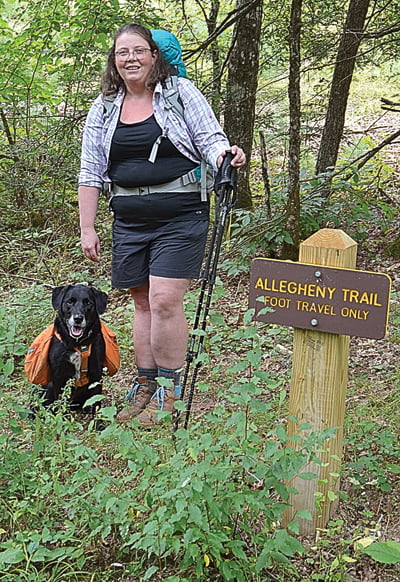 Laura Dean Bennett
Staff Writer
Hillsboro resident and local attorney Laura Finch and her dog, Shiloh, are preparing to embark on a long distance adventure.
Each carrying their own backpack, they got in another practice hike in the Cal Price State Park last weekend to get ready for a September 6 departure on a 300 mile "solo" hike on the Allegheny Trail. 
Finch, a lawyer who's been in general practice in Marlinton since 2016, became interested in backpacking since she moved here.
"I've wanted to do a long-distance trail like the Appalachian Trail, but I knew that I couldn't take off six months from work to accomplish such a feat," Finch said.
"But this hike will only take twenty-one days to do – about 300 miles of open trail.
"My goals are to improve my fitness, take a much-needed break from work, and improve the visibility of the Allegheny Trail for locals and visitors alike," she added.
"We should all take advantage of the opportunities we have for adventure in the mountain playground that we call home."
Finch and Shiloh will begin their trek at the trailhead in Preston County and will finish in Pembroke, Virginia.
Finch will be subsisting on dehydrated meals, oatmeal, energy bars and crackers stored in her backpack, and Shiloh will be dining on dog food that she's carrying in her own backpack.
During the trip, the two will make their way briefly back into civilization to four designated "outposts" to which Finch will have mailed extra supplies before leaving home.
Is she at all daunted by the prospect of sleeping in the woods or the possibility of making the acquaintance of a bear or two?
"Yes, I'm a little nervous," she said, "but I'm more excited to be doing it. I'm looking at it like I'm just going on a field trip."
Stay tuned, readers. After they hit the trail, we'll keep you apprised of the progress of this plucky pair with weekly updates and "selfies" from the Allegheny Trail.