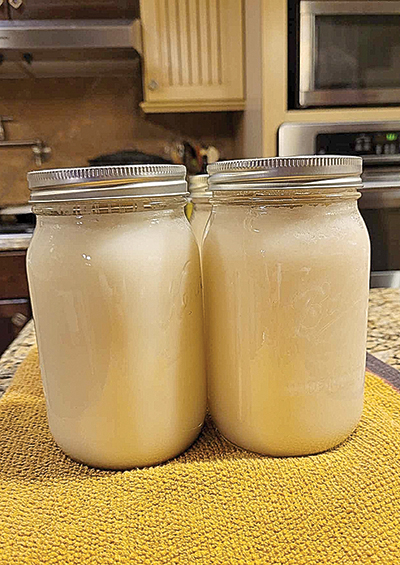 Laura Dean Bennett
Staff Writer
Back in the day, rendering lard was a common chore done at hog butchering time, usually during the fall of the year to take advantage of the cold weather.
At my grandparents' farm in Greenbrier County, there was a big kettle that sat out in the back yard during butchering which, in our family, was usually scheduled to occur around Thanksgiving Day. 
Making lard and canning it was one of the several projects –including sausage making – that occurred during butchering time. 
That big cast iron kettle was filled with fat trimmed from the carcasses and destined to be "rendered" into lard.
The fat was cut into small pieces, tossed into the kettle and boiled for hours on end – until there was more liquid fat than solid pieces at the bottom of the kettle.
To keep the fat from burning, the kettle needed to be stirred regularly. 
When I got to be old enough to be trusted around a fire and the boiling hot fat, I got to work the kettle, meaning it was my job to stir the kettle and occasionally add an extra piece of wood to keep things going. 
In those days, rendering lard was an essential task for every household lucky enough to have a hog to butcher, after all, before the advent of Crisco, cooking oil and margarine, the only fats we had were lard, bacon grease and butter. 
They were used for cooking, baking and spreading on bread for a sandwich.
You've probably heard the old saying, "the only thing not used from a pig is its squeal," and it's true. And one of the many products we derive from the pig is lard.
Lard has been used for centuries, ever since humans realized how easily it could be processed from a hog carcass. 
There are three types of lard; they all have different flavors and are used for different purposes. 
There's leaf lard, back fat or fatback lard and pork belly lard. Each of these types of fat come from a different part of the carcass.
Leaf lard comes from around the kidneys and other organs of the animal. This fat is the purest form and is most famous for baking. It is ideal for baking flaky pie crusts, wonderful homemade biscuits and fluffy rolls. 
Leaf lard is recognizable because it is formed to look like a rope and it's distinctly whiter in color than the other lards. 
Back fat or fatback lard comes from the pig's back, where it protects the animal's backbone. It's sometimes used like bacon but it's mostly fat, with very little meat on it. 
When it cooks down it's a bit creamier and darker in color than leaf lard. 
Fatback is perfect for frying. It can also be used as a seasoning, for smoking meat or ground up and added to sausage to make it more juicy.
Pork belly lard is what is used to make bacon. 
Although it can be rendered into lard, pork belly is more valuable when it's smoked or cured for bacon. This delicacy has gotten more expensive over the years so whenever a family can make its own bacon, it's quite a boon to the budget.
When you cook bacon, it's smart to do what my mom always did – save the grease that comes from it and keep it in a jar in the refrigerator. It's handy for lots of things, like frying eggs or adding flavor to a pot of green beans.
Although lard can be rendered from the fat of other animals, there's a big difference between the lard which comes from a pig, and that which comes from a grazing animal such as a cow, lamb or a deer. 
That fat is known as tallow (which was used to mold candles back in the day) and its taste is much stronger than lard and not generally favored by cooks and bakers.
Tallow is better used for making soaps and skin care products, but some people do cook with it, as well. 
You might have heard that lard is an unhealthy fat. 
But as usual, our grandmothers who swore by it knew a thing or two that modern cooks are now relearning.
Pasture-raised pork is high in vitamin D and omega 3 fatty acids and low in omega 6 (an unhealthy fat), unlike GMO laced shortenings such as Crisco, some vegetable oils and corn oil. 
Lard is not only good for us, but it's so useful – besides being good for cooking, making excellent baked goods and flavoring frying recipes – it's the perfect seasoning for cast iron skillets, making soap and using as one would WD-40. 
When fat is called for in a modern recipe, it will usually call for Crisco, vegetable oil or shortening. 
But when you're using an old recipe, if fat is called for, it usually intends for you to use lard. 
Rendering lard is not difficult. The process will create some smoke and smell up the house, so if you can, you might rather do it outside over a fire or on the grill. 
Of course, the day I'd set aside for this project turned out not to be favorable for the outdoor plan – it was cold and rainy day. So it was time for Plan B – the crockpot method. 
I used two crockpots and Plan B worked very well. If you prefer, you could do it atop the stove in an extra large and extra heavy Guardian Service or stainless steel pot, but I liked the idea of keeping the greasy process sealed up in a crockpot.
And, yes, it did smell up the house (as if we'd been frying bacon all day) and probably filled the air with microscopic fat molecules – perhaps not ideal for someone with breathing issues – fortunately I have none of those. 
I'd removed the fat from the freezer to thaw a couple of days before and before it went into the crock pot, the fat had to be diced up into small pieces. Then all that was left to do was the stirring. 
It took most of the day and required stirring every 30 minutes to keep it from sticking on the bottom. As the fat began to melt, it turned into what looked a lot like – and had the consistency of – water. 
By late in the afternoon, the liquid was ready to strain through a cheesecloth-draped strainer. 
Then, while canning jars were washed, dried and placed in a 250º oven to keep warm and the lids and rings were boiled, the lard was re-heated and strained again. 
After being strained the second time, the liquid lard needs to be re-heated in preparation for canning. 
When it's nearly reaches a low simmer, it can be poured into the hot glass jars and have the lids and rings placed on top. 
Set aside under a towel on the counter and wait for that lovely popping sound that tells you the jars are sealing.
As it cools, the liquid turns into snowy, white, creamy lard, ready for all those household uses. It will store well – just like other canned goods – in a dark, cool place.
You can store canned lard at room temperature for at least one to two years. Fro-zen it's also good for one to two years. 
Once the jar is opened, it can sit on the kitchen counter away from direct sun and heat to be used within three months. If refrigerated, the open jar will last for six to nine months. 
The bits of meat and fat remaining in the bottom of the crockpot or caught as the lard is strained are called cracklin's. 
Some folks love eating them – just scatter them in a frying pan and fry them until crispy.
They will also be well-received by your chickens – toss them into the chicken yard and watch the festivities. Or delight visiting birds at the bird feeders – just mold the cracklin's together and use them like suet.
I'm not planning to give up using olive oil or butter, which are great for so many things, but I will sometimes substitute lard for vegetable oil or butter in cooking and baking. 
Some experts say lard is healthier, tastes better and has a higher smoke temperature (meaning it takes longer to burn) than butter or Crisco.
And while we're talking about Crisco, it might be helpful to know exactly what Crisco is.  
Crisco- the first shortening made entirely from vegetable oil, came on the market in 1911 when Proctor & Gamble hired a chemist to develop a way to hydrogenate cottonseed oil, ensuring that the shortening would stay solid at room temperature. 
They were actually looking for a more inexpensive way of making candles, which were at the time made of animal fats. But just as the new substance was being produced, the dawn of electricity was making its way into American homes which caused the bottom to begin to drop out of the candle market. 
The company adjusted its target market away from candles and into America's kitchens and called the new product Crisco – a nickname taken from its actual name, "crystalized cottonseed oil." 
Some of those who used to swear by Crisco say you can use lard instead of butter for a flakier pie dough or half butter and half lard in cookie dough. 
Shortening has no flavor, but some say lard has a bit of a nutty flavor and you can tell the difference before baking. But after baking, you can't tell the difference in flavor between lard and Crisco at all.
These days, you can sometimes find lard sold by the pound. The only drawback to buying it that way is that commercially processed lard often contains preservatives. 
So, if you are lucky enough to have access to locally butchered pork, you may avail yourself not only of the meat, but the fat as well, and render your own lard. 
Just ask the farmer or butcher to save the fat for rendering. 
Even if you're not purchasing a pig, you can often pre-order pork fat from a butcher. 
Most customers do not render their own lard, so butchers will usually have a lot of fat on hand and will be happy to save it for their customers.