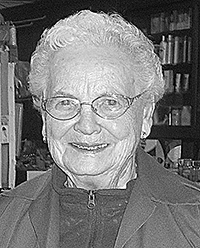 Betty D Mullenax, age 95, of Arbovale, peacefully passed away Sunday, November 12, 2023, at home.
Born August 5, 1928, at Arbovale, she was a daughter of the late Warren E. and Grace D. Brown.
Betty was a lifelong resident of Arbovale and faithfully attended Arbovale United Methodist Church. She was a member of the church choir and thoroughly enjoyed singing. Betty, along with her husband, Ebbie, owned and operated Trent's General Store in Arbovale for many years. Betty continued to work at the store until she was 93 years old. She enjoyed being at the store and seeing the customers who were some of her best friends.
In addition to her parents, Betty was preceded in death by her beloved husband and soulmate of 65 years, Edward (Ebbie); and four brothers, Bob, John Glenville, Hunter Keith and Tom.
She is survived by two daughters, Debbie Ervine (Bob), of Arbovale, and Teresa Rundle (David), of Fairmont; four grandchildren, Donnie Ervine (Erica), Jason Ervine (Kim), David Paul Rundle (Jessica), and Katrina Rundle (Marcus); two great-grandchildren, Mason Rundle and Gemma Rose Wilson; three special children whom Betty considered to be her great-grandchildren, Brayden Smith, Caleb Smith and Sierra Peck; sister, Mary Pat Bundrum, of Jacksonville, Alabama; and brother, Wayne C. Brown, of Arbovale. Also left to cherish Betty's memory is a very special friend, Laura Plank. Laura brought much joy and laughter into Betty's life.
A Celebration of Life will be held Sunday, November 19, 2023, at 2 p.m. at Wallace and Wallace Funeral Home in Arbovale with Pastor Amy Paul officiating. Burial will follow at Arbovale Cemetery.
The family will receive friends two hours prior to the service.
In lieu of flowers the family requests donation be made to support the Green Bank Senior Citizens Center, a place where Betty enjoyed great meals and fellowship with friends that were like her loving family. Donations may be made to Northern Pocahontas County Community Assistance Inc (NPCCA, an affiliate of the Green Bank Senior Citizens Center), c/o Tony Byrd, 6224 Potomac Highlands Trail, Green Bank, WV 24944. Donations may also be made to Mountain Hospice, 1002 South Crim Avenue, Belington, WV 26250, Arbovale United Methodist Church 3473 N Fork Loop, Green Bank, WV 24944 or BFD Fire and Rescue PO Box 267, Durbin, WV 26264.
Online condolence may be shared at www.WallaceandWallaceFH.com