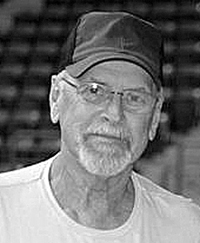 Lanty F. McNeel, of Hillsboro, passed away Sunday, October 3, 2021, surrounded by his wife and children.
Born November 29, 1941, in Richwood, he was the son of the late Richard and Mabel McNeel.
Lanty owned and operated Sinking Springs Farms in Hillsboro for most of his life. He was on the Board of Directors of the Bank of Marlinton until it was purchased by First Citizens Bank; and he retired at the end of his banking career.
Lanty graduated from Greenbrier Military Academy where he played basketball and football. He received a B.S. degree in Agriculture from West Virginia University and was a member of Alpha Gamma Rho.
While living on the farm, he served on the Hillsboro Volunteer Fire Department as well and worked with the Red Cross. He attributed his farming success to the support of many close and personal friends, including, the Hickman family, the Henry Scott family, Sandy McMillion, Clyde Perkins, Ronnie Aldridge and Junior Patton as well as many seasonal employees. Sinking Spring Farms was actively involved in record breaking sheep-shearing and currently still holds some of these records thanks to the assistance of Calvin McCutcheon. After retiring from farm life, Lanty began a change of scenery by traveling around the country doing contract work for Barnett Builders with friends, including Jim Peachey. In his spare time, he spent many hours with Edgar Starks, a childhood friend, cutting trails and riding four wheelers back on the mountain.
He was invested in the preservation of the McNeel Cemetery and worked countless hours with Skip Kite and his son, Charlie, restoring and repairing the gravestones, including, table-stones from the 1700s.
Lanty was an avid history and genealogy buff and worked closely with the Greenbrier Historical Society contributing donations to support the North House Museum. He recently funded the purchase of 300 books about the life of Katherine Johnson, White Sulphur Springs native and NASA mathematician, which were given to third grade students.
Lanty and Jan traveled extensively, including stints to New Zealand, the North and South Island as well as Switzerland and to Mexico as a chaperone for the high school Spanish class. Lanty traveled west for the National Final High School Rodeo to watch his granddaughter participate and to attend conferences on the west coast.
Lanty blessed many with his infectious knowledge of history and his love of community and country. To know him, was to love him.
He is survived by two sisters, Martha McNeel Braddock, of Bluffton, South Carolina, and Nora McNeel Workman, of Hillsboro; his wife, Jan, the woman who gave meaning to his life and has been by his side for 40 years; their blended family of five children, Elisa Jamey Weber, of Hillsboro, John McNeel II, of Hillsboro, Charlie McNeel, of Masontown, Jacalyn Weber, of Crawley, and Jeffrey Weber, of Morgantown; grandchildren, Hayden McNeel, of Marlinton, Josh Morgan, of Hillsboro, Jesse Weber, of Sinks Grove, Michael Villars, of Daytona, Florida, and Calee Villars, of Williamsburg; great-grandchildren Taylee Morgan and Josiah Weber; and several nieces and nephews.
There will be a celebration of Lanty's life and visitation Friday, October 15, 2021, from 5 to 7 p.m. at Sinking Springs Farms. A service, burial and covered dish dinner will be Saturday, October 16, 2021, at 2 p.m. at the same location.
He will be taken to the cemetery by horse and carriage and any and all who would like to ride their horse behind the carriage are welcome to do so.
In lieu of flowers, donations can be made to McNeel Cemetery.