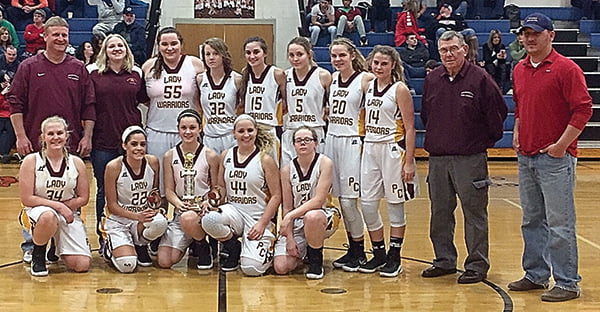 Bruce McKean
Contributing Writer
PCHS Varsity, 61
TV Varsity, 25
Even though Pocahontas County High School is no longer a member of the Potomac Valley Conference, the Lady Warriors traveled to Mill Creek December 13 to face its closest PVC rival, Tygarts Valley. 
PCHS sophomore Kira Bircher rose to the occasion and scored her varsity career high of 25 points, while dishing out five assists and grabbing four steals. Classmate Laila Calhoun notched another double-double of 12 points and 10 rebounds. Junior Brianna Hefner tallied  an impressive 12 rebounds, six points, four assists and three steals. Sophomore post Charity Warder added seven rebounds, six points and three assists. Sophomore point guard Alexa Taylor dished out four assists, three rebounds and two deflections. Aliza Carr and Sage McLaughlin each scored four points while Jerica Reed and Alexa hit for two points each.  
PCHS out rebounded TVHS 40-24 but committed 26 turnovers, three less than the Lady Bulldogs, who drop to 1-4.  PCHS had runs of 10-0 to start and followed by 14-0 and 15-0 runs later in the game.  The three TVHS losses were to Notre Dame by 22 points, Elkins by 20 and to Trinity by 22, so the young PCHS 36-point win was impressive.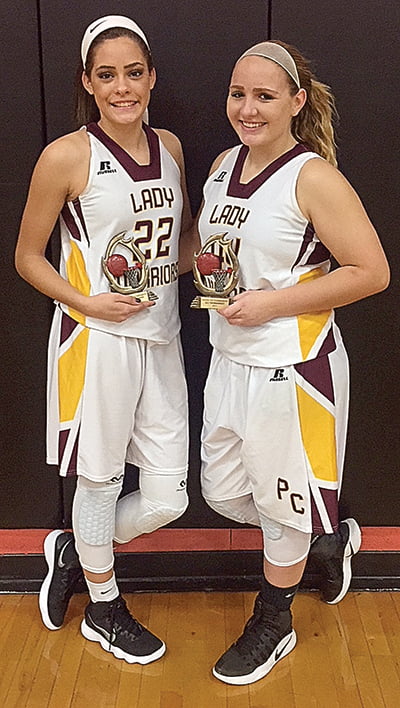 PCHS JV, 38
TV JV, 34
The PCHS JV team's second game of the season was a much closer match with PCHS taking the first half 19-13, and TVHS gained steam to win the second half 21-19. TVHS freshman Claire Smith hit a second three at the buzzer to pull her team within four.
Two PCHS freshmen, Destiny Vandevender and Kierstin Taylor scored 16 and 10 points respectively, and Vandevender had seven rebounds and six steals.  Tasha Davis, Tessa Kiner and Cheylynn Woodruff contributed seven, three and two points respectively to the Warrior win. Smith was the TVHS high scorer with 12 points, and Kaylee Halterman was second with eight points.
PCHS Varsity, 45
Chapmanville Varsity, 52
Last year PCHS had an unusual game scoring collapse in this same matchup and lost to Class AA Chapmanville Regional in the Reynolds Oil Classic at Summers County High School by 61 points, 26-87.   The young Lady Warriors this season had a surprise for the Logan County school that returned all but one of its top scorers from last season's team. 
CRHS started where they left off last season with their current eight total juniors and seniors plus six players at 5'10" or taller, and they took the first quarter 20-11. PCHS rebounded and took the second 17-12 to trail by only four at the half, 28-32.  The game was a battle and went back and forth, but PCHS had to foul down the stretch to stop the clock and the CRHS stall.  That situation resulted in both our high scorers, Calhoun and point guard Alexa Taylor, fouling out in the final minutes. Pocahontas made three of six foul shots in the fourth, while the Lady Tigers sank seven of 15 foul shots. The Tigers were called for 30 fouls and five of their players finished with four fouls, versus only 19 PCHS fouls.
CRHS junior 5'10" post player Kaylee Blair was game high scorer with 24 points, while teammate 5'10" sophomore guard Ali Williamson was next with 15 points. Calhoun was PCHS high scorer with 15 points, eight rebounds, three steals and two deflections. Hefner was next off the bench with 14 points, nine rebounds, and the only two blocked shots, PCHS out rebounded the much taller team 36-23, but the more experienced Tigers committed only 21 turnovers to 35 for PCHS. Coaches Kane, Taylor and Bland are working with their young team on that problem.
Warder tallied six points, six rebounds, three assists, and two steals.  Bircher produced six rebounds, three steals, and three assists.  Reed, McLaughlin and Bircher each scored a basket. CRHS improved to 3-1 and stayed with Summers County for most of the championship game.  Class A #4 (first Coaches Poll on 12/17/17) Summers County won 72-54, after losing last year to Class AAA Cabell Midland by one point.
PCHS JV, 21
Summers JV, 15
The PCHS JV played a two quarter game on Friday versus the Summers County JV.  Five PCHS girls combined for 21 points, while only one girl, freshman point guard Riley Richmond, would score all 15 points for the Bobcats five players squad.  The PCHS scoring was: Kirstin Taylor – 6, Tessa Kiner – 5, Tasia Davis – 4, Destiny Vandevender – 4, and Sienna Bircher – 2.  
PCHS Varsity, 52
Richwood Varsity, 20
PCHS played Richwood in the consolation game December 16. Richwood lost to Summers County 51-107 on Friday. Although the Lumberjacks committed double the PCHS turnovers in the first period, RHS won the quarter 7-4. PCHS woke up in the second frame and doubled the scoring of RHS 12-6, and by the half PCHS led 16-13 mainly due to Alexa Taylor scoring nine points, including two threes in the second quarter. The second half was all Pocahontas and they took the half 36-7.
Calhoun scored nine points in the third canto while Carr matched her nine points in the final frame to lead PCHS to a strong finish.  Calhoun and Alexa Taylor were voted to the all- tournament team, and Kaysee Amick received the same honor for Richwood.  Kaysee, one of three Richwood seniors, only scored two points in the PCHS game, but she was high scorer in double-digit scoring in the Summers County Friday loss.
The Lady Warriors again out rebounded a taller team, this time by 41-32. Richwood committed more turn-overs, 40-31. High RHS scorer was senior point guard Amelia Bard with eight points. Calhoun had another double-double with 15 points, 13 rebounds, and eight steals. Alexa Tay-lor  tallied 11 points, five rebounds, five assists and four steals. Warder produced nine rebounds, five points, and two deflections. Hefner grabbed  four rebounds and scored two points.  McLaughlin  finished with three deflections and two points. Kira Bircher scored four points and pulled down three rebounds. Sienna Bircher got into the game in the fourth quarter and tallied two steals and two deflections.
PCHS improves to 5-2 and Richwood drops to 0-5. The first West Virginia girls coaches poll was released December 17, and the PCHS girls were ranked #9 in West Virginia Class A. Teams of local interest who were among the 14 schools that were ranked: #3 Tucker County 3-0, #4 Summers County 4-0, #8 Notre Dame 5-1, #9 PCHS 4-1, and #13 Moorefield 3-0. Check MaxPreps and the SSAC site for the most up-to-date schedule of our next games.
PCHS JV, 19
Summers JV, 20
The second JVC two quarters match up went down to the wire with Richmond of Summers County hitting two final foul shots that resulted in the first loss for the PCHS JV, 19-20. Richmond scored 17 of the 20 SCHS points. Kierston Taylor was high scorer for PCHS with 12 points and eight rebounds.  Taylor Alderman grabbed six rebounds. Tasha Davis, Woodruff, and Vandevender added three, two and two points to Warrior cause.  The PCHS JV record drops to 3-1.