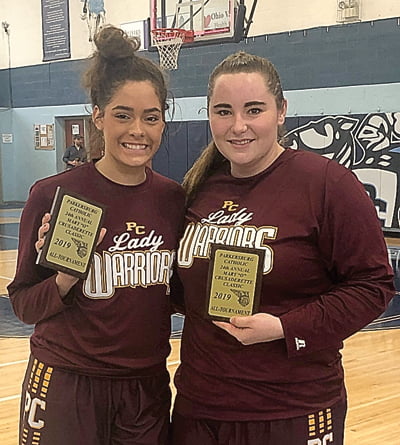 Bruce McKean
Contributing Writer
PCHS Varsity, 47
Herbert Hoover Varsity, 36
 
The Pocahontas County High School Girls Varsity Basketball head coach Mike Kane was extended an invitation for his team to play in the Mary "O" Crusaderette Classic by Parkersburg Catholic's assistant coach, Tom Carr. Carr and Kane became good friends when the two coached middle school basketball at Tucker and Green Bank respectively. Kane needed games to fill his schedule, so he signed on for what he knew would be a tough tournament scheduled for Friday and Saturday, December 27 and 28.    
Catholic matched up Class A #9 (AP and Coaches Polls) PCHS (5-2) to play in the quarter-finals versus Class AA Herbert Hoover (4-2) of Elkview (Kanawha County). Hoover has played in the tournament every year since 2013, and they have made it to the championship six of seven times and beat Catho-lic in the 2013 and 2014 championships. Hoover came to the classic with a 4-2 record that included losses to two ranked Class AA teams, #12 (AP) Chapmanville and #5 (AP) Nitro, and wins over three ranked teams by 20 or more points, A Charleston Catholic, AA Sissonville and AA Logan. 
Freshman Paige Canterbury got her first and only field goal of the game for Hoover's only lead, and then senior Charity Warder matched it for a 2-2 tie.  PCHS mounted a 10-0 run and extended their lead to 12—2. The first quarter ended with PCHS up 14-7. Senior Kira Bircher increased our lead in the second period with two treys after Hoover pulled within three, 17-20. Senior Allison Dunbar mounted a six point effort at the same time to keep Hoover close. At half-time, the Lady Warriors held the lead by eight points, 26-18. They took the second stanza by only 12-11.
The Lady Warriors pulled away in the third quarter with a 13-4 effort that included Warder scoring six points. HHHS had seven turnovers in the third and shot two of 11 field goals. Lots of foul shots were tried in the fourth stanza with PCHS making six of 10 (60%), and HHHS hitting three of eight (38%). Game high scorer, Allison Dunbar of Hoover, scored nine points in the last frame that Hoover won 14-8.
Allison Dunbar was game high scorer with a double-double of 10 rebounds and 22 points that included their only three treys, and was named to the all-tourney team on Saturday. Warder was PCHS high scorer with almost a double-double of 14 points, nine rebounds and three blocks. Laila Calhoun connected for 12 points and five rebounds. Kira Bircher tallied eight points and five steals. Junior Sienna Bircher matched the game-high 10 rebounds and scored two points. Junior Kierstin Taylor drained two treys for six points. Alexa Taylor grabbed five defensive rebounds, dished out four assists (team high) and sank a three.
PCHS made 10 of 14 foul shots (71%) versus 7 of 14 for HHHS (50%). PCHS grabbed four more rebounds, 32 to 28, and committed four fewer turnovers, 14 to 18. 
 
Undefeated Parkersburg Catholic beat Class AA Liberty (Harrison) of Clarksburg 75-31 in the second semi-final game on Friday and hoped to win their fifth straight championship.
PCHS Varsity, 42
Parkersburg Catholic, 75
 
The Parkersburg News and Sentinel's first sentence in its report on Saturday's championship game pitting Pocahontas County versus Parkersburg Catholic said it all:  "The three-headed monster of (sophomore) Leslie Huffman, (junior) Aaliyah Brunny and (senior) Madeline Huffman combined for 60 points during Parkersburg Catholic's 75-42 win here Saturday afternoon versus Pocahontas County…"  
PCHS head coach Mike Kane and I agree that Catholic's effort was one of the best performances we had ever seen from a girls high school basketball team. Those three ladies made the all-tournament team, and Leslie Huffman, who was second team all-state last year, was named the MVP. Senior Madeline Huffman was selected MVP the last two years.
The last time Pocahontas County played Parkersburg Catholic was at the 2009 state quarter final game in 2009, and Catholic won 47-40. The Lady Warriors never led in this game, but the Warriors tied the game at 4-4 and were only down by one point, 10-11, mid-first quarter. The four quarter scores were: 22-12, 24-7, 17-11 and 12-12. Catholic forced 11 turnovers in each of the first two quarters and led 46-19 at the half.
Pocahontas out-rebounded the shorter Parkersburg team, 36-17, but the winning team committed fewer turnovers 12 to 32 for Pocahontas, and that was because their defense was so strong.
Seniors Laila Calhoun (15 points all in first half, five of eight free throws, seven rebounds, four assists and four deflections) and Charity Warder (11 points, five of six free throws, nine game-high rebounds,  two steals and two blocks) were named to the all-tournament team. Alexa Taylor contributed eight points and made three of three foul shots. Kira Bircher put up six points, five rebounds and three steals. Junior Sienna Bircher grabbed five rebounds and scored two points.
Pocahontas County drops to 6-3, and Parkersburg improves to 6-0. The Lady Warriors host Region III Section 1 foe Midland Trail Friday, January 3, 2020 (JV – 5:45 p.m., V – 7 p.m.), and travel to Class AA James Monroe Monday, January 6 (JV – 5:45 p.m., V – 7 p.m.).