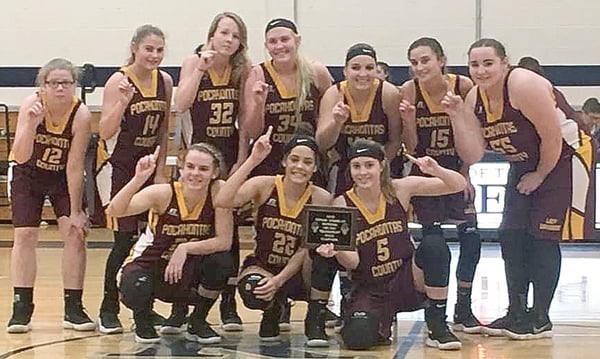 Bruce McKean
Contributing Writer
PCHS Varsity, 54
Lincoln County Varsity, 48
The Pocahontas County High School girls basketball team headed to Ritchie County High School in Ellenboro to play in their second two-day tournament of the season against two of three schools – all of whom PCHS had never scheduled before.
The Lady Warriors were housed at beautiful North Bend Lodge.
PCHS opened the tournament December 28, and were matched to play a very good Class AA Lincoln County Panthers squad. The host Class A Ritchie County Rebels chose to play their local rival Class A Doddridge County Bulldogs to open the girls' segment of the tournament.
Head Coach Mike Kane mentioned, after checking out the records of the other three schools, that Lincoln County was probably the toughest opponent we would have this season.  After two first round games were completed, it became apparent that the four teams were pretty evenly matched, at least on the first day of play.
PCHS had to come from behind in their first game with a strong 21-7 third quarter, to move into the championship game with a 54-48 victory. It took Doddridge two overtimes to best Ritchie by the exact same 54-48 margin of victory in the other first round game.
Lincoln took the first quarter over PCHS 13-10, but PCHS nipped the Panthers 8-7 in the low-scoring second frame to cut the half-time Lincoln lead to two points, 20-18. After the strong third quarter our local girls went ahead by 12 points, 39-27. LCHS rebounded in the fourth and took it 21-15, which was six points short of what they needed to tie the Lady Warriors and to send the game into overtime.
Laila Calhoun of PCHS was game high scorer with a double-double of 19 points, 10 rebounds, six steals, four deflections, three assists and one block. Calhoun missed eight foul shots that could have upped her game point total to 27. The Panthers had three players in double figures:  junior Carly Mccomas – 14 points, six rebounds, five steals and 9 of 10 free throw shooting; sophomore Natalie Fout – 13 points; and junior Graci Brumfield – 10 points, seven rebounds, four assists and three steals. Those three ladies made a combined four threes also, while Jerica Reed made the only PCHS trey on her way to scoring nine points. Kira Bircher added eight points, six rebounds, four assists and two blocks. Charity Warder tallied seven points, four rebounds, plus three blocks and three assists. Brianna Hefner finished with six points and three steals.
Lincoln hit 16 of 29 foul shots for 55%, while PCHS made 11 of 25 for only 44%. The number of rebounds, 29 versus 28 for LCHS, and turnovers, 24 versus 28 for LCHS, were pretty even. Each team was called for 21 fouls.
PCHS Varsity, 40
Doddridge County Varsity, 15
The consolation game on Saturday was won by Lincoln County, who plays a tough schedule and is now 3-4, over Ritchie County 70-64. RCHS drops to 4-6.
A big contingent of Doddridge County fans were at the championship game on Saturday and loudly supported their local team. Pocahontas started slow, and the first quarter ended with the Lady Warriors behind 4 to 7. The 8-2 PCHS second quarter effort was enough for PCHS to take the lead at the half 12-9. The PCHS press that smothered Richwood with a 41-point first quarter was put in to play by Coach Kane to start the second half, and it totally frustrated the Bulldogs. The 18-0 PCHS rout in the third stanza, resulted in PCHS carrying a 30-15 lead into the fourth period.
Doddridge made six foul shots in the last period for six points, and PCHS added 10 more points for the 40-15 championship victory. PCHS was called for 16 fouls versus 13 for DCHS, and it was a rough game.  The Warriors missed all six of their foul shots, while the Bulldogs missed 10 of their 16.
PCHS senior Brianna Hefner was game-high scorer with 16 points, six rebounds, four steals and three blocks. Kira Bircher grabbed 10 rebounds and tallied eight points, eight steals, four deflections and three assists. Laila Calhoun had a double-double of 15 rebounds, 10 steals, seven assists and six points. Charity Warder scored six points and grabbed five rebounds. The Dunmore girls executed 45 rebounds and 29 steals.  Coach Kane made note of way too many missed easy layups, especially early in the game.
PCHS improves to 6-1 and Doddridge drops to 5-5.  The Lady Warriors are ranked #11 in the latest Coaches Poll released on December 30, and a new AP Poll should be out soon in 2019.
PCHS hosts undefeated Tygarts Valley in rescheduled games on Wednesday, January 2, (JV – 5:45 p.m., V – 7:30 p.m.), then travels to Bath County on Thursday, January 3, (JV – 5:45 p.m., V – 7:30 p.m.) and hosts Coalfield foe Midland Trail on Saturday, January 5, (JV – 1 p.m., V – 3 p.m.).