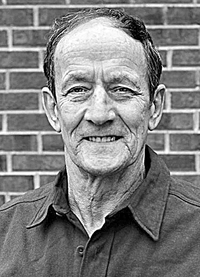 Kenneth Boyd Hamons, 72, of Hillsboro, passed away amongst friends and family at the Pocahontas Center Saturday, April 24, 2021, after a long, courageous battle with lung cancer.
Born in 1948, Kenneth was one of nine children of the late Beecher and Elizabeth Hamons. Though he was born in Nicholas County, Kenneth called Pocahontas County home most of his life and considered Williams River his "homeplace."
In 1968, Kenneth was drafted into the Army during the peak of the Vietnam War. He served as a diesel engine inspector on the island of Okinawa. He often credited his time in the Army for making him the man that he became and was always proud to have served his country.
Shortly after he returned home from his tours of duty, he met his beloved wife, Vickie, while working at Denmar Hospital. They married in 1976 and made Hillsboro their home.
Kenneth was an avid bear and coon hunter his entire life as well as an active member of the Pocahontas Coon Club. Dustwagon, as he was known to his hunting buddies, was well-known as an epic storyteller and faithful friend.
Kenneth had many occupations during his lifetime, but his favorite was Maintenance Director at Pocahontas Center where he served for 12 years. In 2013, he was re- cognized by the West Virginia Health Care Association as the "Long-term Care Employee of the Year" because of his endless devotion to the residents and staff at the center. Most mornings you could find Kenneth in the kitchen cooking made-to-order breakfasts for residents and staff or assisting a resident with their meal after he became a certified feeding assistant. He loved tending his flowerbeds at the facility, much to the enjoyment of all who saw them. He had an uncanny mechanical ability and was known to be capable of fixing the unfixable.
His proudest accomplishment in life was being a loving, supportive husband, fa- ther and grandfather. Kenneth spent countless hours volunteering for youth football during the 1980s and 1990s. He never missed an opportunity to attend a school event or a sports game. He worked tirelessly to make life better for all he knew, and his family was at the top of the list.
In addition to his parents, he was preceded in death by a sister, Carol Sue Mullens; and two brothers, John Welch and infant Jimmy Hamons.
Kenneth is survived by his wife, Vickie, of Hillsboro; son, Brian, of Renick; and daughter, Kristi and her wife, Charlie, of Hillsboro; grandchildren, Brianna Rae and Kenneth Cecil Hamons, of Renick; brother, Junior Hamons, and wife, Charlotte, of Marlinton; sisters, Nancy Rogers and Rhonda Collins of Bridgewater, Virginia, Marie and husband, Luis Soriano, of Buckeye; brother, Joe Hamons, and wife Rose, of Hillsboro; as well as many nieces, nephews and close friends who will dearly miss his presence.
In honor of Kenneth's le-gacy of kindness, the family encourages everyone to perform an act of service for their community or fellowman as Kenneth did his entire life.
In keeping with his wishes, the body will be cremated and a memorial service will be held at Trinity Baptist Church Friday, April 30, 2021, from noon to 12:30 p.m. with visitation immediately following until 4 p.m.
In lieu of flowers, donations may be made to the Hillsboro Volunteer Fire Department.
Online condolences may be made at Lantzfuneralhome.com