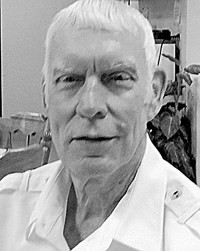 John James "Buzzie" Smith, age 78, passed away Monday, May 3, 2021, at Tennova Hospital in Clarksville, Tennessee.
Born February 6, 1943, in Clarksburg, he was a son of the late Dee James and Allie Smith.
John was a hard worker, spending more than 32 years working as a furnace operator and stationary engineer for Occidental Chemical Company in Chicago, Illinois.
He loved his family, woodworking, making wooden bowls, Elvis and Las Vegas.
Most of all, he loved his wife.
In addition to his parents, he was preceded in death by sisters, Jean Nuzum and Agnes Bricker.
Sadly left behind is his wife of 52 years, Connie Hickson Smith; daughter, Dr. Rain Smith, of Ione, California; son, Renick James Smith, of Slydell, Louisiana; sister, Sherry Smith, of Elkins; grandchildren, Kelsey, Teagan and Mason; and a lifelong childhood friend, Bobby Kelly, of Belington.
The entire family will be forever grateful for this Back Mountain man.