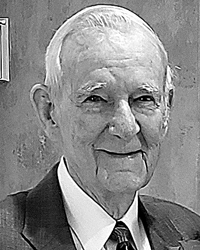 Joe Wilkes Greenlee, age 97, of Charleston, went home to be with his Lord and Savior Thursday, August 18, 2022.
He was born in Charleston June 19, 1925. 
Growing up he had a paper route that covered most of the east end.  He loved to tell the stories of delivering papers to the folks on Kanawha Boulevard.
Joe served in the Army Air Corps for three years.  He started out as a pilot, but as World War II wound down, the Air Corps needed bombardiers more than pilots.  Joe's duties changed, and he never got his pilot's license, however his love for flying did not stop. He flew as often as he could, and his last earthly flight as a pilot was last year at age 96.  He got to ride in a B17 just a few months ago. 
After his discharge from the military, he attended Michigan State University where he met Peg.
Joe is a 1947 graduate of Michigan State University.  Joe and Peg Greenlee were married on July 3, 1949 at the Presbyterian Church in Jonesville, Michigan.  They spent their honeymoon at Watoga State Park, in Honeymoon Cabin #35.
Joe graduated with a BS in Mechanical Engineering and, after marriage, returned to Charleston to work for Union Carbide for 33 years.  After retirement he founded and operated Custom Home Elevators of West Virginia.
Joe is a lifelong member of the Charleston Baptist Temple.  Over the years, Peg and Joe enjoyed ballroom dancing, skiing, white water rafting, extensive travel and their log home on the Greenbrier River in Pocahontas County.
They attribute the success of their 72 1/2 year marriage to faith in God, routinely doing activities together and to continual sharing and caring for others.
Joe's two favorite recent projects are the expansion of the Pocahontas Memorial Hospital and the campfire project at Parchment Valley Retreat Center.  Fundraising for these projects is in progress.  Joe would be honored to know you supported either of these projects, as well.
Joe was preceded in death by his parents, Joseph Franklin Greenlee and Elizabeth Wilkes Greenlee; sons, Steven and Ronald Greenlee; and sister, Betty Warner.
He is survived by a niece, Connie Warner (Dr. Alan Carroll); nephews, Brent Warner (Chris Doria), and Tim Warner (Barbara); close friends, Kathy Lester, Bob and Donna Hoff, Archie and Linda Snedegar, Carolyn and Frank McCarty, Frank and Teresa Miller, Greg, Nancy and Travis Paxton and many, many others.
During the past several months, Joe and his wife Peg (deceased February 1, 2022) were lovingly cared for by the staff of Ridgemont at Edgewood Summit.  His main private caregivers, Mona Harrison, Nancy "Janie" Nelson, and Hannah Faegre, treated Joe with kindness, professionalism and much love.  These three ladies cared for Joe as though he was their own father.  Their care was exceptional.
The funeral service was held Wednesday, August 24, at Charleston Baptist Temple with the Rev. Dr. Jim Hewitt and Rev. Dr. Archie Snedegar officiating. 
The private burial was in Sunset Memorial Park in South Charleston.
In lieu of flowers, memorial donations may be made to the Charleston Baptist Temple, Pocahontas Memorial Hospital Expansion Project or the West Virginia Baptist Convention.
Friends may send condolences to the family at www.barlowbonsall.com
Barlow Bonsall Funeral Home, Charleston, was entrusted with the arrangements.
Editor's Note: Mr. Greenlee and his wife, Peg, generously donated $1 million to the Pocahontas Memorial Hospital Expansion Project.
Mr. Greenlee was able to attend the July 26, 2022 groundbreaking ceremony.
In their honor, a part of that expansion will include the Joe and Peg Greenlee Rural Health Clinic.