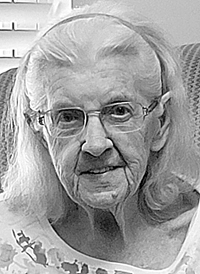 Joanna Lee Sharp, 93, of Akron, Ohio, peacefully passed away in her sleep Thursday, March 9, 2023.
Born September 21, 1929, in Buckeye, she was the fourth born child of the late Marion Chauncy Howard and Eula Gladys Rose Howard.
Joanna attended Buckeye School and Marlinton High School.
On February 20, 1946, she married her life partner, Herbert Harvey Sharp, who preceded her in death in 1994.
They moved to Ohio to begin their life and raise five beautiful children. They were both life members of the Veterans of Foreign Wars where she served as President. Joanna loved to help others, and she loved to sew, make flowers, do crafts and cook. She made the best sausage gravy and homemade grape juice. One of her great passions was hummingbirds. She looked forward to feeding them every summer.
In addition to her parents and husband, she was preceded in death by a son, Richard Lee Sharp; daughter, Sandra Lee Sharp; six sisters and two brothers.
She is survived by her daughter, Debra Meredith (Scott); sons, Dale Sharp (Cheryl), and Robert Sharp (Paula); sister, Juanita McNeill; half-sisters, Cindy Pritchett and Sandy Lloyd; 10 grandchildren; six great-grandchildren; daughters-in-law, Gloria Sharp and Brenda Sharp; and many nieces and nephews.
The family will receive friends from 11 a.m. to noon Thursday, March 23, 2023, at Kimble Funeral Home 18942 Seneca Trail in Marlinton, where the funeral service will begin at noon.
Interment will be in Mountain View Cemetery.
A luncheon will be served at the Marlinton Presbyterian Church immediately following the committal service.
Online condolences and memories may be shared at www.kimblefuneralhome.com