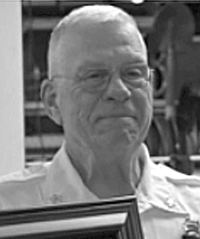 James "Doug" Douglas Estep, 67, of Rainelle, passed away Sunday night, March 19, 2023, at CAMC-Memorial Hospice Division.
Born November 14, 1955, in Rainelle, he was a son of the late James Arthur Estep and Mary Elizabeth Estep.
Doug was a member of Rainelle Volunteer Fire Department for 51 years, serving most recently as Fire Chief. He worked at R.C. Bottling Plant, former projector operator at local movie theaters; and was a local and long distance truck driver. He was also a funeral home attendant at Wallace & Wallace and a security guard at the Greenbrier  Hotel and Casino.
His hobbies included firefighting, woodworking, camping, barbecuing and working on cars. He was also a former bass player in local rock and roll bands. He loved spending time with his family and friends. He will be surely missed.
Those left to cherish his memory are his loving and devoted wife of 47 years, Donna Gibson Estep; son, Jimmy Estep of Hickory, North Carolina; daughter, Jeannie (Bruce) Cochran, of Frankford; sister, Debbie (Calvin) Heaster, of Clintonville; grandchildren, Trey Estep, Cloie Cochran and Keira Cochran; uncle, Ray (Joanne) Estep; nieces, nephews, cousins, in-laws, extended family, co-workers and a host of friends.
Funeral service was held Saturday, March 25, 2023, at Wallace and Wallace Chapel in Rainelle. Burial was in Wallace Memorial Cemetery in Clintonville.
In lieu of flowers, the family requests memorial contributions be made to a special fund set up at Summit Community Bank in Rainelle to defray his final expenses.
Online condolences may be shared at wallaceandwallacefh.com