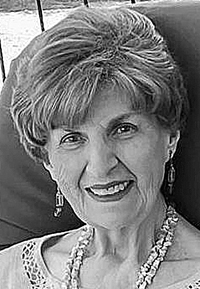 Ivaloo Hughes King, 93, an almost lifelong resident of Nicholas County, entered her heavenly home to join her loving husband of 59 years, Jenkins C. King, on the 8th day of February 2023.
She was with her daughter, DeEtta, in Charlottesville, Virginia, when she suddenly left her earthly home.
Born August 11, 1929, Ivaloo was the daughter of the late Willard and Lyda O'Dell Hughes.
She graduated from Nicholas County High School in 1947 (skipping a couple of grades along the way) and Mountain State Business School in Parkersburg. lvaloo and Jenkins operated the Mt. Nebo General Store for more than 40 years as well as King Knob Farm, which she continued to oversee until her untimely death. Her first job was at age 15 in the Mt. Nebo General Store, owned by her father. She worked for several years for the Army Corps of Engineers in both Huntington, and Cleveland, Ohio. She served in many roles at Gilgal United Methodist Church, including President of Gilgal UM Women, Kindergarten teacher for 40 years and Communion Steward for 50 years. She enthusiastically spearheaded the installation of the stained glass windows. She was a longtime Tupperware distributor, cake decorator and taught lingerie sewing classes at the store. lvaloo was a member of the Nicholas County Farm Bureau for many years. (The Lady that was not going to marry a farmer). She enjoyed doing Calligraphy, baking and cooking for many. She also loved looking out her picture window describing God's beauty to everyone.
While able to live at home until God called her, she had loving angels daily to assist her: Cindy Proskin, Sherry Kelly, Ariel Williams and the late Evie Auxier.
In addition to her parents, she was preceded in death by her sister, Macel H. Backus; brothers-in-law, Blumefield Backus and Billy D. Thompson; and sister, Doris H. McLaughlin.
She is survived by her sister, Mattie H. Thompson, of Charleston; and brother-in-law, James (Bud) McLaughlin, of Summersville. She was the proud mother of four daughters, DeEtta King Hunter (J. Steven), of Lewisburg, Karen L. King, of Mt. Nebo, Krista King Mendelson (Zachary), of Pittsburgh, Pennsylvania, and Karla R. King (Suzanne Gregory), of Winchester, Virginia. In addition, she is survived by grandchildren, lzaak T. Men-delson (Mara), of Berkeley Heights, New Jersey, and Yale Mendelson (fiancée, Kennedy Moser), of Wilmington, Delaware, Stephanie Smith and Katie Rylant, both of Summersville; great- grandchildren, Emma M. Hunter, of Morgantown, Alexa Lee Speilman, of Lewisburg, Maverick and Lucas Smith, of Summers-ville, Jensen Lee Mendelson, of Berkeley Heights, New Jersey, and Klairalee Phillips, of Summersville; a host of nieces, nephews and cousins as well as friends and neighbors.
Funeral service will be at Gilgal United Methodist Church in Mt. Nebo at high noon Saturday, February 18, 2023, with Rev. Dr. Ken Ramsey officiating. Visitation will be from 10 a.m. to noon preceding the service.
Pallbearers will be her sons-in-law, J. Steven Hunter and Zach Mendelson; grandsons, lzaak and Yale Mendelson; great-grandson, Maver- ick Smith; and longtime friend, Steve Brown.
In lieu of flowers, donations may be made to King Gilgal Cemetery Foundation in Ivaloo's memory or to Jenkins C. King United Methodist Church Scholarship Fund held by the Conference to which Ivaloo's name will now be added, PO Box 70, Mt. Nebo, WV 26679.
White Funeral Home at Summersville is in charge of the arrangements.
Condolences may be made to the family at our website www.whitefuneralhomewv.com