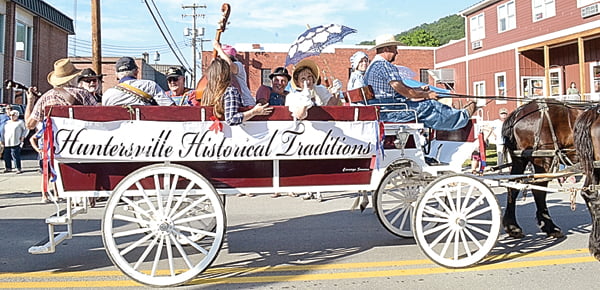 Despite the heat, people gathered on the streets in Marlinton Saturday for the 53rd annual Pioneer Days Grand Parade. Above, Huntersville Historical Traditions harkened back to the good ol' days in pioneer dress, serenaded by Homer Hunter and Friends, while riding in a horse-drawn wagon. Below, The Barlow and Moore Store, which was featured on this year's badge, took its wares to town for the parade.
Parade results: Floats and Wagons – first place, Huntersville Historical Traditions; second place, Genesis Health Care; and third place, E.J. Markum Wagon. 4-H Floats – first place, Pocahontas County 4-H Livestock Club; second place, Brushy Flats Bushwackers; and third place, Buckeye Winners.
Jane Price Sharp Award – Pocahontas Belle Caroline Cassell; Doug Dunbrack Award – Pocahontas County Youth Football; Director's Award – Barlow and Moore Family Descendants; Queen's Award – First Baptist Church Aiken, South Carolina; and Richard Barlow Award – E J Markum Wagon.
Equine Awards – first place and Junior McLaughlin Memorial Award, Amy Vandevender; second place, Hannah Burks; and third place Tim Burns. S. Stewart photos