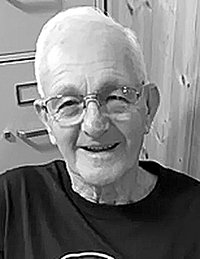 'God Called You Home'
God looked around His garden
and He found an empty place.
He then looked down upon this earth,
and saw your tired face.
He put His arms around you
and lifted you to rest.
God's garden must be beautiful,
He always takes the best.
He knew that you were suffering.
He knew you were in pain.
He knew that you would never
get well on earth again.
He saw the road was getting rough
and the hills were hard to climb.
So He closed your weary eyelids,
and whispered, "Peace be thine."
It broke our hearts to lose you
but you didn't go alone,
for part of us went with you
the day God called you home.
Howard E. Slaven, 88, of Stow, Ohio, passed away at Brierwood Health Care Wednesday, June 14, 2023, after a lengthy illness.
Born in Cass, March 14, 1935, he later moved to the Akron, Ohio, area and retired from Ford Motor Company.
While at Brierwood, his son, Scott, a devout Christian, showed him love and compassion, taking him special treats, etc., and even placed a bird feeder outside his window.
He was preceded in death by his wife, Joanne; mother and father, John and Eleanor; brothers, Earl, William and John; and sisters, Naomi Arrington, Helen Davis, Norma Meeks and Patricia Rexrode.
He is survived by his sons, Scott (Sharon) and Howard (Renee); grandchildren, Kayli, Courtney and Tyler; great-granddaughter, Charleigh; sisters, Barbara Crist and Carol Lycans (Glenn); and many nieces and nephews.
Funeral service was held Thursday, June 22, 2023, at Newcomer Funeral Home.
Interment was in Silver Springs Cemetery in Stow, Ohio.