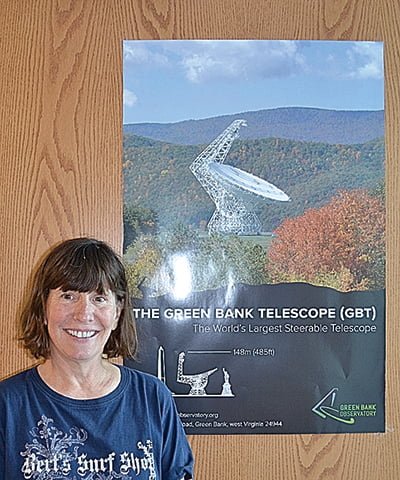 Suzanne Stewart
Staff Writer
The Astronomical Society of the Pacific awarded the 2017 Thomas J. Brennan Award to Green Bank Observatory Education Officer Sue Ann Heatherly.
The award is presented each year to an individual "demonstrating excellence in the teaching of astronomy at the high school level in North America."
When Heatherly learned of the award, she was in the middle of the observatory's two-week teacher professional development workshop.
"I was shocked," she said. "I had no prior warning about it at all. Later that evening, we were all sitting around the big table in the Drake lounge amongst teachers – some of whom I've known for years – and I brought it up, 'you guys, I got this call, and I won the Brennan award,' and they were like, 'it's about time.'
"They all knew about it," Heatherly continued. "I don't know who instigated it, but there were two or three people there and Ron Maddalena, who is an astronomer here at the observatory, and they had put together this nomination. I was clueless."
Interestingly enough, Heatherly learned about her award during the same workshop that was her introduction to the observatory in 1987.
"I first came here in 1987 as a teacher participant in the very first teacher workshop that was held here," she said. "This was a partnership between West Virginia University and the observatory. The National Science Foundation contacted the observatory and said, 'put on something for teachers. Show them what a national research facility is all about.' I was one of the twenty-seven first participants to come. I was teaching school in Randolph County at the time."
Those two-weeks at the observatory made a lasting impression on Heatherly and led her down the path to where she is now.
"It just kind of blew my mind," she said. "First of all, I didn't know the observatory existed even though it was just one mountain over. To come across 250 and 92 from the north and to see the telescopes in the field – I was just really struck by that."
Heatherly returned in 1988 as a counselor to assist the new wave of teachers who took the workshop and in 1989, she applied to be the Education Officer and the rest is history.
"My main motivation for that was to find ways to continue to provide that experience that changed the way I taught, because as a teacher, you rely on lots of things," she said. "You rely on your education, and you also rely on how you were taught coming up through school. That was very much a traditional way of learning – teacher up in front and lecturing – but when I came here and used this little radio telescope they still use today, I really didn't know the answer ahead of time and was able to work with a team of people to really expand my knowledge a thousand fold in two-weeks."
When the position was created, the education side of the observatory was limited. There was a summer student program for undergraduates and the professional development program for teachers.
To build on the programs and expand the education services to students of all ages, Heatherly relied on her fellow staff members and the professionals employed at the observatory to create a one-of-a-kind program to immerse students in astronomy, engineering, science and math.
"What makes this place and our programs truly wonderful is that you get immersed in a real working research environment," she said. "It's not like we're going to do this education stuff over here and then the scientists are doing their own thing. They really contribute a lot to the authenticity of the experience for people."
As the programs grew, so did the facility and with the addition of the new science center and bunkhouse, Heatherly was able to create programs for larger groups.
Several of the programs have students working directly with astronomers and engineers at the facility and, while some professionals would be "too busy" to work with students, Heatherly said she has never had resistance from the professionals at the observatory.
"The reward actually comes from trying it and doing it," she said. "I think if you can convince a lot of people to mentor a group of fourteen-year-old students that are interested in science – if you can get people to do it once, you'll find that a lot of those folks will find it rewarding – and it is very rewarding.
"I think here in Green Bank, from 1987 on, there was sort of a culture developed that says education is part of our mission. It's not additional to our mission, and I think that culture has just maintained itself and grown and developed over time. There's hardly anybody that won't contribute. We're really lucky in that regard."
The education programs have been so successful that although the observatory is no longer affiliated with the National Radio Astronomy Observatory, its influence is still felt by former sister facilities.
"I would say that Green Bank has certainly been the leader amongst all the sites in doing direct programming with teachers and students," Heatherly said. "Now that Green Bank and the NRAO are separated, the [NRAO] facility in New Mexico is attempting to do some direct programming so they're taking our camp program for rising ninth graders and doing something with their own flavor out there."
Over the years, Heatherly has seen the programs grow and flourish, as well as the participants, and while there are a few parts of the job that can be boring – grant writing, paperwork, etc. – the excitement of working with students far outweighs the boring times.
"I really enjoy when we're in session," she said. "We do a lot of planning and we do a lot of grant writing and report writing and things like that which I must confess, are not really my favorite part, but when we're actually in session with a group of teachers from around the state, I love that, because they're my people, and I get to hang out with educators for two weeks. They inspire me a lot."
Working with students is just as rewarding, especially the rising ninth graders who are leaving primary school behind and entering high school.
"I have to say that probably my most favorite activity is working directly with our rising ninth graders," Heatherly said. "Imagine, you've gotten through eighth grade, you're out of middle school, you're going to high school and in this intervening summer, we can really bring like-minded kids together that love science and see what they're capable of, which is always a lot."
With a group of ninth graders converging on the facility, some would run for the hills, but for Heatherly, it's seeing the students come alive with science that makes it all worthwhile.
"They're just so lively," she said. "I just like to see the neurons making connections and them accomplishing a research project in two weeks that maybe they weren't that self confident that they would be able to complete."
The students work together on a two-week long project which culminates with an oral presentation before their fellow campers and the scientists at the observatory.
"At the end of the two weeks, they stand up in front of scientists and their peers and present their work," Heatherly said. "I'm telling you, they can hold their own with any Ph.D. that might be giving a colloquium somewhere. They can really do it."
A lot of the students return to the facility or stay in contact through letters and share how their experience at the observatory changed their opinion of science or how it helped them gain self-confidence.
Last year, when the National Science Foundation held public forums to discuss the future of the Green Bank Observatory, Heatherly said letters from former students poured in to share how integral the observatory was in their education.
"Lots and lots of letters came in in support of the observatory, and we were really gratified to see a lot of people that had been through one of our programs writing us to say how much it meant and what they're doing now," she said. "It was a great opportunity to get that feedback to know that what we've been up to all these years has been impactful.
"In a lot of the grant writing I do I have to do a lot of background research and there's literature that suggests one impactful experience – whether that be a lecture you heard from a famous somebody or one experience in your life as a kid can be enough to steer you toward a STEM [Science, Technology, Engineering and Math] career," she continued. "Just that one. So hopefully, for some of those students, we're that experience that really makes them say, 'wow, I can see myself doing that.'"
There are no signs of Heatherly stopping and she is excited to see what the future holds for the education department at the observatory.
"I'm hopeful to keep this educational program going and flourishing and growing for thirty more years," she said.