Luara Dean Bennett
Staff Writer
Reading together can forge an enduring bond between parent and child, especially during this festive time of year- it's a wonderful way for young and old alike to get into the Christmas spirit.
As they do all year, books spark the imagination and open the door to adventure, magic and excitement.
Many families enjoy a Christmas tradition of gathering around the fireplace and listening while a designated family member reads the time-honored poem, A Visit from St. Nicholas, or as it's more commonly known these days, Twas the Night Before Christmas.
I always found that reading to children as they nestle all snug in their beds is the sweetest way to end the day and makes another great family tradition.
Settle your children down for some long winter's naps with these lovely Christmastime stories.
These books aren't all new, and they aren't all about West Virginia, but they are all guaranteed to keep a child's interest, touch both your hearts, and be worthy of passing along to the next generation.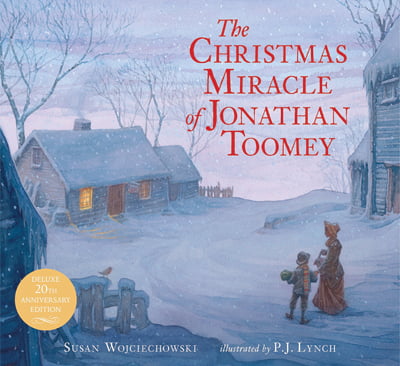 The Christmas Miracle of Jonathan Toomey
Written by Susan Wojciechowski
Illustrated by P.J.Lynch
The Christmas Miracle of Jonathan Toomey has been known as a Christmas classic for many years.
When a little boy loses the precious nativity set that links him to his father who has passed away, he's brokenhearted.
His mother persuades the best wood carver in the valley to make another nativity set like it.
But the man is an ill-tempered recluse – who's actually misunderstood.
Unbeknownst to his neighbors, he has been grieving the tragic loss of his family.
Glorious illustrations lend a realism to this poignant story of love, loss, hope and redemption.
The book inspired a motion picture starring Tom Berenger in 2007.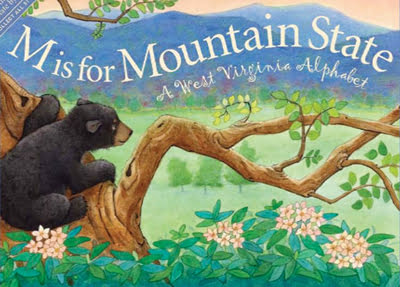 M is For Mountain State: A West Virginia Alphabet
Written by Mary Ann McCabe Riehle and
Illustrated by Laura J. Bryant
West Virginia is called "Mountain State" because of it's majestic mountain ranges which offer spectacular views, abundant wildlife and recreational opportunities beyond compare.
But there's more to us than that.
This book's gorgeous illustrations help to give young readers a visual and alphabetic tour around the state of West Virginia.
From glass-making to farming; the golden dome of the capitol in Charleston to the wild Allegheny Mountains; the historical town of Harper's Ferry to the annual Native American Pow Wow; White Sulphur Springs to Lost World Caverns – it's all in there.
And there are even references to famous West Virginians like Chuck Yeager and Olympian MaryLou Retton, too.
You'll spark an interest in learning more about our unique state while enjoying the clever words of Riehle and the gorgeous illustrations by Bryant.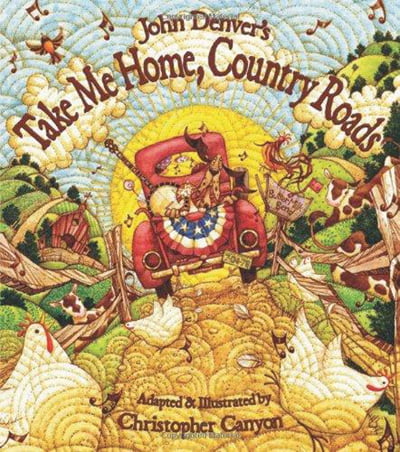 John Denver's Take Me Home, Country Roads
From the John Denver and Kids Series, the hardback version of this book comes with a CD of Denver singing his most famous song.
West Virginia's most popular anthem, "Take Me Home, Country Roads," comes to life through the beautiful illustrations by Christopher Canyon who portrays the story as if it were sewn into a quilt.
We follow the journey of a diverse group of relatives who all come to their grandparents' country home – by way of car, pickup truck and motorcycle – for a family reunion.
The story is all about family and the love of our country roots.
It's sure to become one of your family's favorites – at Christmastime and all year, too.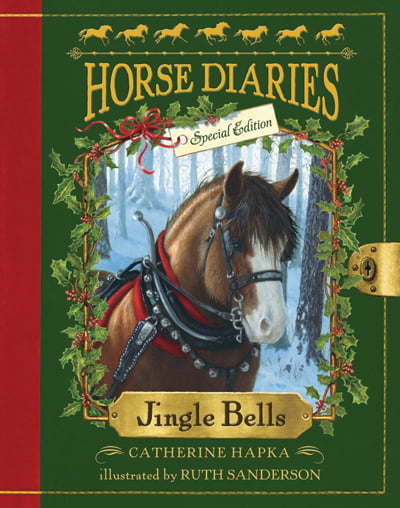 Jingle Bells (Horse Diaries #11)
Written by Catherine Hapka and illustrated by
Ruth Sanderson
If there's a horse-crazy young lady in your home who's in the pre-teen years, you may want to share this chapter book with her.
And then get ready to help her search out all the other sweet stories in Hapka's paperback Horse Diaries series, of which there are at least 16.
Jingle Bells is set in 1915 on a Wisconsin farm where a Clydesdale named Jingle Bells faithfully pulls the hay wagon in summer and the sleigh in winter.
The family's little girl, Kari, loves Jingle Bells and worries what will happen to him when her big brother comes home for Christmas with a new Model-T Ford.
What will happen to Jingle Bells if the family doesn't need the Clydesdale anymore in the motorized age?
This book will captivate horse lovers and those who enjoy history and make for excellent holiday reading.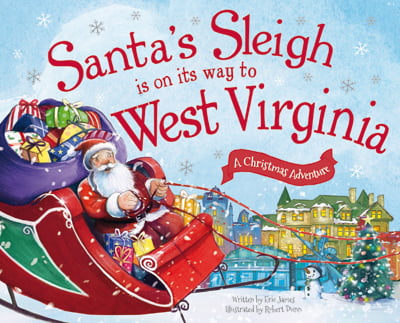 Santa's Sleigh Is on Its Way to West Virginia: A Christmas Adventure
Written by Eric James and illustrated by Robert Dunn
There's lots of mountain magic in the air on Christmas Eve, as all the children in our town are sleeping. Well, all the children except you!
But, sleeping on Christmas Eve – with so much excitement all around – is so hard!
How can you fall asleep when you know that Santa Claus and his sleigh might be landing on the roof any minute?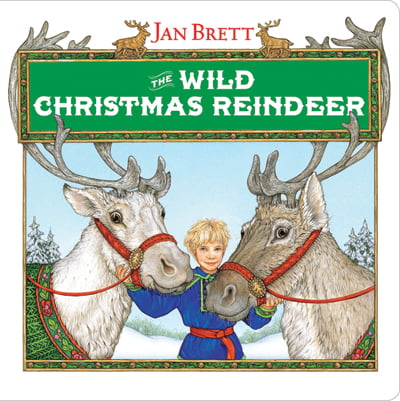 The Wild Christmas Reindeer
Written and Illustrated by Jan Brett
For slightly older children, this is a humorous version of the training required for the reindeer who pull Santa's sleigh.
It will hold your child's attention with its humor, its memorable characters and Jan Brett's intricate Swedish folk art-style drawings.
A smart little girl named Teeka is charged with getting Santa's reindeer ready for their most important flight – taking Santa and his sleigh on their Christmas Eve trek.
And she takes her job very seriously.
Teeka mistakenly thinks she must be firm with the animals.
But her bossiness only serves to get the reindeers' antlers tangled up.
Finally, Teeks realizes that there's a better way to win the difficult reindeers' cooperation.
The importance of patience, gentleness and teamwork comes through as the lesson behind the this charming, magical story.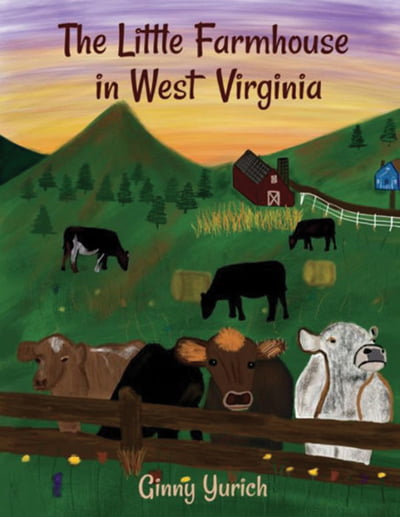 The Little Farmhouse in West Virginia
Written by Ginny Yurich
For children, growing up on a farm is like paradise.
You could go to the barn to play with the kittens, go fishing in the pond or head down to the creek and hunt for craw-dads.
Climb trees, explore in the woods or relax on the front porch swing.
In the evenings, grab a jar to catch fireflies or roast hotdogs and s'mores over a fire in the back yard.
This book invites children to revel in the natural world all around them out in the wild wonderful countryside of West Virginia.
The Christmas Camel
Written by Anne Bancroft Fowler
This is an unusual retelling of the journey of the Three Kings.
Not for babies or little ones, this is an adventure story filled with suspense, danger and lessons about friendship and courage.
It's told from the perspective of Basel – a 12 year old boy, whose best friend is Omarr, a stubborn, old camel.
The two travel the desert, carrying water from the oasis to the marketplace, making just barely enough money to survive.
After tangling with some thugs, they meet the Three Wise Men and the boy makes a foolish decision and sells his old friend, to one of them.
Omarr enters a world of deceit and intrigue and so does Basel.
After a series of adventures, Omarr and Basel end up at the stable with Mary and Joseph and Omarr the camel heroically saves the Baby Jesus.
This paperback book might take several nights to finish as it's 84 pages, but this tale about what's really important in life will captivate both listener and reader alike.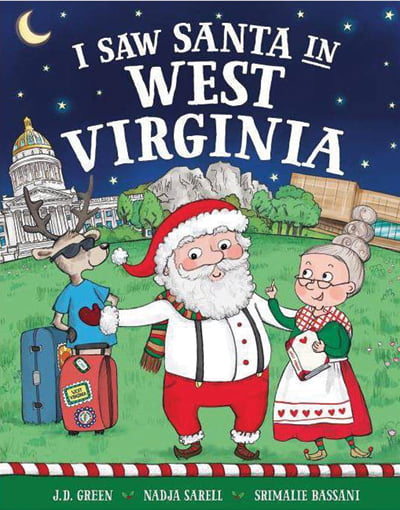 I Saw Santa in West Virginia
Written by JD Green and
Illustrated by Nadja Sarell and Srimalie Bassani
Santa and Mrs. Claus would love to go on a vacation but how can someone as famous as Santa have any privacy and get any rest?
Mrs. Claus suggests that they go to West Virginia.
"You always say it's your favorite place.
"But remember, the children should not see your face."
This fun and festive story offers search-and-find artwork that will have children looking for Santa, Mrs. Claus, and their reindeer amongst West Virginia's most iconic locales.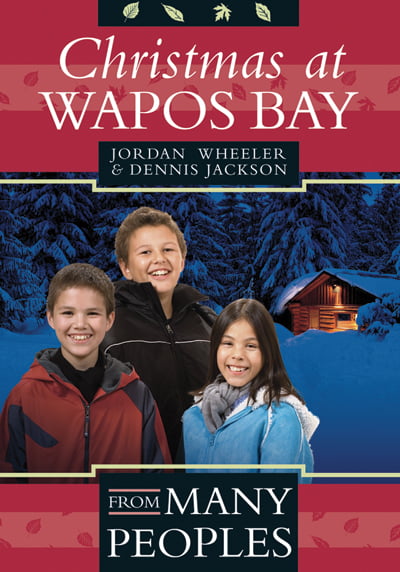 Christmas at Wapos Bay
By Jordan Wheeler and Dennis Jackson
This 152 page paper back chapter book would be perfect young readers ages 8-9 or for reading to youngsters in elementary school, but maybe not for very young children, as it has a few harrowing elements.
It's nearly Christmas when three Cree children go on a journey to visit their grandfather at his cabin in the wilds of Northern Saskatchewan.
Talon, Raven and T-Bear are there to learn the traditional ways of hunting, trapping and fishing and to prepare for Christmas.
But game is scarce this year and their Moshum (grandfather) is worried that Christmas may have to be cancelled.
The kids want to help by going on a hunt of their own.
Their adventure takes an ominous turn when they get lost and Moshum comes searching for them but collapses and can't make it back to the cabin.
The kids come to realize that the lessons they learned in school combined with the traditional lessons of their elders have taught them what they need to know to safely bring themselves and their Moshum home.
And Christmas doesn't need to be cancelled after all – in fact, it's a glorious feast of food, family and music.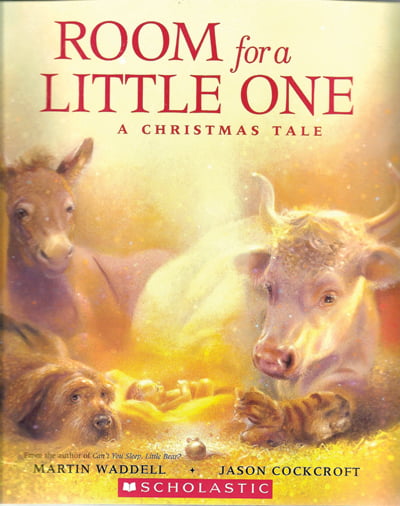 Room for a Little One: A Christmas Tale
Written by Martin Waddell and illustrated by
Jason Cockcroft
What a gorgeous creation!
This book would be perfect for babies up to second grade or so.
Its realistic paintings practically come alive as this very special book tells an endearing story of the Nativity.
Animals come to the stable, one after another, and as each one arrives, the kind ox invites them to come in and share the warmth of his shelter.
Little ones love this kind of repetition and they feel empowered by knowing what is going to happen next – another animal will come to the door – what animal will it be?
I love that animals that are usually predator and prey call a truce for their mutual benefit of having a warm, safe place.
And I also love the lesson of kindness and sharing in this book.
Finally, the donkey who is carrying Mary comes to the door.
Rather than being on the outside with Mary and Joseph, as it goes in most nativity stories, we're safe and warm inside the stable with Mary and Joseph on the outside.
Children may not understand taxes, but they understand needing to be safe and warm.
A sweet, beautiful book with a beautiful story and message.
This story is sure to lull your little ones to sleep on a cold winter's night as Jesus' family makes its way to Bethlehem and Christmas.