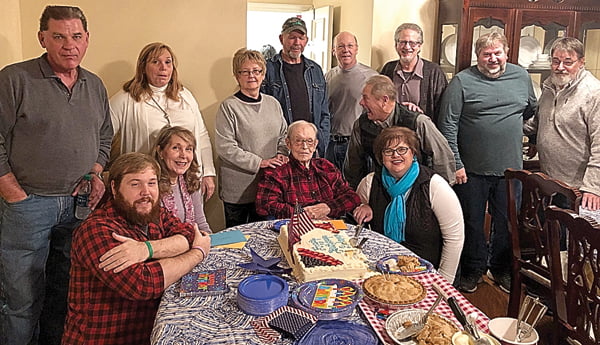 Lloyd E. "Dabney" Kisner, Jr. celebrated his 99th birthday with family and friends January 13 at Colonial Place Assisted Living in Elkins.  The Reverend Tom King of the Durbin Methodist Church shared a blessing for the birthday party.  Dabney is a lifelong resident of Pocahontas County and a World War II Veteran.  He and his late wife, Reeney, operated the Pocahontas Motel and Restaurant on top of Cheat Mountain for more than 40 years. Dabney is enjoying good health, loves to tell stories, and welcomes visitors. 
Pictured, seated, l to r: Joel Orndorff, Franny King, Dabney Kisner, Kimberly Glotfelty.
Standing, l to r: Karl King, Cathy Orndorff, Martha Ann Burner, David Burner, Dr. Frank Mams, John Lawton, Kevin Widney, Matt Glotfelty and Jeff Orndorff.
Not pictured:  Pastor Tom King, Robin Mams; the Calain family: Ed, David, Kim and baby Conner; and Lulu, the therapy dog.