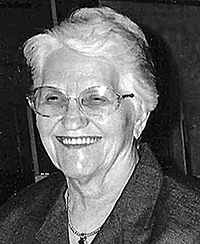 Gracie "Grace" F. Collins, 98, went to be with the Lord Thursday, October 19, 2023, at her home with her family by her side.
She was born in Wildell September 23, 1925, and was a daughter of the late Walter and Jessie Sheets Shiflett.
Grace retired in 1987, having been the postmaster at Durbin. She was a member of Rivers of Life Ministries Church in Durbin where she served on the board and taught Sunday School for many years. She was also on the board of the Pocahontas County Senior Citizens and enjoyed her time at the Green Bank Senior Center and singing in the choir. She was always one of the first to participate in the activities. Her children and her family were her life. She loved her church family and friends – they were always so good to her. She was a great storyteller and was asked by Allegheny Mountain Radio to come and talk about her life. She loved sitting on her front porch and having many visitors stop by to visit.
In addition to her parents, she was preceded in death by her husband, Benjamin Har-old Collins; son, George Franklin Collins; brothers, Harry, George, Edward, Walter, Lonis, Cletious and Phillip; and sisters, Geneva, Glenna and Catherine.
Grace is survived by two daughters, Dorothy Garland (Bob), and Erma Hedrick (Rick); two sons, David (Diana), and Berl (Mary); and daughter-in-law, Janet Collins; added to her family is a nephew, Jack Shiflett (who was like a son) and his family; a niece, Edith Borchardt, and her family; and a friend, Elaine Rhodes; 10 grandchildren, Jeryl, George, Curtis, Troy, Brian, Melissa, Shauna, Heather, Angela and Michael; 27 great-grandchildren; five great-great-grandchildren; and many nieces and nephews.
Funeral service was held Monday, October 23, 2023, at Rivers of Life Ministries Church in Durbin with Pastor Donnie Curry officiating. Burial was in Arbovale Cemetery.
In lieu of flowers, donations of sympathy may be made to River of Life Ministries Church in Durbin or the St. Jude's Childrens Research Hospital at 262 Danny Thomas Place, Memphis, TN 38105.
Online condolences may be made at Lantzfuneralhome.com