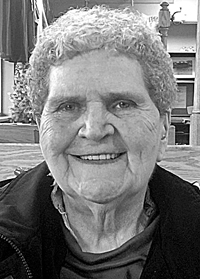 Gladys Mae McMillion, 91, of Cass, passed away Tuesday, April 11, 2023, at Pendleton Manor in Franklin.
Born July 25, 1931, in Renick, she was a daughter of the late George H. and Minnie Vance Cochran McCoy.
In addition to her parents, she was preceded in death by her husband, Carl "Red" McMillion; son, Carl A. McMillion Jr.; brothers, Edwin and George McCoy Jr.; and a sister, Violet Virginia Kellison.
She is survived by her children, Doug McMillion, of Covington, Virginia, David McMillion and Sherry Johnson, both of Cass; grandchildren, Meghan McMillion, Mac McMillion, Bradley McMillion and Jacob Johnson; great-grand- children, Selina, David, Carl, Reagan and McKenzie; and several nieces and nephews.
Graveside service was held Saturday, April 15, 2023, at McMillion Church Cemetery in Renick with Pastor Sam Felton officiating.
Online condolences may be shared at morganfh.net
Arrangements were handled by Morgan Funeral Home in Lewisburg.