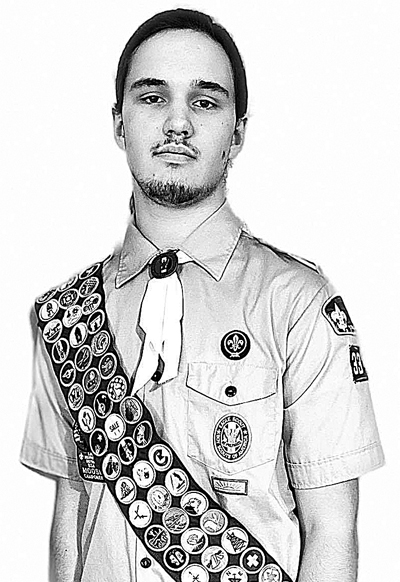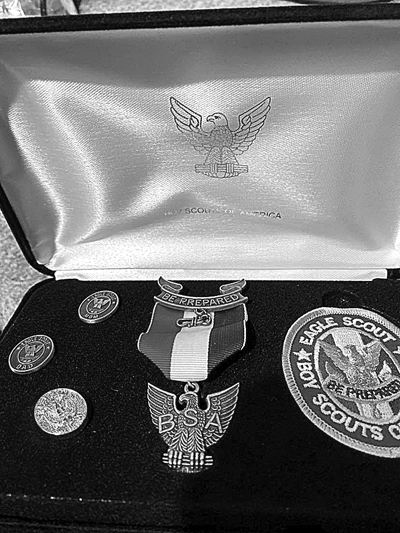 Suzanne Stewart
Staff Writer
 
Slaty Fork resident Alan Gibson spent his childhood rising through the ranks of his Boy Scouts of America troop here in Pocahontas County and, this winter, finished his scouting career by earning the rank of Eagle Scout.
The Pocahontas County High School senior first joined scouts to be in a club with his friends. Ranks weren't a big deal at the time – fun was.
"I actually wasn't all that interested in earning my Eagle Scout," he said. "I knew most people didn't earn it, and I was just there to enjoy the experience with my friends. I was still putting in all the work that was required, but without the focus."
Gibson quickly began earning merit badges and going from Scout, Tenderfoot, Second Class, First Class and Star rankings. When he earned his Life ranking, he had a lightbulb moment and realized how much hard work he had put into his scouting career.
"I finally realized how far I had come and that earning my Eagle was possible," he said. "I doubled down and got to work – looking to the goal at the end."
Gibson had a long list of requirements to complete in order to earn his Eagle, including a large service project for his community. He completed that project two years ago with his Pumpkinpalooza celebration at Marlinton Middle School during the RoadKill Cook-off and Autumn Harvest Festival. 
"Managing my own project was certainly the hardest part," he said. "It put a lot of responsibility on my shoulders to make sure everything went well. After all the requirements were completed, the last challenge was the board of review. I studied for two weeks, going over possible questions and making good answers for each one. I was nervous, but I did well at the actual review.
"Now that I have earned my Eagle, I've realized it's not about the actual rank, but the experience I had along the way and how much I have grown," he added.
Spending most of his life in scouts has helped shape Gibson into the person he is today and the lessons he learned will stay with him. 
"Being a Boy Scout, to me, means living by the Scout Oath, Law, Motto and Slogan," he said. "They may just seem like a bunch of phrases to memorize, but living by them shows your dedication to scouts and can really open doors that you didn't even realize were there."
After graduating high school, Gibson plans to attend West Virginia University and join the Air Force ROTC. He hasn't claimed a major, yet, although he does enjoy the engineering field.
His major may be unknown, but there is one thing at WVU he is sure will be a part of his college career. 
"I heard that WVU has an Ultimate Frisbee Team – a sport that I came to love by playing it with my fellow scouts during meetings," he said. "I'll definitely be signing up for that."
 Gibson is the son of Gayle Boyette, of Marlinton, and Sam Gibson, of Slaty Fork.