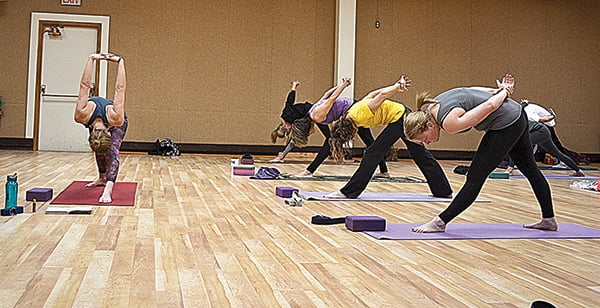 Suzanne Stewart
Staff Writer
Common New Year's resolutions are to get in shape or to exercise more, and more often than not, those lofty goals get kicked to the curb long before spring.
For those looking to improve their physical and mental health – yoga is a great start to a new beginning.
Cass resident Alison Flegel has taken on the task of continuing the yoga class formerly offered by Joanna Yates at the Green Bank Observatory. Flegel has added a new beginners class, as well.
"I picked up Joanna Yates' Tuesday evening power class," Flegel said. "She moved to Arizona, and I started teaching the class because I think it's really important to have it in the community. I didn't want to see it fall away."
Flegel added a Thursday afternoon class geared toward beginners and those seeking a low-impact workout.
"For this class, I knew there were people in the community that power yoga kind of scared away, so I wanted to offer more of a beginner-friendly class that would be more accessible to a wider range of people," she said. "This class is just to stretch out and get yoga brain."
The new class has attracted between 13 and 18 participants with varying levels of expertise. It's a laid back class where there is always time for jokes and jabs in between the many yoga poses.
"Yoga is very beneficial – not only for your body, as far as flexibility and body awareness – but also it can help you control your mind," Flegel said. "It relieves stress. It relieves tension."
As Flegel said, the class is much more than just a workout for the body and mind, it is also a way to connect with people in the community.
"You can already see, it's a connection with like-minded people or people in the community," she said. "People are coming out to do something. We all have our stuff – maybe someone's here to loosen their hips up or someone's here for back pain. Maybe someone is just here because they want to experience this connection, and they're seeing yoga really affect their lives on a day-to-day basis."
The classes are in the old touring center at the GBO. The higher level course meets Tuesdays at 4:30 p.m. and the beginners class is Thursday at 4:30 p.m. There is a $5 donation charge per class.
Pocahontas County Parks and Recreation is sponsoring the classes at the GBO, as well as Thursday classes at the Community Wellness Center in Marlinton at 4:30 p.m. and Friday classes at Allegheny Springs at Snowshoe Mountain Resort at 5:45 p.m.