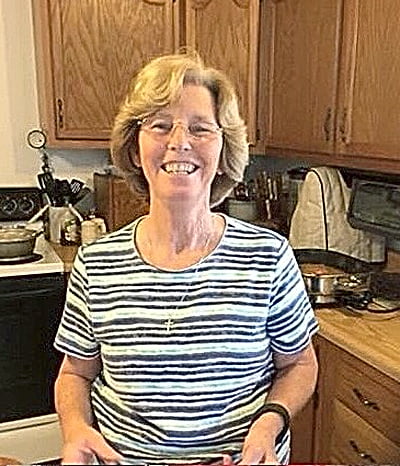 Laura Dean Bennett
Staff Writer
Mary Dilley is the kind of person who believes in cleaning the right way.
Mary is my go-to expert about these kinds of things, and she assures me that now is the time to do one's spring cleaning.
"If you wait until April, it will be time to start mowing," she warns. "Once mowing and outdoor stuff starts back up, you won't have enough time to do a proper job of spring cleaning."
Anyone who knows Mary, knows that there are few things she takes more seriously than cleaning and mowing.
She has each activity down to a science – and she genuinely enjoys both.
I know, it's hard to believe, but it's true.
So, take heed, procrastinators, now is the time to organize one's cleaning arsenal to prepare for an all-out assault on the dirt, dust, dog hair and cobwebs that have been accumulating since the last spring cleaning.
Mind you, when Mary talks about spring cleaning, she is talking about climbing up on ladders to reach unreachable corners and shelves, wiping down walls and removing everything for dusting, including from china cabinets and buffets.
And, did I mention, she takes pleasure in it?
"I really enjoy cleaning," Mary said. "It's a good feeling to see the difference a little effort can make."
"And when it's done, you can relax and know that your house is spic and span and all done, until time to clean it again," she laughs. 
One point of interest before you plan your spring cleaning:
If your closets, drawers, cabinets, cupboards and kitchen are neat and organized, they will be ready to be cleaned, and you won't need to spend extra time getting them in order.
Here are some tips from Mary about how to tackle spring cleaning:
Plan to do your cleaning in good weather. You may need to shake rugs, hang things outside, go outdoors to wash windows or sweep a porch.
Give yourself at least a few days or maybe even a week to finish everything. 
Before you get started, take an inventory of what cleaning supplies and tools you have and what you'll need to get the job done. There's no use getting a room torn up and then find out you can't finish because you don't have what you need.
Have a ladder and a step stool handy – you'll be needing them several times along the way.
You'll need a vacuum, a dry dust mop, a wet mop, and a long pole tool that has an interchangeable dry/wet Swiffer-type head for wiping walls and ceilings and getting down cobwebs.
Vacuums usually come with a few extra cleaning tools. Familiarize yourself with the tools so you know what they can do. These extra attachments will really come in handy when you're cleaning drawers, corners, hard to reach places and going up steps.
You'll need a bucket, lots of cleaning rags, some lint-free cloths for the windows, an old toothbrush for hard to get edges, and maybe a toolkit in case you encounter something that needs a little fixing.
"It's much easier to just stop and fix something when you come across it than to try to remember to do it later," Mary said.
Also, it's a good idea to have a pair of rubber gloves "on hand." (That was a little glove joke.)
"Gloves are a good idea, if you can stand to wear them," Mary laughs. "I really prefer not to, but I wear them sometimes, especially if I'm going to be in the bleach or ammonia water or if I've got splits in my fingers.
"Of course, I probably get those splits in my fingers from not wearing my gloves. So, yes, you should wear gloves."
Continuing on with her tips:
Plan to work in one room at a time. Take that one room apart and clean every inch of it. Then put it back together and start on the next one. 
Mary likes to pull all furniture away from the walls, if at all possible, and tackle one half of a room at a time.
And she advises that you start at the top of a room and work your way down.
Take down the curtains and either wash them or give them a good dusting. Removing draperies may not be necessary, you might get by using a suitable vacuum tool to gently remove dust.
Light fixtures or chandeliers need to be handled with care.
First, be sure you can safely dismantle and or clean a light fixture before you take it down and put it in hot water or cleaning solution. Go easy! You can always up the fire power as you go along. If you can't safely remove the globes of a light fixture, carefully clean them in place with a dry or damp cloth, using warm water or window cleaner.
"Now take the pictures and everything else off the walls," Mary said. "Dust them off and set them out of the way until you are ready to put the room back together."
If you have a lot of decorative items – bookcases full of books or shelves packed with figurines – you'll need to remove everything and allow extra time to wash or wipe each item before returning it.
Baskets need to be washed in warm, soapy water, rinsed and set out to dry. You will want to put some old towels under them, as sometimes, the dye on a basket may run when it gets wet.
If you have wallpaper, use a damp, soapy cloth or a dry cloth (depending on the wallpaper) to gently wipe those walls clean.
When the walls are empty, you can wipe the ceiling and the walls with the long Swiffer-like tool – dry, damp or wet, depending on the circumstances – and wipe down the ceiling fan and blades with warm soapy water.
Be sure to get into all the corners up near the ceiling where cobwebs are lurking.
Next, wash the windows.
You can use window cleaner or do it this way:
Use water and a rag for the first pass, then go over them again with a lint-free cloth dampened in ammonia water – a solution of a tablespoon of ammonia in a gallon of water.
When cleaning screens, be sure not to bend the frame when you remove the screen from the window frame. Wipe screens with warm soapy water and then again with a damp cloth and plain water. If they are really dirty, take the screens outside and go over them gently with a soft scrub brush and warm soapy water.
The bottom frames of windows collect lots of dirt and dead bugs. The vacuum crevice tool and an old toothbrush will make short work of this cleaning job.
While the furniture is away from the walls, clean baseboards and other woodwork with a damp cloth.
Thoroughly wipe or vacuum the furniture. If there are any stains on upholstery, use only gentle soap and do not rub or brush too hard – you may damage the nap or the color of the fabric.
Wooden furniture needs only a damp cloth to clean it. Furniture polish may be overkill. It often leaves a sticky residue which might prove to be a dust and dog hair collector.
Clean the floor where the furniture usually sits; then move the furniture back in place.
Now tackle the other half of the room.
When the room is done, re-hang the curtains and replace the things that you took off the walls.
If there's a closet in the room, it should be organized and ready to clean before spring cleaning day.
And a word about TVs:
Clean them carefully! Modern TV screens are fussy. They don't like most cleaning products, and they don't like us using much elbow grease. Use a soft, dry cloth to dust and don't press too hard.
When in doubt about cleaning a TV screen or anything else in the house, check manufacturers' recommendations.
Kitchens often take extra time to clean because cooking grease seems to get everywhere.
Do the same thing in the kitchen as you do in other rooms – get out the ladder and start at the top and work your way down.
Wipe down the cabinets and walls with vinegar water – 1/2 cup of vinegar to a gallon of water – to cut the grease.
Stove tops need special attention. You may need to use a gentle scrubbing powder and a toothbrush in hard-to-reach spots.
Remember the wall behind the stove top. Whether you can see it or not, it's covered with grease. Depending on the surface material, a vinegar solution and a scrub brush may be needed here.
Gas stove tops will require cleaning with ammonia water to remove sticky residue.
Remember, when you're using ammonia or bleach, more is not necessarily better. A tablespoon of bleach or ammonia is plenty in a gallon of water. You may use a half cup of vinegar to a gallon of water for a vinegar solution.
Whenever you use bleach or ammonia – be careful. These products can be harmful if inhaled. And you never want to spill them in the house or on your skin or clothes. Less is more when dealing with them.
"You don't have to smell the bleach for it to work!" Mary cautions.
Check before you use any chemicals on counter tops or floors. Follow the manufacturer's recommendations as to which cleaning products you can safely use.
Dismantle electric stove top burner fittings gently, wipe the stove top with warm soapy water and replace the burners carefully.
If you have placed an oven liner in the bottom of your oven, oven cleaning will be a breeze. Take the liner out, wipe it and replace it.
Remove the racks, take them outdoors, spray them with oven cleaner and let them sit while the oven cleaner loosens the baked-on grease. Wipe the oven cleaner off and then go over them with ammonia solution. Rinse thoroughly, dry and replace them.
If necessary, scouring powder may need to be brought to bear.
Microwaves shouldn't require more than wiping with a soapy cloth followed by a rinse cloth.
And don't forget the refrigerator. It will need to be emptied and wiped out with bleach water. Remove the drawers and wash them with soapy water. Use a toothbrush and bleach water to get into corners and the seals where the doors close to the cabinet.
Never assume that scatter rugs can be safely washed in the washer. Some may, but some may need to be washed by hand in the utility sink or bathtub.
And remember, if you are washing rubber backed rugs in the washer, never add fabric softener. It can cause the rubber backing to come apart. And never put a rubber backed rug in the dryer. The heat can cause the rubber backing to crumble. Best to hang them up to line dry.
Bathrooms aren't a terrible job. Take down the curtains and do the ceiling, the walls and the windows. If your bathroom has a closet, make sure that the towels are properly folded and old towels should be consigned to the rag pile to be used as cleaning towels.
I'm sure you keep a toilet brush and a plunger handy by your toilet. If they have seen better days, it may be a good idea to replace them before spring cleaning.
If your sink or tub is draining slowly, remove the drain cover, put in a few inches of hot water, plug the overflow to make it airtight and use the plunger to loosen the clog.
There are several new bathroom cleaning products on the market now, but be sure they are safe to use on your particular surfaces. Marble and other materials may be sensitive to cleaning products.
There are also several good products made specifically for cleaning grout, and a toothbrush will come in handy there, too.
Don't use bleach on chrome or "gold" fixtures. It can discolor them. Just wipe them with a damp cloth. Use a toothbrush around fixtures and drains.
Garages are a completely separate issue. Almost anyone's garage cleaning will require a day of its own.
"If your so piled up in the garage that you can barely get into your car, it might take a week!" Mary warns.
"You might have to make some hard decisions as to what to keep and what to let go – and that goes for inside the house, too!"
If you've kept up with the little messes as they occur, weekly cleaning will be that much easier, and if you've kept up with weekly cleaning, spring cleaning will be that much easier.
"Cleaning is so much easier when you're not so piled up," Mary said.
That old saying, "A place for everything and everything in its place" is a wise one.
And if you have too much stuff to keep your house organized, you have too much stuff!
It really helps to have a friend help you.
"They will motivate you and give you the gumption to get in there and get the job done," Mary said.
The reward for all this hard work is that you'll be able to enjoy living in your clean house. And you'll be all set when company unexpectedly drops by.
Mary advises not to wait until company is coming to dive into a big cleaning. You'll be too exhausted to enjoy your company.
Mary learned these tips over many years, keeping her own home and helping friends at their homes.
"Over the years I've learned a lot from W.G.'s Aunt Helen Davis, my Aunt Alice McElwee, Aunt Geri Dilley, Dottie Mitchell, Linda Stringer and Corenia Jordan," she said.
"These ladies, and so many other great homemakers, really taught me what a clean house is and what a joy it is to have one!"
Thankfully, Mary says that this kind of heavy-duty cleaning is something that you'll only need to do once – or twice – a year.