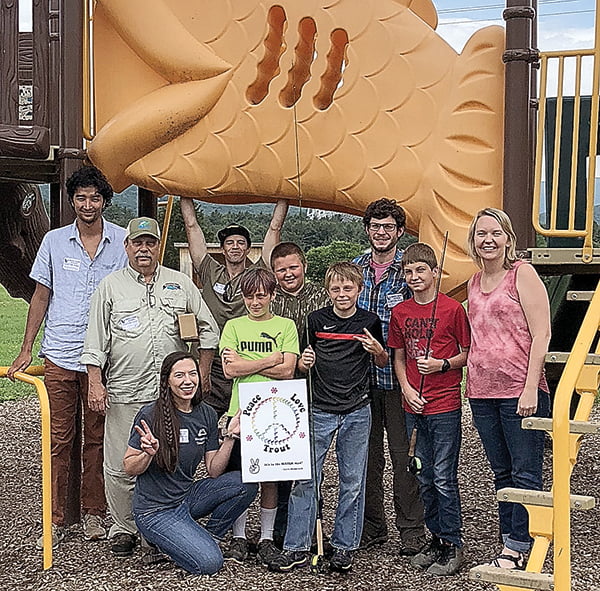 Suzanne Stewart
Staff Writer
At the beginning of the school year, teachers at Green Bank Elementary-Middle School were encouraged to create a club for students to participate in during the school year. Noticing that the school had a collection of unused fly tying materials, Brooke Dickenson chose fly fishing as the focus of her club.
Throughout the year, the six member club worked with fly fishing experts, including Gene and Nancy Rexrode, of Green Bank, and Anne Mitchell at Knapps Creek Trout Lodge, to learn how to tie flies and properly cast with the fly rod.
"I told the boys if we're good and respectful, we're going to go fly fishing, so that's how we got hooked up with Anne Mitchell," Dickenson said. "She was incredible. She was an awesome help. We went to Knapps Creek Lodge and did a fly fishing lesson. We were out on the creek all day and everybody caught a fish."
After the successful day, Mitchell contacted the Southern West Virginia Chapter of Trout Unlimited to inform members about the club at GBEMS.
Two weeks ago, members of the TU chapter visited the school, worked with the club members and donated supplies to the club.
"They gave us fly tying supplies and a fly rod," Dickenson said. "Anne Mitchell also donated a fly rod, so we can go on our own, too. That was really cool. Steve Pugh and Bronson Brown with Southern West Virginia Chapter of Trout Unlimited tied flies with them. They also offered a membership to a youth fly fishing club."
The club has been an interesting change for Dickenson, who has never tied flies or gone fly fishing.
"I've been learning – there's a lot more to it than regular fishing," she said.
The students have had a fun year, and Dickenson said she is looking forward to continuing the club with the newly minted fly fishermen.
"Anne said when the boys got out there, they were naturals," Dickenson said. "They did an excellent job."