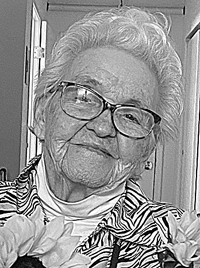 On January 6, 2022, Gaye E. Shields, 94, was released from her earthly bonds to be welcomed by her heavenly father.
Born March 4, 1927, on Dry Branch Road in Slaty Fork, she was a daughter of the late Mary Jane Reed Miller and Moral Miller.
In her eyes, Gaye was born into a perfect community of love in Appalachia, West Virginia. She learned to find value in everyone and to love nature through the eyes of her adored father, and she learned the ethics of hard work, truth and responsibility from her beloved mother. Gaye's life was guided by the golden rule: "Do unto others as you would have them do unto you."
Her family moved to Cass, when she was still a young girl and when Cass was a thriving logging and railroad town. She worked at the Company Store and, in later years, on her many return visits to Cass, she loved sitting on the Company Store porch catching up with childhood – or new found – friends. She married young and moved to Maryland with her husband, Jim, where they built a home and family – neither ever leaving far behind their West Virginia roots. They finally settled on a small farm in Jarrettsville, Maryland. In their retirement years, they traveled cross-country and spent their winters in Florida where Gaye made her home after Jim's passing.
Gaye, who loved her country, was a patriot for peace.She enjoyed visiting small towns and meeting the local residents. Her dream was to sit on the steps of the courthouse of every small town and talk to the residents as they passed by. Those who knew Gaye knew her gregarious nature and creative spirit. She enjoyed art, reading and her many friends and family. Gaye possessed the eye of an artist and the heart of a poet. She will be greatly missed by those who knew her.
In addition to her parents, she was preceded in death by her husband, James William Shields, Sr.; daughters, Ramona Ann Shields and Jenny Lynn Barnstein; grandson, Leif Ericson Shock III; and many brothers, sisters, nieces and nephews.
She is survived by daughter, Priscilla Waldman, and husband, Rodger, of Seven Valleys, Pennsylvania; son, James William Shields, Jr., of Frederick, Maryland; grandchildren, Jessica, Douglas, Amber and Samantha; great-grandchildren, Ella, Abigail, Grayson, Max and Huxton; beloved sister-in-law, Leota Abdella, of Marlinton; beloved brother-in-law, Allen F. Simonds, of Grand Lake, Colorado; and a flock of loving nieces and nephews.
On March 4, 2022, which would have been her 95th birthday, we will have a memorial service at Alexander Memorial Presbyterian Church in Stony Bottom, followed by a celebration of her life at the Cass Community Building.
Although she loved flowers, she loved her library more. In lieu of flowers, please make contributions to the Green Bank Library, 5683 Potomac Highlands Trail, Green Bank, WV 24944.