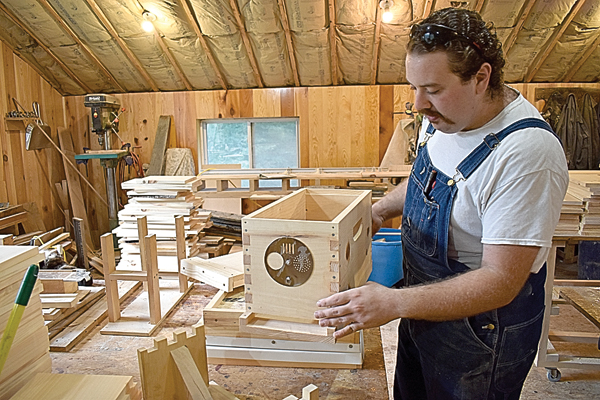 Suzanne Stewart
Staff Writer
When he was left with a pile of scrap wood after a big order for posts and beams, sawyer Lucas Prisco – owner and operator of Lucas Millworks LLC in Dunmore – saw an opportunity for a new business venture. Bee boxes.
"I sawed up a huge, seven thousand foot order of posts and beams for a house, and they were odd lengths," he explained. "The logs that I purchased came in twenty-two foot lengths and I was getting left with these four foot and five foot chunks of wood. I was like, 'what do I do with them?'
"Grandpa [Bill Prisco] said, 'why don't we make bee boxes?'" he continued. "I said, 'alright."'
Prisco set out to find the right machinery to cut joints and handles. Then the work began.
"I started buying the frames and foundations to supply more complete hives and then we started manufacturing the tin roofs, as well," he said. "I originally started cutting and bending the sheet metal myself. Sometimes I still do that for our smaller, custom boxes."
Due to the increase in the price of steel, Prisco switched to pre-bent tin for the roofs.
Prisco is particular about the materials he uses for his bee boxes and hopes to one day use all West Virginia made materials and products to complete the boxes.
In researching bee box materials, he found a cheaper way to make the boxes, with materials that are healthier for the bees.
"Instead of using plywood in the boxes, we've gone to shiplap boards for the rooftops," he said. "It uses more of the pine, and we end up with reduced waste. It is also a cheaper alternative to using plywood. A lot of the plywoods are made using formaldehyde and what not. All the glues have some sort of formaldehyde in them – but it's not like it's that big of an issue. I don't think it's really killed any [bees]. It's just more of a peace of mind thing. I don't have toxic chemicals around my beehive."
For the bottom boards of the boxes, Prisco does use advantech plywood which is waterproof, adding to the durability of the boxes.
"This is a much safer, tougher and all around durable piece as compared to just plain plywood, which your major manufacturers use," he said. "Or, if you're willing to pay more, they do sell pressure treated, but then again, pressure treated chemicals aren't exactly what we want around our bees."
Prisco also makes nuc boxes, which double as swarm traps.
"You can buy bees in one of two ways – you can buy them in a little three pound screened in box or you can buy them in what they call a five frame nuc, which is what I sell right here," he said. "I sell them as a nuc box slash swarm trap. With these disks in the front, people can set their lures into it and then when they catch the bees, they can just put this ventilation on and lock the bottom."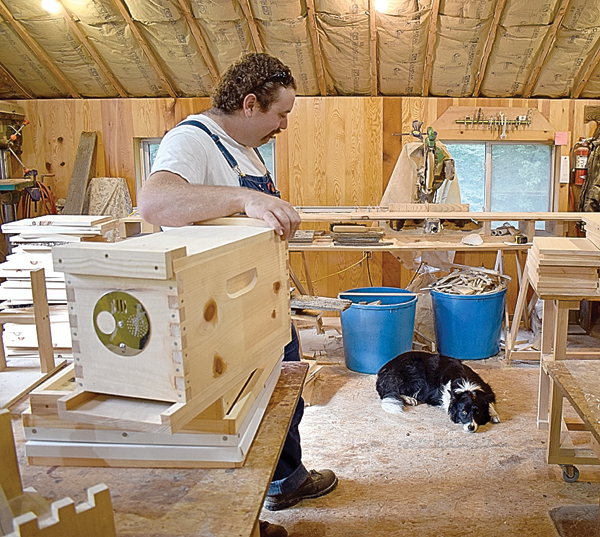 On the front of the nuc box is a steel circle with various groupings of vent holes, as well as a large hole. It can be turned to the large hole to catch bees and then turned again to one of the smaller groupings of holes to provide ventilation for the bees.
Prisco said the nuc box can also be used for queen rearing.
At this time, Prisco does not produce the frames, just the boxes, but he hopes to branch out into frame production soon.
"Eventually, my goal is to sell all West Virginia wood; all West Virginia steel; all West Virginia fasteners – an all West Virginia beehive – no other state involved," he said. "I just want this to be a purely West Virginia product and then slap a big ol' sticker on it that says, 'Made in Pocahontas County.' That's the dream."
Prisco began his foray into bee boxes in 2018 and has joined the Marlinton Beekeepers club to network and learn more about raising bees. While he currently doesn't have his own bees, he did at one time.
"Sort of lost them a couple winters ago," he said. "Just haven't had the time to get back into it since. Had plenty of swarms offered to me, but bees take a lot of time. I like to say they are the most aggravating amount of fun that you can possibly have."
Creating the boxes for hives has kept Prisco busy and with the help of the Internet, he has had success with customers from all over the world.
"I've shipped them as far as Guam, Puerto Rico," he said. "I mostly just do them unassembled, unpainted form. It's easier to ship the unassembled boxes. It takes a few minutes to pack it, and it's less expensive to ship."
The bee boxes are just a part of what Prisco does at his sawmill and it takes a lot of time and energy, but it's worth it to him to create a safe haven for honey bees.
"There's a lot of work that goes into it – from me sawing it out from the raw log and then putting it through the kiln, machining it down, transporting it up here, handling it all throughout," he said. "It's a lot of work, but it's rewarding work."
Prisco may be contacted at 304-456-4613 or by email at lucasmillworksllc@gmail.com