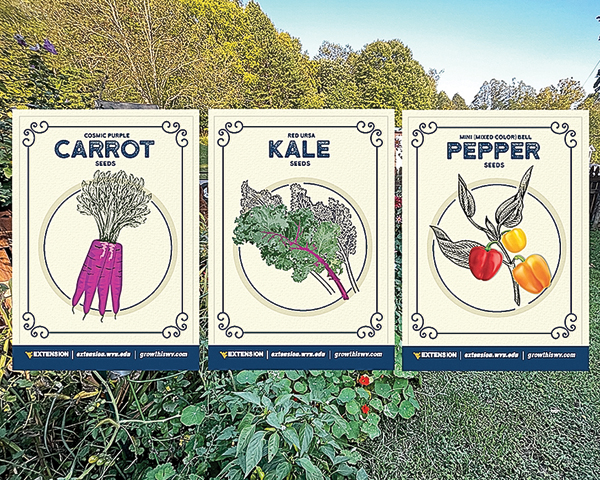 Suzanne Stewart
Staff Writer
The ground may be frozen now, but soon, spring will arrive and with it the call of the garden.
Grow This: West Virginia Garden Challenge through the WVU Extension Service has three free seed packets available for the 2023 growing season.
Cosmic purple carrots, red ursa kale and miniature mixed color bell peppers are the seeds for this year and all you have to do to get them is take a short survey available online at https://extension. wvu.edu/food-health/nutrition/fnp/fnpoutreach/grow-this-west-virginia-garden-challenge
The Grow This program began in 2018 and for the first few years had several hundred participants state-wide. Interest grew in 2020 due to the COVID-19 pandemic and people looking to do something productive during the lockdown.
In 2022, more than 100,000 West Virginians took advantage of the program and used both the free seeds and gardening instruction provided through the Grow This email newsletter to turn their thumbs green.
Cosmic purple carrots are indeed a vibrant shade of purple – on the outside. Inside, they are a typical orange. The carrots are a frost-tolerant biennial that is grown as an annual. They are grown as an annual. They are sweet and are a rich source of dietary fiber, vitamin C, potassium, manganese and vitamin K.
Plus, they're pretty.
Red ursa kale is another vibrantly colored plant with its pinkish-purple veins, shooting through leaves of bluish-green. It is an annual and in the family of red-Russian kale. Red kale is a low-calorie, low-carb, low-fat food that also has protein.
Miniature bell peppers come in shades of red, orange and yellow. They may be mini, but they still contain lots of healthy benefits including capsaicin, vitamin C, vitamin A, iron, copper, zinc, potassium, manganese, magnesium and selenium.
These three seed packs will not only add some bright colors to your garden, but a nutritious addition to your diet.
For more information on the survey and Grow This program, visit https://extension.wvu.edu/food-health/nutrition/fn/fnp-outreach/grow-this-west-virginia-gar den-challenge