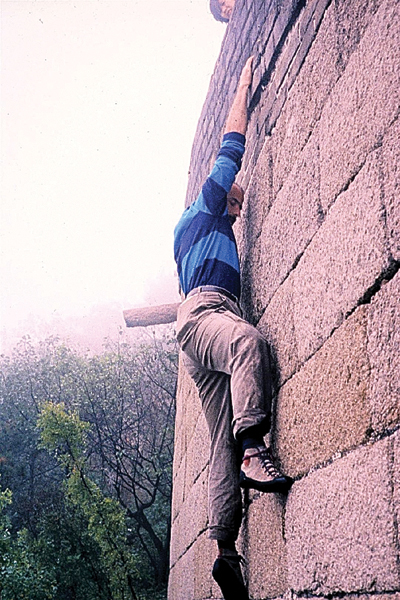 Finding Xiao Ming
 Part Two
"There are two kinds of adventurers: those who go truly hoping to find adventure and those who go secretly hoping they don't." William Least Heat Moon
I'm not sure which of the above categories describes me.
Perhaps, Mr. Least Heat Moon, there is another category of adventurer; those who stumble into the unknown. Sometimes, it is easy to do when you agree to something without exercising due diligence.
Although many things would happen in the weeks ahead that bear some resemblance to the exploits of Indiana Jones, I am certainly not a knight in shining armor, or even rusty armor, for that matter.
I abide by the motto, "Discretion is the better part of valor." I always exercised this stricture when planning a mountain climb or running a wild river; it's a piece of wisdom that has always served me well.
That said, I am also a man of my word. When I agree to do something, I let nothing stand in my way.
With the efforts to find Xiao Ming, I ran headlong into something I only partially understood at the outset.
Yet, these unexpected challenges would broaden my understanding of a world foreign to me, and increase my tolerance for discomfort and danger.
Anyway, compared to Indiana Jones, I am not much to look at, not as daring nor as clever. Lao Taitai would be the unflappable character in the story of Xiao Ming. She was the proverbial "force to be reckoned with."
I still had two weeks in Beijing before fully realizing what lay in store for us in our search for Xiao Ming. In the remaining time, I indulged myself in something I had been planning since arriving in Beijing; climbing the Great Wall of China.
The Chinese military frown upon such feats, although the regular citizenry sightseers seemed to enjoy the stunt. Anyway, for the price of a bit of risk, I could secure a real whopper of a story to share with my future granddaughters.
I recruited two fellow students to help in avoiding detection by the authorities. Both collaborators were Australian.
My father, who spent his final months of World War II in the Down Under, often mentioned the daring-do of the Australians. He said, "They're a tough bunch, those Aussies."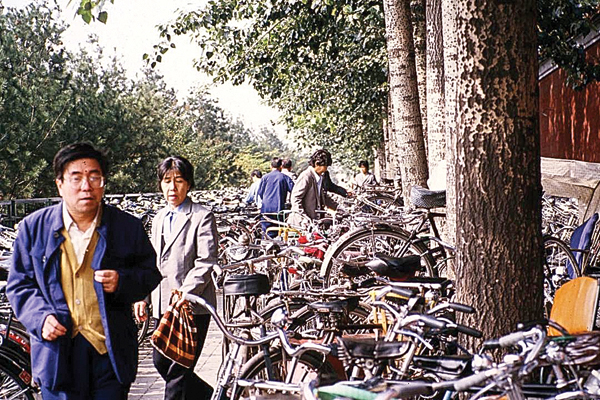 We arrived at a parking area near the Great Wall to a mixed bag of transportation options. There were buses, bicycles, motorcycles, military vehicles, and a single Bactrian camel; all saddled up and ready to go.
We spent the first hour timing the military guards that marched up and back a given section of the wall for their entire shift. I didn't want to get shot off the Great Wall of China by an overzealous soldier.
I had about 20 minutes to get down to the "Mongolian" side of the wall and climb back up the 30 feet of sheer wall to the top again.
My inspiration for such a meaningless prank?
It was a Gary Larson Far Side cartoon depicting a horse plastered to the wall and its Mongol rider on the ground rubbing his head, saying, "Where did that come from?"
I found it hilarious, but I understand that Larson isn't everybody's cup of tea, just those with an ironic sense of humor. I suggest you Google this cartoon to see where you fall on the humor spectrum.
China built the 13,000-mile-long wall over a period of several Chinese dynasties. Construction began in the 7th Century BC on a barrier designed to keep out invading nomadic groups.
It didn't work; walls seldom do. Most countries eventually figure that out.
Well, if the Great Wall couldn't keep out a simple corn-fed boy from Southern Ohio, I doubt it kept out raiding Huns, Tatars and Mongols.
Seeking Xiao Ming
Because this article is about the search for a 43-year-old woman who became separated from her mother in 1949, I'll skip over my other experiences in Beijing and get right to the heart of the matter – finding Xiao Ming.
And, in every sense, it was a matter of the heart.
Sixty-three-year-old Lao Taitai returned to China for the first time in nearly 40 years. Her sole purpose for returning to her home country was to seek and hopefully establish contact with her daughter, Xiao Ming.
Until Lao Taitai arrived in Beijing and we met at her hotel, I was unaware that one of her chief concerns was what kind of reception she might receive upon returning to her home village in the mountains of Zhejiang Province.
Would her daughter want to see her? How would the other family members who were left behind when the communists took over treat her?
Perhaps Xiao Ming was no longer there? These possibilities weighed heavily on Lao Taitai's mind. She had some serious concerns, which, by dint of our objective, caused some anxieties for me, as well.
Yet, Lao Taitai had good reason for her apprehensions. The Nationalist government she grew up under was not a beacon of democracy by any stretch of the imagination.
It is always those that are at the bottom of the social ladder that suffer the worse.
There is generally resentment between the poor and the wealthy; all the more so during times of famine and deprivation.
Lao Taitai's family thrived as landowners in the upper reaches of the Ou River in Zhejiang Province. She enjoyed an upper-class life and was kidnapped by indigenous warlords as a young woman.
In response, her father assembled his own army and, after paying a ransom in silver coins, rescued his daughter from where she was being held captive in a cave. Once Lao Taitai was safe, the warlord's soldiers were executed.
(One of the large silver coins used in this exchange sits on my desk as a tangible reminder of another world. One that doesn't exist today. A world that I was briefly touched by and left with memories that at times seem surreal.)
Lao Taitai's fears were justified. Once the communists took over in 1949, Xiao Ming and her relatives, those left behind, were forced to endure pain, starvation and humiliation because of their connections to the former government.
Mao created many programs designed to purge China of what he called the "Four Olds" of the Nationalist government: Old habits, old ideas, old culture (including religions), and old customs.
His approach was simple but brutal, burn the old house down and start again with the brainwashed youth.
The Great Leap Forward, a failed agricultural program, lasted from 1958 to 1962. It resulted in 30 to 40 million Chinese dying of mass starvation.
Adding to the misery of the Chinese people, particularly those who were landowners or educated, untold numbers were executed or placed in work camps where they often died from overwork and starvation.
For Lao Taitai's family members in Red China, it was devastating. Deprivation would likely account for Xiao Ming's diminutive size.
Then came the Cultural Revolution, an idea of Madame Mao.
The Cultural Revolution, lasting from 1966 to 1976, was conceived to purge political dissidents and the old culture of China and foster revolutionary values in Chinese youth.
The foot soldiers, called the Red Guard, consisted of relatively untrained and undisciplined high-school-age children, some as young as 12.
These fervent and brainwashed kids scoured the country, riding free on trains and buses. Their target was any vestige of the old China, including intellectuals, religious leaders and practitioners.
And, sometimes, owning a book or a musical instrument could result in severe beatings or death at the hands of these indoctrinated children.
Sometime in the 1990s, I interviewed a middle-aged Chinese woman; we'll call her Jade, who had been active in the Red Guards when she was 16 years old. She spoke candidly of her activities during the Cultural Revolution, which included all manner of brutality for the slightest infraction.
Jade's fervor for rectifying the past intensified after each engagement, as the young are prone to do.
Then one day, her superior officer, a woman barely a year older, ordered Jade to accompany a group of Red Guards to her hometown.
She told me that there was no way she could warn her parents and siblings and that she feared the worse for them.
Jade's zeal had dampened considerably.
Jade was forbidden to interfere with her fellow guards when they forcibly entered her parents' home. She stood outside listening to the screams of her older sister's children.
She heard furniture being overturned and torn apart to find anything considered contraband, such as music records or a shred of western clothing.
Not finding immediately anything, they set about tearing down the interior walls, where they found several editions of Chinese classic books.
The Red Guards had found what they needed to justify and inflict further pain and humiliation. They beat her father senseless, then dragged her stoic and silent mother out into the middle of the cobblestone street.
Before continuing, Jade, who previously had not shown any emotion in telling this story, started wiping the tears from her eyes quickly and with sudden moves. It was clear Jade was not comfortable telling this part of the story.
It is strange how we can justify our actions, however monstrous until it hits home. For some, empathy is reserved only for themselves and their own.
Jade continued.
After some beating and kicking, the youngsters forced Jade's mother to lie in the hot sun of midday until the blistering sun went down. The only thing Jade could do to console her mother was to stand over her and provide a little shade.
These atrocities represented the China where Xiao Ming grew up. And, she often became the target of ridicule.
As a young woman, Xiao Ming was sometimes forced to sleep in a pigsty with warnings to the other villagers not to give her shelter or feed her.
At other times Xiao Ming and other family members would be paraded through the village bearing a wooden board attached to their backs.  The board rose above the head and bore red Chinese characters denouncing them for their crimes against the socialist state.
All this humiliation was because her parents had land, money and an education before the revolution. Xiao Ming had done nothing to earn such treatment; for Christ's sake, she was as innocent as a newborn baby.
When I met Lao Taitai at her hotel in Beijing, we laid out our plans for getting to the general area where we may find Xiao Ming.
Lao Taitai should have few problems traveling into restricted areas, although her western dress and coiffure might give her away as a "foreigner."
As for me, I stuck out like a sleazily dressed prostitute in church – white, relatively tall, big nose and green eyes. (Not the prostitute, but me.)
And to make me even more distinct, most Chinese where we would be traveling had never seen a Caucasian before.
I had a student visa for Beijing but did not have the authority to travel as I pleased. I am not used to hiding, but I would soon be comfortable with it.
The first leg of our odyssey went smoothly. We managed to get an airline ticket to Shanghai.
The flight attendants were rude and treated the passengers like cattle. But when they asked Lao Taitai to change her ticketed seat, they found out they were no match for her; she remained in the seat beside me.
I later witnessed electric cattle prods being used on passengers lining up for tickets at a train station in Beijing.
"Flying the Friendly Skies" was not an option in the China of 1988.
From Shanghai, we took a 13-hour bus ride from hell over narrow mountainous dirt roads that clung tightly to the mountainside. On two occasions, passengers were ordered out of the bus to help pry and push rockslides off the road.
There were no windows in the bus, so with riding over dusty roads and every male passenger smoking cigarettes, nearly every passenger who wasn't smoking had their faces covered for the entire trip.
At one point, we rounded a corner, and sudden chatter came from the passengers in the front of the bus. We were coming up to a military checkpoint.
Lao Taitai grabbed my hand and pointed to the back of the bus, where the luggage was stored. With the help of a couple of passengers, I was pushed to the floor and covered with bags, suitcases and loose clothes.
A couple of soldiers boarded the bus and started demanding paperwork. From my vantage point on the floor of the bus, I could see their polished boots and the tips of their rifles.
I had heard stories of foreigners being thrown in a Chinese prison to never be heard from again. I could do nothing but hold my breath and hope that I didn't sneeze.
One pair of boots walked back to the pile of luggage and hesitated there for a minute or so examining a few pieces of luggage on top.
Satisfied that he had done his duty, the shiny black boots abruptly turned and proceeded to the front of the bus and down onto the dirt road.
In next week's episode of Finding Xiao Ming, Lao Taitai and I will find ourselves in a heavenly city with happy people and the best dumplings in the world.
I could have stayed there forever, but the next morning we began our search in the beautiful mountain country of Zhejiang Province.
Until next week,
Ken Springer
Ken1949bongo@gmail.com