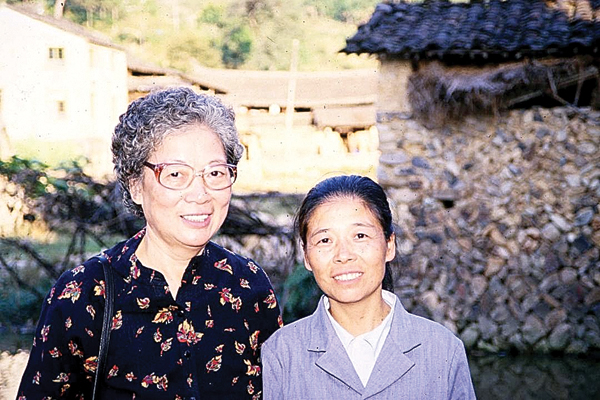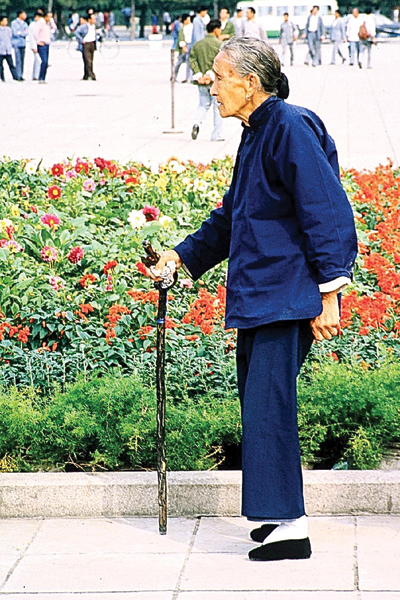 Finding Xiao Ming
Di Yibufen (Part One)
China, October 1949
Following a decades-long civil war in mainland China, the Communist Party, led by Mao Zedong, ousted the Nationalist government under the leadership of Chiang Kai Shek. Some two to three million people with ties to the Nationalist regime fled to Taiwan, where the establishment of a provisional government was underway.
The sudden diaspora created panic and fear as thousands of Chinese converged on southern port cities trying to escape ahead of the People's Army. In the mad rush to get on boats to Taiwan and Hong Kong, many were separated from their families, sometimes even their young children.
Four-year-old Xiao Ming was one of the unfortunate children physically separated from her mother in the chaos. The little girl was unable to escape the country with her mother and baby brother.
It was believed at the time that the Nationalists would eventually prevail and the refugees could return to the family members left behind.  Of course, that didn't happen and China's doors shut to the outside world for several decades.  
As Xiao Ming grew up, living through the brutal communist pogroms and demeaning punishment, she never knew how or why she was abandoned.
What follows is a story about a loving mother who loses her daughter and 39 years later finds her, only to lose her again.
This is a true story. I can affirm this, for I was there.
Columbus, Ohio 1988
In the fall of 1988, I was invited to attend the Beijing Language Institute to study Mandarin in the People's Republic of China. After becoming friends with visiting Chinese scholars in the previous two years, this unique opportunity became available to me.
I had no intentions whatsoever of staying at the school for more than a couple of weeks; it was just a means to an end. Having already studied Mandarin for several years, my fluency in Mandarin was sufficient to get around and occasionally get into trouble.
My real purpose in going to this immense country was to obtain permission to mountain climb in the rugged and remote Tien Shan Mountains of Northwest China.
That, and eat as much Chinese food as I could.
So an unexpected proposal made to me by a Chinese family in Columbus, Ohio, some months before I departed for China, sounded like a great side adventure at the time.
The family asked me to accompany Xiao Ming's mother, who was in her early sixties, on a journey to reunite with her daughter. They arranged for Lao Taitai to meet me in Beijing two weeks after my arrival. We would then plan our search for her daughter.
In my naïveté, I imagined the two of us boarding a luxuriously appointed train and watching the beautiful Chinese landscape go by. We would spend the hours traveling, sipping oolong tea and nibbling on almond cookies.
In this dreamed-up fantasy, I further imagined that upon arrival at our destination, we would simply inquire at the local post office as to where we might find Xiao Ming.
After securing her address, we would stop by a flower shop and, after strolling a few blocks along a quaint tree-lined street, arrive at Xiao Ming's front door with a bouquet of roses.
In this charming scene right out of Hollywood, the mother would finally return to her long-lost daughter. Xiao Ming's neighbors and even passers-by on the sidewalk would begin clapping. Old ladies would openly cry out of joy, and even the stoic men would fight back their tears.
However, as we all know, these idealized presumptions generally shatter in the face of reality. Little did I know then this "side adventure" would be a profound experience that would completely change my travel plans and, ultimately, my life.
Another country, another world
Having arrived in Beijing, China, in the middle of the night after 24 hours on four separate flights, I experienced a combination of jetlag and culture shock with a dash of excitement thrown in.
The China of 1988 is absolutely nothing like the China of today. And nowhere is this truer than in Beijing, formerly known as Peking. Except for a few multistoried hotels, the capital of China had few tall buildings. From a small hillock, one could take in the entire expanse of Beijing in one unobstructed view.
The economic reform and concomitant building boom that would catapult China into a developed and modernized country would not begin until the decades following my time there.
The taxi ride to the Beijing Language Institute took about an hour. Although it was well after midnight, the streets bustled with people visiting late-night noodle and dumpling stands lining the sidewalks.
I soon learned that the government-owned stores and cafes were located in brick-and-mortar buildings, while the few fledgling privately-owned businesses were confined to the sidewalks and back alleys.
To say that China was bleak in those days would be understating the drabness of everything from the stark concrete buildings to the blue Maoist-era clothing still worn by nearly everyone middle-aged and up.
Much of the older generation still clung to the promises of a crumbling ideal of communism.
I stayed with friends on my first night in China. I presently live in a "tiny house" with less than 600 square feet of living space. But, my friend's apartment was a third this size and as Spartan as one can imagine for a family of three.
Chinese apartments were only slightly more spacious than a U.S. prison cell.
The walls, floor, and ceiling were all bare concrete – a single calendar was the only adornment on one wall. Sitting side by side on a bed, a folding table served as a surface to place the few dishes on.
Dinner consisted entirely of vegetable and rice dishes. The government rationed meat and oils; it would be another two weeks before my friends could purchase a few pork scraps.
After each meal, the table was folded and slid under the bed.
As I relate my experiences in this country, it is essential to point out that most Chinese citizens, particularly those living in urban areas, existed on the bare minimum of calories required to sustain a basal metabolic rate. This is the energy needed at rest to maintain vital functions like keeping warm, breathing, and maintaining a functioning heart.
The fat and protein deprivation resulted in more extended sleep periods and wearing jackets even in mild outdoor temperatures to stay comfortable.
As in most apartments, even for most professionals, the Hsu's shared a narrow kitchen with their neighbors. This arrangement required neighbors to work out a schedule for cooking times.
Like the rest of the apartment, the kitchen had only cold water. Along one wall was a small two-burner stove and a rust-stained sink, but noticeably absent was a refrigerator. Lack of refrigeration meant that people had to shop for food every day.
Because there were no supermarkets, each meal meant cycling for miles to find an assortment of fruits and vegetables. One would often arrive at government-owned shops only to find nearly bare shelves.
I can remember only one apartment I visited with a TV and radio, a pensioner's home. Broadcasts were restricted to government stations and mostly propaganda.
On my first morning in Beijing, and every morning after that, I awoke at seven a.m. to extremely loud public broadcasts from huge speakers mounted on buildings and poles throughout the city.
These daily broadcasts always glorified some political leader, a particular general, or the efficiency of the city's public transit system. These announcements never mentioned the practically non-existent public restrooms in Beijing.
When traveling in the city, you had to be creative, even furtive, when relieving yourself. You soon became aware that you were never out of sight from another human being.
This is the China I would live and travel in for the next several months. I experienced daily a kind of cognitive dissonance as I witnessed both brutality and extraordinary kindness on a scale most Americans rarely encounter.
Although, in retrospect, maybe we do have our share of needless brutality and unnecessary violence.
Riding a bus one day to the Summer Palace, I saw a crumpled black bicycle in a ditch beside the road. A meter or two beyond the bike was the body of a young woman.
People were walking right by the body without so much as a glance, some eating food as they stepped over the body.
When I returned some six hours later, the dead woman was still unmoved. It turns out that vehicles, mostly government and military, took precedence over pedestrians. It was the legal responsibility of the family to recover the body.
Perhaps, no one had made the effort to inform them yet.
Please understand that I do not mean to demonize the Chinese people. But rather, a system of government that, at the least, results in a certain virulent ambivalence and, at its worse, inhumanity.
Beijing was a remnant of a failing system of socialism, and many of the younger people knew this.
In a few short months, Tiananmen Square would be the scene of a student revolt and resultant massacre. We should all remember the young man who most bravely stood in front of the Red Army tank.
He was said to be executed by a firing squad several days later. Freedom, as we know it, or wish to know it, did not exist in Red China.
This lack of freedom and rights, coupled with an oppressive regime, would turn out to be something that would affect me personally. The unfettered power of the government and its agents was never far from my mind in the coming months.
Soon, my status as a mere American student and tourist would be left behind, far behind.
Author's note: To assure accuracy, considering that these events happened 35 years ago, I am writing from my meticulously maintained journals written during my time in China.
In next week's column, we will continue the story of the search for Xiao Ming with an exploration of the beauty and the beast that was Red China in 1988. My underestimation of the difficulties and dangers of this venture will begin with a clandestine meeting with Lao Taitai, Xiao Ming's mother, in a Beijing Hotel.
Until then,
Ken Springer
Ken1949bongo@gmail.com