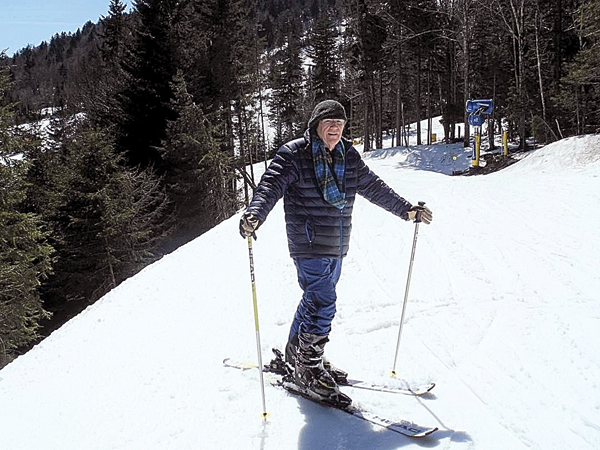 Ice is Nice ~ for some people, anyway.
"Snowboarding is an activity that is very popular with people who do not feel that regular skiing is lethal enough." Dave Barry
Standing at the base of Pinnacle Gully on a below-zero February morning in 1984, my ice-climbing partner and I were awestruck. Not so much by the towering height of the 500-foot frozen waterfall but the sheer beauty of the thick blue ice that towered above us like a high-rise building.
Pinnacle Gully is one of five steep gullies nestled within Huntington Ravine, a glacial cirque on the east slope of Mount Washington in the White Mountains of New Hampshire.
The prerequisite for climbing ice is that two things are necessary to be successful and stay alive. First, you must have trust in your climbing partner; your life often depends on it. Equally important is that you trust the structural integrity of the ice.
The winter of 1984 set in early and was cold and snowy. We were pleased that the ice was thick and relatively safe for our climb. The clear blue ice would be the near-vertical medium upon which we would ascend this popular and challenging ice climb.
Had we encountered white ice, ice full of air pockets and referred to as "gnarly" by ice climbers, we would have likely abstained from climbing and gone skiing instead.
A popular, albeit simplistic, mnemonic of the time in determining the ice's stability was: "Blue is glue, white is fright."
In ice climbing, the only "glue" holding you to the frozen waterfall are the metal spikes on the toe of your crampons and the points of your climbing tools, nothing else, nada!
I doubt that my inadequate explanation of a sport loved by thousands of men and women the world over will win any new adherents. Nor will it satisfy those who say, "Well, that's just crazy; I would never do that."
Yet, I maintain that the experience of ascending a pillar of shimmering ice is beautiful and exhilarating. There develops, in the course of an ice climb, an intimate and deep relationship with the ice that is difficult to explain to the uninitiated.
Ice takes on many forms. Ice is a true shapeshifter*, changing day-to-day, sometimes hour-to-hour. Ice is safe to skate on one day but not the next. It is a medium for sports that is in a constant state of flux. Before venturing onto it or climbing up its face, knowledge about ice is paramount.
"I'm just not a cold weather type of person," says one, while another proclaims, "Go to Florida for the winter? "Absolutely not; I cannot tolerate that oppressive heat and humidity down there."
"Different strokes for different folks," as Sly and the Family Stone reminds us in their 1968 hit song. 
It would be a pretty dull world if we all were carbon copies of each other. Our differences make us interesting, and in a genuinely free society, we can do and feel as we please as long as it doesn't infringe on others.
A study by the Pew Research Center found that 57 percent of Americans say they would prefer to live in a year-round warm climate. Of the remaining 43 percent of our fellow citizens, 29 percent claim to like cold weather.
And then there's that 14 percent minority that doesn't care one way or the other. Also among this group are those who enjoy each season of the year equally and prefer to live in temperate zones that cycle through all four distinct seasons.
I am squarely in the 29 percent camp. I have no use for the heat, humidity and irritating bugs of July and August. Mainly those little black flying insects that buzz incessantly around your face until finally performing a Kamikaze dive right onto your eyeball.
So, snowbirds may not find anything in this and next week's column that resonates with them.
And, for the sake of diversity, I fully embrace your desire to sweat profusely and walk around with sand adhering to your sun-screened skin.
In this and next week's column, we will discuss all things ice. Some of the discussions will be a bit "sciencey." We will examine the varied forms of ice found on Earth and even those we expect to see on other celestial bodies.
This week, we will explore the sporting aspects of ice, and there are probably more than you may think. We are all familiar with ice skating, hockey and ice fishing.
The Winter Olympics offer us the thrill of downhill and cross-country skiing. Then, there's bobsledding, luge and curling. All of these sports and their various iterations require water in a solid state.
If there is a way to create sport or fun on the ice, humans have done it. Even in art, there are splendid pieces of ephemeral ice sculptures.
Up next: a sport involving ice that just may be the scariest of all.
Little known, and probably the most audacious of all of the ice-related sporting events, is ice-hole distance swimming.
This particular sport is a serious and dangerous competition that should not be confused with cold water swimming such as that practiced by Nordic countries, Polar Bear clubs and those who frequented the Watoga swimming pool in their youth.
In ice-hole swimming events, the competitor must swim horizontally under the Ice from one hole to another, holding their breath. Furthermore, the ultimate goal of this activity is to lengthen your total distance and break records in doing so.
So, who would wish to do such a thing for fun and sport?
Enter 47-year-old Johanna Nordblad of Finland – Oh, those cold-loving people of the northern climes.
In 2000, Nordblad began her sporting life, free-diving. This is where the diver swims as deep as they can by holding their breath. Water temperature is not so much a factor in free-diving, and competitions occur in waters with variable temperatures.
Divers are judged on the total depth they descend to and how long they must hold their breath for the round trip.
Nordblad broke a leg cycling in 2010. At her doctor's suggestion, she began cold water therapy to help with the healing process. Cold water therapy was discussed in an earlier column and is purported to have many health benefits.
Cold water therapy, not for the weak of heart, has been shown to reduce swelling and inflammation. Additionally, controlled immersion in cold water boosts circulation and reduces blood cholesterol and blood pressure.
Nordblad developed an unusual tolerance for cold water immersion and began swimming under the ice for distance. She started breaking established records shortly after she took up the sport.
Her current record is swimming under two feet of ice for a distance of 103 meters. She did this without fins or a wetsuit and by holding her breath.
A documentary on Netflix called "Hold Your Breath: The Ice Dive" follows Nordblad as she prepares to break her old record. "Hold Your Breath" is a film about her indomitable spirit and relentless drive to push her body to its very limits. I recommend this documentary, even for snowbirds.
The draw of ice a little closer to home.
Here in Pocahontas County, we have a tourist economy based partly on activities that take place on some form of ice.
When ice conditions are safe, you will find men, women and children sitting by holes augured into the ice of Watoga Lake. They are out there on the ice for the pure joy of enjoying the winter scenery and catching trout if they're biting.
When we get our first big snow this winter, you will find cross-country ski tracks on the Greenbrier River Trail and many of the trails in the Monongahela National Forest.
This ancient type of skiing, developed as a mode of travel over 5,000 years ago in Scandinavia, does not rely on gravity as it does with downhill skiing. No lift lines and long waits are required when you're on "skinny skis."
One of the reasons why this sport is so healthy is that it is self-propelled. An hour of Nordic skiing (cross-country) burns an estimated 472 calories. Snowshoeing, a popular winter pastime in our mountains, burns about 450 calories for the same expenditure.
Meanwhile, up at Snowshoe Resort, there are 257 acres covered with natural and machine-made snow. Fourteen chair lifts are available to get skiers and snowboarders to the 60 runs at Snowshoe, including the 1.5-mile Cupp Run, designed by none other than Jean-Claude Killy, the 1960s skiing phenom.
People worldwide love to descend snow-covered slopes on skis; there is even an indoor skiing area in Harbin, China, the largest in the world.
We even find ski areas in the blisteringly hot desert. Dubai, in the United Arab Emirates, boasts a vast shopping mall that offers year-round indoor snow skiing.
Clearly, many people find joy and delight in water, even in its frozen state.
Here's hoping you can stick to those resolutions you made last weekend.
I'll sign off now and fetch some ice cubes for a wee dram of liquid libation to celebrate the newborn year.
Ken Springer
Ken1949bongo@gmail.com