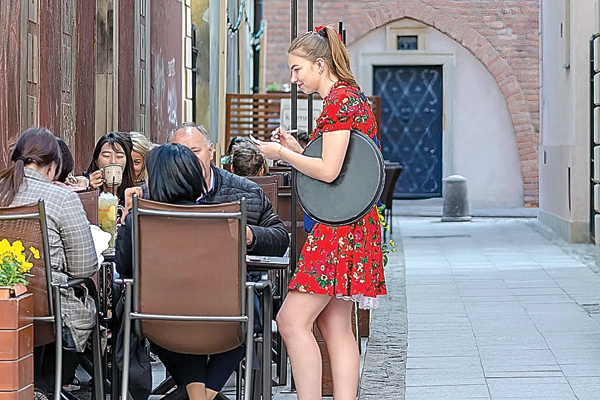 Ken Springer
Tipping is not a province in China
Shortly after arriving in Beijing, China, to attend the Beijing Language Institute in 1988, I went out to eat dinner in a nearby state-owned restaurant. Few restaurants at that time were privately owned. The meal was seriously delicious, Peking roast duck with plum sauce, shallots and Mandarin pancakes.
It was a perfect evening until I committed a most egregious and unforgivable act after the sumptuous meal. My crime? I had left a waitress in communist China a handsome tip.
After I paid for the meal, she returned to bus my table and noticed the stack of Chinese currency I had placed beside my empty plate. I was nearly at the door when she caught up to me. Forcing the tip back into my hand, she severely and loudly scolded me for my overt and unwanted act of capitalism.
Her rant in Mandarin was peppered with words like bourgeoisie and colonialist. Being raised in working class families, I have always thought that I fall a bit more on the proletariat side of the fence, but I wasn't about to correct this wildly indignant woman.
My departure from the restaurant was further expedited when I looked around the crowded restaurant to see that the other Chinese diners were cheering her on.
Clearly, I had slept through a crucial part of the cultural sensitivity class I had attended before going to China.
Meanwhile, back in the U.S., tipping was and still is a thing. I assure you that waiters here will not attempt to return your tip or send you running for your life out of a restaurant.
Restaurant employees depend on tips because of a long and convoluted history that continues to leave them empty-handed.
A brief history of tipping
The custom of tipping actually began in the Middle Ages. Because there were very few establishments then that we would recognize as restaurants, tipping was a practice limited to wealthy estates in Europe.
If you were a visitor to one of these posh estates, you were expected to grease the palms of the footman, butler, cook, scullery maid and so on.
Tipping in America started after the Civil War and became an expected gratuity to porters on the plush Pullman railway coaches. Pullman only hired black men, who were former slaves, as their porters.
Pullman's business model, based upon the presumed servility of freed black men, would be outrageous today. The company was essentially getting cheap labor when you consider that the porters were expected to work 400 hours per month for a mere $810 – tips were essential for these men.
But most Americans still felt that tipping was demeaning, and the very act of gratuities for service was considered profoundly un-American. It is a fact that William Howard Taft, our 27th president, ran on a platform that included anti-tipping.
The first federal minimum wage was enacted in 1938 during Franklin D. Roosevelt's New Deal and was a whopping 25 cents an hour. But, alas, restaurant workers were exempted from the bill.
Seeing an opportunity for the public to make up the difference in the sub-minimum wage of servers, the National Restaurant Association lobbied to exclude restaurant workers from a minimum wage.
America was now referred to as "the land of the fee."
Conversely, Europe, where tipping originated, abandoned the practice in favor of the "service charge" concept. This is an additional gratuity imposed upon the customer that is intended for the restaurant workers in place of tips.
The next attempt at creating a minimum wage for tipped workers was in 1966, when it went up to 63 cents per hour. But, once again, an amendment referred to as the "tip factor" was added to the bill. This required employers to make up any difference between the actual tips and the minimum wage.
However, there were no provisions for enforcement, so in most cases, the workers lost out if their tips did not exceed the minimum tipped wage.
Hope rose again in 1996 when the minimum wage shot up to a whopping $2.13 for tipped workers.
And, as ridiculous as it sounds, it is still $2.13 in 2021.
How the pandemic affects some service sector workers
For today's waiters, tips are essential.  Except for seven states, the prospect of a guaranteed minimum living wage is just an elusive dream for restaurant workers.
Restaurant employees often work more than one job to get by. They are forced to depend on our generosity, and many are victims of threats and abuse, even in some of the best restaurants.
So, how are those who serve us food in restaurants faring in the stressful time of the pandemic?
Even in the best of times, relying on a gratuity to make a decent living creates a power dynamic between the server and the customer. The waiter must deal with all complaints from the customer regarding everything from the quality of the food to where the diners are seated.
And the amount of the tip often reflects customer discontent.
When you factor in the additional stressors imposed by the pandemic, many customers take out their frustrations and anger on the server.
More than 60 percent of wait staff in the U.S. are women. So, in addition to the usual verbal abuse known to all food servers, women also bear the brunt of sexual harassment from men, who are angry about mandatory masking.
A recent survey of tipped service workers in six states on the eastern seaboard revealed that COVID restrictions have created a fearful workplace for many women, who wait tables. Of nearly 1,700 service workers interviewed, 250 stated a huge increase in the number of unwanted sexual comments from men.
The report stated that a substantial portion of the complaints was about "male customers demanding that female service workers remove their masks so that they could judge their looks and, implicitly, determine their tips on that basis."*
Amy, an employee at a bar and cafe in Manhattan, was tasked with taking customers' temperatures at the door. This takes just a few seconds, is painless and non-invasive.
Most customers understand, but one man refused to have his temperature taken and told her that he would wait outside the bar until her shift was over and then kill her.
I ask you, if your son or daughter had such an experience, how would you react to it?
I assume that most of you would, at the very least, be appalled. And that many of you would consider a response that cannot be discussed in this article for legal reasons.
Food servers, grocery workers, airline attendants, housekeepers and all manner of service sector workers are not below any of us. Nor do they deserve to be intimidated, abused or threatened.
Our lives are better because of the services they provide and do so for minimum wage or less. And while serving us, they significantly increase their exposure to COVID and other transmissible diseases.
What they deserve is our unwavering respect in times of stress or otherwise.
Please, the next time you stay in a hotel or dine out, be generous with your tips and base the amount solely on the quality of service.
Thank the cashier and bagger at your grocery store. If a store clerk goes out of their way to help you, thank him or her and let their supervisor know.
Kindness and empathy go a long way in making this a more civil world to live in. The world we wish for our children and grandchildren.
Author's Note: While dining with friends in a brewpub in Columbus, Ohio, several years ago, one of the more arrogant and presumptuous diners in my group asked our server if he ever considered going to college and bettering himself.
The waiter, who had arrived with our order of craft beers, replied confidently and calmly that this was his current job until he could use his newly earned law degree from Harvard.
What is it they say about those who "assume?"
Ken Springer
Ken1949bongo@gmail.com
* Survey Finds That Pandemic Has Exacerbated Sexual Harassment of Tipped Workers. Jaya Saxena