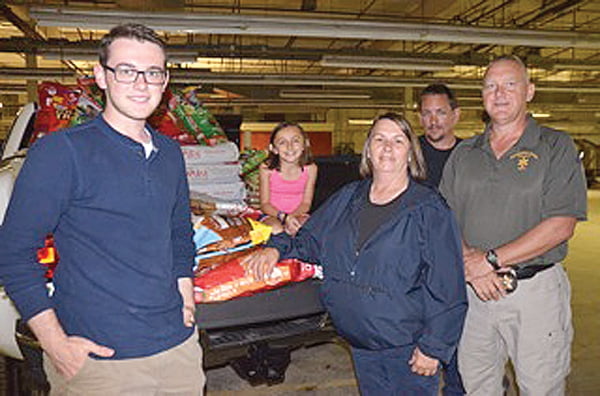 Laura Dean Bennett
Staff Writer
When asked about the pickup truck full of dog and cat food sitting in the Mitchell Chevrolet lot, Mitchell Chevrolet salesperson Brian Tankersley said, "It was mostly Hunter's idea."
Hunter Tankersley, Brian's son, is a rising sophomore at West Virginia University. He's studying business, has a particular interest in photography – he's a WVU student photographer and, obviously, also has a talent for marketing.
Last week, Mitchell's challenged the community to fill up a shiny new Chevy Silverado with dog and cat food to donate to the Pocahontas County Animal Shelter.
"Hunter's helping out at Mitchell's this summer with marketing," Tankersley explained. "The 'Fill Up This Truck' campaign was a really good idea."
Everyone at Mitchell Chevrolet was involved, even the Tankersley's Labradoodle, Millie, who was the irresistible mascot for the fundraiser, posing in the bed of the truck for pictures which were posted on Facebook.
Apparently the people of Pocahontas County can't resist a good cause or a furry face.
The campaign was a rousing success, with the community's donation of 1,500 pounds.
Mitchell Chevrolet did its part for the campaign, as well, bringing the total donation of dog a and cat food to 2,500 pounds.
Hunter drove the truck full of vittles to the shelter where Animal Control Officers Josh Vaughn and Robin Friel – along with Robin's niece, ReeAnna Alderman – joined Sheriff Jeff Barlow, Humane Society President Chip Adkins and a few other volunteers in unloading the food.
"Mitchell's always wants to be part of the community," Brian said, "and helping out the shelter helps everybody."