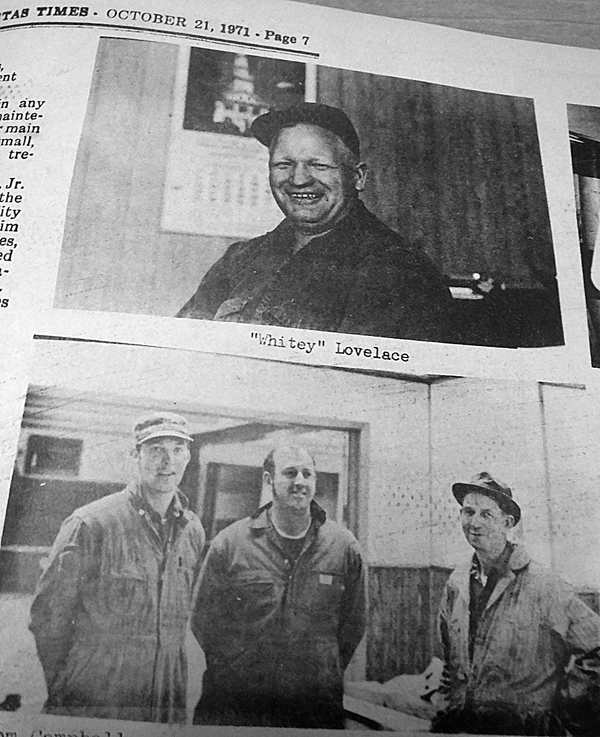 Thursday, October 21, 1971
There was much scurrying around last week as Town of Marlinton completed an application for funds for a new municipal building. It is a sort of "hold your breath" situation, waiting and hoping it will be approved.
– – –
While fishing recently near his home on Beaver Creek, Matt Dean, aged seven, son of Mr. and Mrs. Alonzo Dean, Huntersville, came upon a large copperhead. He quickly hit it with rocks and finally killed it with a shovel. He brought the snake to the house to show his mother to prove what he had done. It measured about 32 inches long. This was the first snake he had ever killed without help from someone or his dog. Matt is the grandson of Mr. and Mrs. Origen Underwood.
Tannery Ownership Change
On October 15, a group made up of some of the present management of Howes Leather Co., Inc. purchased the company from New York University.
The purchase included two tanneries, the one at Frank and the other at Curwensville, Pa., Also included were the Superior Pet Products Co., Curwensville, Pa.; Eastern Molded Products Co., Clearfield, Pa.; Tanners' Cut Sole Company, Ridgeway, Pa.; Lea Leather Co., Elgin, Ill.; and Kleen Kitty, Quincy, Florida.
Officers of the Company are: Richard Phelps, President; Robert Mitchell, Chairman of the Board; James Fitzgibbons, Executive Vice President; R. S. Touchette, Secretary and Treasurer; Harry Widney, Vice President; and Barry Getto, Vice President.
To the People of Pocahontas County
Our hospital needs your support! Why do we want to tear down and destroy the thing we want and need most?
Our hospital is well staffed with efficient doctors, nur-ses, radiologist, medical technicians, aides and orderlies. It is clean, comfortable and you get excellent care and attention. This I can assure you – as I have just finished my second stint in the hospital in the past two years.
What a comfort and blessing it is to us who have need of care and attention, when we are too sick to care for ourselves or when we need emergency care.
We are all so prone to tell others how to run our hospitals and schools when we do not know or try to find out all the details of a given situation.
I do not know Mr. Drumm who is leading the band for the hospital. Now, I am not one of Dr. McClure's patients, but I can certainly see why his patients are so irate and unhappy – so why can't that be straightened out in a workable, sensible way? I do not know all the facts in this situation so I have no comments on that.
Every organization or church and individual in this county should start now to support Pocahontas Memorial Hospital. Now before it's too late. We should put our hospital above politics, church squabbles and factions in this county.
We have seven excellent doctors in this county – and we need and want all of them.
Signed
Leeta B. Killingsworth
DEATHS
Alva Johnson, of Ashland, Kentucky; burial in Mountain View Cemetery.
Mrs. Mary Lambert Simmons, 79, of Marlinton; born in Franklin, a daughter of the late Isaac and Alice Wilfong Lambert.
Newman Coe Legg, 89, of Lewisburg, a son of the late Charles T. and Laura Bright Legg. Burial in Lewisburg Cemetery.