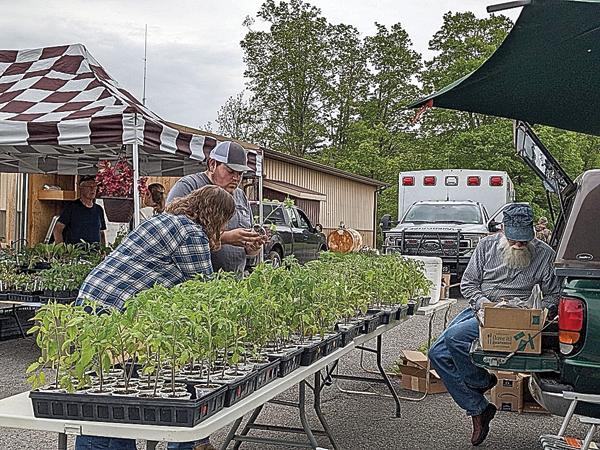 Suzanne Stewart
Staff Writer
While the Pocahontas County Farmers Market had two markets in February and March, as part of the new winter season markets, the full fledged 2023 market season will kick off at the First Friday event, Friday, May 5, at Discovery Junction on Third Avenue and Ninth Street in Marlinton.
"We have decided to do First Friday," market president Melia Thompson said. "We were afraid we wouldn't have enough, and we still might not have much produce, but we'll have lots of baked goods, lots of jellies, jams, that type of items. We said, 'why wait to start building momentum? Let's go ahead and get out there.'"
The summer schedule includes four locations – Green Bank at the BFD Station, Wednesdays, 2:30 to 5:30 p.m. from May 17 to October 11; Linwood Market at the Linwood Pavilion, Fridays, 3 to 6 p.m., June 8 to September 28; Hillsboro Market, across from ParMar in the yellow building, Wednesdays, 3 to 6 p.m., June 7 through September 27; and Marlinton at the Discovery Junction, each First Friday, 3 to 7 p.m. and Saturdays, 9 a.m. to noon, May 5 through September 30.
A few changes were made to the schedule due to requests made by customers, Thompson explained.
"With Marlinton, we had comments from customers last year, asking that it be moved back to Saturday," she said. "We are still at that the Discovery Junction location because the city is offering that to us, and it's the perfect location. 
"At Linwood, last year, midway through the year, we changed it to Fridays," she continued. "It used to be Thursdays. Customers, as well as a lot of visiting people, wanted us to change it to Fridays because they're coming in on Fridays."
Another addition to the Linwood Market is the use of the new, aptly named Linwood Market, located in the Linwood Center. Any products left over from the farmers market will be available at the indoor market, which shares the same hours as the library.
Market managers this year are Phil and Laura Macklem, Phil and Sally Cobb and Erin Nyer. 
"Those are the people you want to see if you want to join a particular market, Thompson said. "They are the one who will help you set up and get your fees."
The fee to participate in the market is $5 for every time you set up, up to $40, which is the annual membership fee. Once an individual reaches $40, they can participate in any and all of the markets throughout the summer.
"That forty dollars – it helps us cover our insurance, makes sure we can continue to have flags and we're able to have advertising," Thompson said. "It also makes you a member of the Pocahontas County Farmers Market, meaning you can vote at any of our elections. Of course, we'll let anybody's voice be heard because ideas are ideas, and the more ideas we have, the better off our market is going to be."
The markets will feature all the staples found each summer with the addition of a few new items from new members.
"Sounds like we will have a kombucha vendor this year," Thompson said. "We have a few new bakers. We have some herbal lotions and salves. We also have a lady that is making herbal teas. Looks like we will have everything from vegetables, fruits, meat, eggs, plants, bath and body goods, baked goods, teas, coffees. We're going to have a very large array this year."
The markets will also have some entertainment lined up this summer, with live music and crafters.
"We'll still have our musicians and our crafters coming in, thanks to the Dramas, Fairs and Festivals grant," Thompson said. "Those will be staggered throughout the summer."
The farmers market is a great place to get locally sourced produce and handmade goods, as well as a place to visit with fellow community members and enjoy the beauty that summer brings.
"When I think of a farmers market, it's like a feeling," Thompson said. "It's not just a place I go to visit.
"It's a sense of community. At the farmers market, there's so much going on and it's just a cool little feeling."